Posted
June 21, 2012 by Mike Mineo
in Tracks
MP3: Warm Weather – "Stay"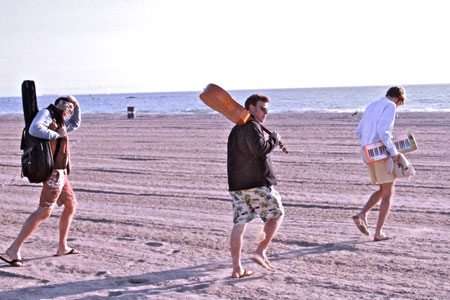 MP3: Warm Weather – Stay
The first day of summer was yesterday, and the current weather here in NYC reminds me every second. Praise heatwave-friendly tracks during sweat-dripping treks through blasts of humidity! So it's an apt time for Warm Weather to give away "Stay", the second track on their latest EP, Looking Through.
Of course the band is no stranger to the site: We interviewed them and featured both their EPs, Dances and Looking Through. The Byrds, Jim Croce, and Fleet Foxes were a few mentioned in our Dances feature, but this California-based trio are not reliant on traditional influences. Their pop smarts create an inviting sound filled with aspects of lush folk and country-tinged psychedelia, with revered touching stones like Paul Simon providing structural guidance as opposed to being a standby imitation.
"Stay" is a brisk summer breeze like most of their efforts, led by trickling guitars and airy coos that would fit nicely on a tropical beach with an inferior mirage. Well that's definitely my beach urges speaking as well. But "Stay" is a lot more than a straightforward summer pop song. Guitar dominates a bridge toward the conclusion reminiscent of classic-rock greats, where names like The Byrds and Allman Brothers occasionally appear before the boys go back into their trickling blend of surf-pop and world fusion.