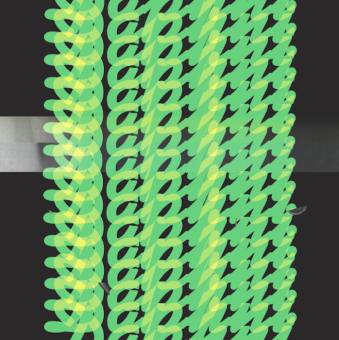 Caribou's Dan Snaith has been busy touring with Radiohead for most of 2012, treating crowd-goers to his brilliant psych-pop and electronica. But he has still had time to employ his adoration for dance and club music, at least in the studio. His alias for dance music, Daphni, is making a return after debuting in 2009 with a cover of Cortney Tidwell's "Watusii", and putting out several releases last year.
Daphni was active in 2011, releasing a split 12″ with Four Tet and acclaimed remixes of Hot Chip and Emeralds, but 2012 marks the project's debut full-length. Out October 9th digitally and October 16th in the U.S. and Canada via Merge/Jiaolong, the first Daphni album is entitled JIAOLONG (pronounced "JOW-long"), the same name as Snaith's record label. Snaith also built a synthesizer that "plays a prominent role on the album." As Snaith is the owner of a PhD in mathematics, technical achievements like that don't come as much of a surprise.
In addition to the album's tracklisting below, here's what Snaith had to say about the inspirations and directions of JIAOLONG:
[quote]I'd fallen back in love with moments in small, dark clubs when a DJ puts on a piece of music that not only can you not identify but that until you heard it, you could not have conceived of it existing. In contrast to live concerts where bands predictably string together the songs from their most recent album, DJs have the potential to blindside you, be genuinely surprising. As a music producer, the parameters of dance music seem wider. The rhythmic underpinnings are liberating rather than constraining, allowing the rest of the elements to coalesce from a broad palette.
I've been surprised by the number of transcendent moments that I, sober and in my mid-30s, have had in clubs in the last few years, both as a punter and as a DJ. Against my expectations, there's some magic in it still. The clichés about the collective consciousness of clubs still seems to hold water in some special cases. Set against the backdrop of bland and functional dance music and the mind-numbing predictability of the EDM barfsplosion currently gripping the corporate ravesters, there is a small world where dance music lives up to its potential to liberate, surprise, and innovate. It's there that I hope Daphni has a place." [/quote]
JIAOLONG:
01 Yes, I Know
02 Cos-Ber-Zam – Ne Noya (Daphni Mix)
03 Ye Ye
04 Light
05 Pairs
06 Ahora
07 Jiao
08 Springs
09 Long

MP3: Daphni – Ye Ye

MP3: Daphni – Balladins

MP3: Hot Chip – Night And Day (Daphni Mix)