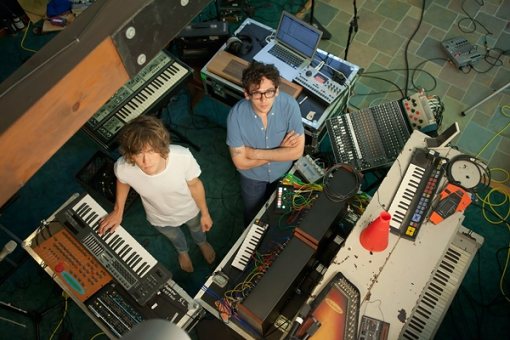 In a Rolling Stone interview with MGMT, the psych-pop stars revealed that their new album will be released in June. No track listing has been announced, but a few track titles – "Mystery Disease" and Alien Days" – were mentioned as being included, along with a cover of '60s garage-rockers Faine Jade's "Introspection". On "Alien Days", the duo wrote about "that feeling when a parasitic alien is in your head, controlling things." As far as the Faine Jade cover goes, co-producer Dave Fridmann said: "The recording process was really strange, so we did a cover just to say, 'Let's get back to planet Earth for a second.'"
Despite these titles sounding like punk anthems, MGMT's new album will be heavy on synths and an Aphex Twin influence. "We're not trying to make music that everyone understands the first time they hear it," Ben Goldwasser said. Alongside Fridmann, the duo of Goldwasser and Andrew VanWyngarden have spent a large part of the last year in a cabin outside Buffalo, New York, recording a supposedly bizarre album influenced by electro and house music. We can't wait to hear it, especially knowing MGMT's ambition will be on full display. "There's no illusion on their [Columbia's] part that we're going to turn into a Top 40 band," said VanWyngarden.
Photo above, taken by Danny Clinch, is of their Buffalo-based studio.
MP3: "Electric Feel", "It's Working"