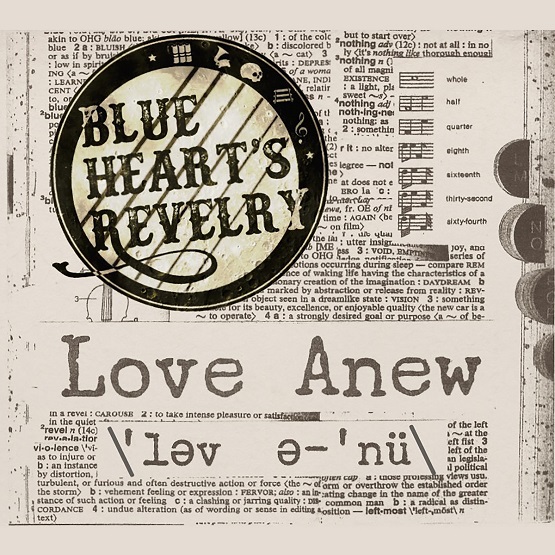 Love Anew is a gripping album released today from Blue Heart's Revelry, a band from Easton, Pennsylvania. From the hooky opener "Nothin' to Say" to the exciting, evolving self-titled track, Love Anew shows a strong sound that blends bluegrass, rock, punk, and Americana with seamless cohesion.
Opening track "Nothin' to Say" kicks quickly into form. Violin and twangy guitars weave melodically around escalating vocals, building to a stellar hook around the one-minute mark. Aesthetically, I'm reminded fondly of The Waterboys' 1988 classic Fisherman's Blues. Unique character is evident throughout the five other tracks as well. Prominent string infusions within the self-titled track, one of the most striking on the release, showcase the band's deft ability to incorporate strings during both briskly infectious moments and those more fit for ballads. The haunting guitar/violin pairing through the five-minute mark is emotively captivating and very well-produced, especially evident when the menacing guitar distortion casts a fantastic, shadowy hard-rock undercurrent. This particular track reminds of Man Man's whirlwind of creative energy.
Blue Heart's Revelry impressed back in 2017 with the track "Virginia," and now show an even firmer creative and aesthetic grip on their consuming sound.
Stream the excellent Love Anew in full below: