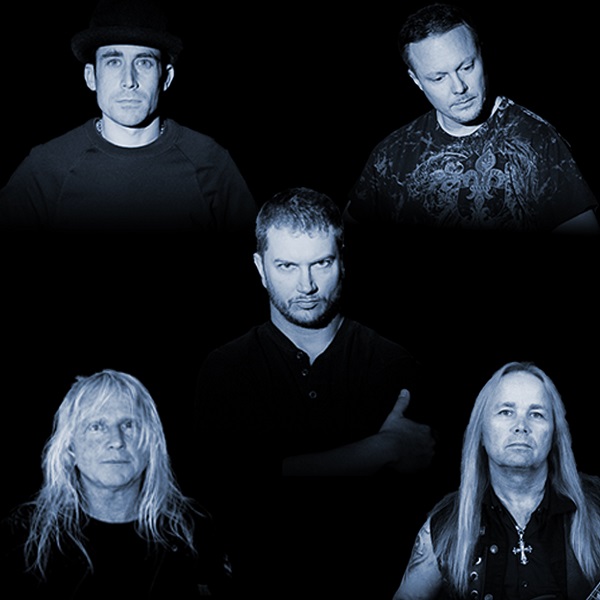 An impressive debut album from Continua, Flagship deftly balances dark soundscapes with hooky, melodic songwriting — steeped within a confident rock sound with alternative, industrial, and electronic components. Big-time choruses tend to rise from atmospheric, contemplative verses that reward listeners with murky, developing soundscapes. The result is a fully satiating listen, with evident musicianship apparent from the collective of Bishop Battle, Brian Buckalew, Jason Mulkey, Joey Gilbert, and Troy Parrish. The six tracks show no filler, each touting their own character and knack for expansion.
Opener "The Darkest City" doesn't waste any time in showcasing the quintet's consuming songwriting and sturdy, atmospheric alt-rock arsenal. "You've always dreamed of the darkest places," the vocals emerge, setting an apt scene. A warming, murky rhythm section adorns the verses with a mysterious glow, escalating to the "don't wanna live in the darkest city," vocal hook thereafter. The hook, joined by a vibrant guitar line and uptick in vocal emotion, becomes enjoyably anticipated with each replay. The "say goodbye," bridge also impresses with its effervescent tone and ensuing chugging guitars. "The Darkest City" plays as a commendable opener, showcasing the band's murkier rock spectrum as well as retrospective, electronic-tinged effervescence.
"Fluorescent" rides on clearer guitars to start, following a bass-fronted launching pad. Acoustical flourishes linger in the background, as the vocals show an infectious range of tones — from distorted, sped-up infection to the soaring, anthemic glow of the chorus. The brightly enthused chorus reminds fondly of Collective Soul, Manic Street Preachers, and similar manufacturers of hooky alt-rock. "You're so fluorescent," the vocals cry out during this fantastic chorus, one of the album's most accessible and radio-friendly moments. The album cumulatively does well in showcasing a variety of rock-forward styles with songwriting ingenuity, while still retaining accessibility, and "Fluorescent" shows precisely that.
Whereas "Fluorescent" could have easily rode contently on repeating the title-referencing hook, the second half exemplifies enjoyable ambition. Electronic atmospherics linger past the two-minute mark amidst nocturnal backing vocals, as percussion ruminates with subtle expansion. A blistering guitar-fronted section follows, seamlessly adjusting back into the initial, bright hook. "Fluorescent" succeeds with shimmering production and a wholly melodic pull. The track showcases the band's ability to infuse hooky melodic charm within the tracks, even as they tout commendably varied structural twists and turns. Whether you're seeking an immediate hook, interesting soundscape in the rock niche, or both, "Fluorescent" is likely to delight.
Following two creative, yet accessibly soaring, rockers to kick off Flagship, "Simple Plan" follows with a more contemplative, atmospheric showing. Suave vocals and post-punk guitar tones gear toward an eventual rise after the two-minute mark, with triumphant guitar tones ringing about a minute later. "Simple Plan" impresses with its multiple faces, growing from late-night post-punk musings to an exciting vein of rock. Continua show throughout a knack for consuming, evolving rockers, and "Simple Plan" showcases that as well, although with a more contemplative first half in a more atmospheric vein. The touch of backing strings, illuminating with a wintry grace, adds nicely to the conclusion as the post-punk guitars re-emerge.
The illuminated piano tones that open "Echoes" suggest an epic procession, with emotive vocals that follow fitting the ballad-ready approach. The piano lend a hypnotic, graceful feeling amidst the forlorn vocal yearning. Haunting textural components emerge after the one-minute mark, the ghostly feeling resonating throughout. The second half swiftly assumes a grandiose rock feeling, theatrical feeling alongside the gliding strings and clashing percussion. Reverting back into the gracefully hypnotic piano trickles, again reminding of Manic Street Preachers, the track shows firm decisiveness in alternating between the wintry piano-laden bounce and thunderous rock-based follow-up. The "can't sleep," rise sends chills, in particular. "Echoes" unfolds into another anthemic success. Like "Simple Plan," the development from atmospheric passion into a rousing rock pays off thoroughly.
The acoustics, wordless vocal passion, and twinkling keys throughout the intro to "Always Tomorrow" makes for a lushly inviting feel. The vocals are at their most intimate in the album, even as strings and rousing guitars join the fold just prior to the one-minute mark. The passionate vocals — "there's always a second chance," — resound with the vocals, strings, and guitars for an aesthetic fondly reminiscent of Smashing Pumpkins' classic "Disarm." "There's always tomorrow," the vocals continue, continuing a convincing, motivational tone that aligns nicely with the confident synergy of guitars and strings, which especially excels as the vocals take a reprieve around 02:20. The word "anthemic" is often used to describe tracks throughout Flagship, and "Always Tomorrow" is no exception.
The finale on Flagship opts for the group's darker-rock tint, offering both a haunting soundscape and variety of guitar tones, from contemplative to scorching. "Daybreak" initially rides on pulsing guitars and a chilling acoustical reflection, showing one of the album's more alt-rock focused sounds. Expanded guitar flourishes approaching the one-minute mark mesh well with backing vocal effects, carrying well throughout and especially into the final two minutes. "So hard to carry on," the vocals let out as percussion and guitars escalate here. Soaring guitars and several layers of vocal passion converge with beautiful results, setting for a finale that fully satiates and continues the release's knack for anthemic, stirring rockers.
Flagship  is a riveting album from Continua, featuring an inventive rock sound with big-time hooks. The tracks within impress with unique fervor, ranging from the soaring accessibility of "Fluorescent" to anthemic alt-rockers like "Simple Plan." Flagship shows a passionate, highly melodic sound that remains consuming throughout its duration. Debut albums often show indecision regarding stylistic direction or structural convention. Flagship avoids these pitfalls entirely, opting to consistently pursue a winning strategy of valuing rock-based atmosphere, while still offering a bevy of hooks that resonate after replays. Continua's Flagship is among the year's strong debuts.