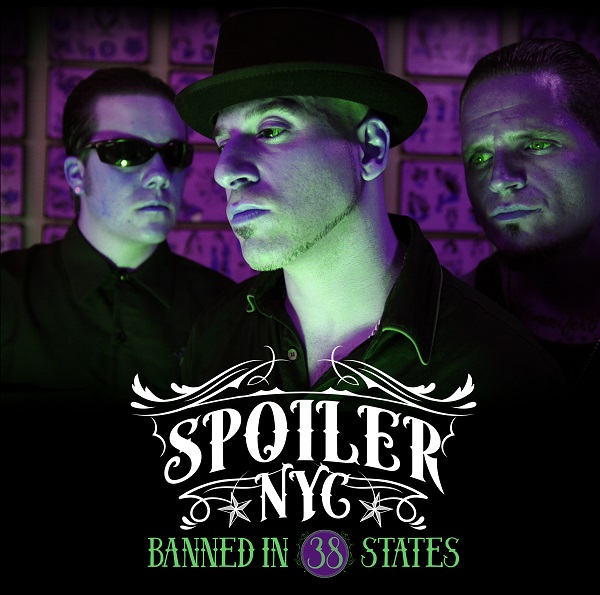 Spoiler NYC conjure a fervent vein of raw punk rock revivalism, apparent on their riveting new album Banned in 38 States. Originating from Hell's Kitchen, the band has ample experience in the punk scene; as the bassist and primary songwriter for Life of Agony, frontman Alan Robert has shared the stage with acts like Social Distortion, Rancid, and The Misfits.
In addition to Alan Robert on lead vocals and bass, the punk rock trio also comprises guitarist Chris "Junkyard" Selletti and drummer Tommy "The Kid" Clayton. "I grew up on punk rock when it was dangerous, when burned out buildings lined Hell's Kitchen instead of these shiny, billion-dollar, high-rise condos," Alan Robert says. "We're bringing back that raw, old-school angst with Spoiler NYC. The feeling that chaos can break out at any given moment."
Banned in 38 States is chock full of anthemic punk rockers with replay-inducing appeal. Check into "Suicide Hotel" for an accessible taste of the band's songwriting. This particular success integrates a bit of power-pop/alt-rock charm into the punk anthem, singing of times broke but traversing together. "Nobody gets out alive, from the suicide hotel," the vocals deliver with charisma during the hook. The punk-rock anthem, telling of fleeting love and pursuits, plays with convincing appeal.
Another highlight, "Damaged Goods" rides on grittier guitar distortion and snarling vocals. The title-referencing vocal call-outs play with ample vigor, channeling old-school punk and hard-rock. The "never amount to nothing," verses continue the exhilarating journey seamlessly. From the fast-paced venom of "Lucky 13" to the distortion-heavy howls of "High Friends in Low Places," Banned in 38 States never lets go with its passionate punk sound.
Stream the album:
—
"Damaged Goods" and other tracks featured this month can be streamed on the updating Obscure Sound's 'Best of October 2022' Spotify playlist.