Posted
October 30, 2006 by Mike Mineo
in Features
The Postmarks: remixes, halloween, and more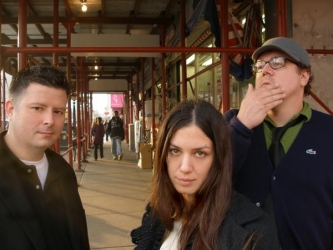 Ever since I posted about The Postmarks about a month ago (here), they have been critically acclaimed blog darlings. According to Elbo.ws, 'Goodbye' was the "#1 most blogged track" from September 11th to October 4th, however that would be calculated. This isn't hard to believe though, as the song is simply irresistable in terms of overall catchiness with the very delightful Swedish pop-like sound. The group from Miami even scored a spot on Grey's Anatomy and they haven't even released an album yet! Their debut is scheduled for January 23rd on Unfiltered Records. In the mean time, they released a Remixes EP for two released tracks: 'Goodbye' and 'You Drift'. Remixes for a band with only a couple of songs released? How does that happen? Well, it just gives you an idea how hyped this band actually is. To make it better, the songs were actually remixed by some prominent names, including James Iha (The Smashing Pumpkins) and Tahiti80. It's nice to hear at least something from Iha, who has released nothing since the Pumpkins' breakup (sadly, he is not involved in their reformation).
In festive Halloween spirit, they also did a cover of Ministry's fantastic 'Every Day Is Halloween'. I plan on doing a full-out Halloween post tomorrow, but this should tide everyone over while kids throw eggs at your house. My favorite remix of 'Goodbye' is by leaps and bounds by Tahiti80. They have almost transformed the song's pace into an energetic and rapid succession of suitable chords, while retaining the general innocence of the song. Iha's remix is somewhat bare, with the only notable change being in the percussion. It's nice to hear Iha's backing vocals again though, especially over Tim Yehezkely instead of Billy Corgan. 'You Drift Away' is great as well, even while being a bit more darker. To hear the rest of the remixes, I suggest you purchase their Remixes EP. I, for one, can't wait for their debut.
——————————————————————————————-
The Postmarks (Tahiti80 remix) – Goodbye
The Postmarks (James Iha remix) – Goodbye
——————————————————————————————-
The Postmarks – You Drift Away
The Postmarks – Every Day Is Halloween (Ministry cover)
The Postmarks – Know Which Way The Wind Blows
The Postmarks (Roger O'Donnell remix) – Leaves
——————————————————————————————-
What do you think of this artist?
Mike Mineo
I'm the founder/editor of Obscure Sound. I used to write for PopMatters and Stylus Magazine. Send your music to
[email protected]
.