The Smashing Pumpkins are currently in the studio working on a new album with producer Roy Thomas Baker, who most recently produced The Darkness. Something tells me that SP is going to turn into one of those bands who aim for a commercial hit with no depth whatsoever. Well, anything is better than Billy Corgan trying to be Depeche Mode. // Interpol signed with Capitol, which I don't think will impact their music significantly. Matador was no small fish in the pond either. // The Shins album is delayed until 2007, as they were saying they were all busy with personal affairs. In other words, they don't have any new ideas at the moment. // Oh, if you're a baseball fan like I am, this weekend is for you.
———————————————————————————-
The Decemberists – When The War Came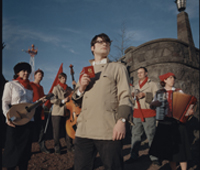 In the land of pirates, civil wars, and medieval prostitution, The Decemberists are king. Colin Meloy seems to be one of those songwriters that have a certain knack for storytelling, whether it be told through dramatic instrumentals or vivid lyrical details. The Crane Wife is their newest album and with the history buff that Meloy is, it should come as no surprise that it is based on a Japanese folk tale. The album tends to be their most experimental yet, with a few songs exceeding the length of over ten minutes. The two songs 'The Island' and 'The Crane Wife 1 & 2' are essential pieces to the album's storyline, with the two songs being twenty-three minutes alone. One of my favorite songs off of an initial listen happens to be 'When The War Came', an aggressive and politically charged take on preparation for an eventual war. The song tends to be one of the few that prefers musical composition over lyrics, as the catchy melody clearly stands out over the vague but fitting lyrics. I'm looking forward to The Crane Wife's release on October 3rd.
———————————————————————————-
Electric Light Orchestra – Telephone Line
[audio:https://obscuresound.com/mp3/ele-tel.mp3]
Electric Light Orchestra – Nobody's Child
[audio:https://obscuresound.com/mp3/ele-nob.mp3]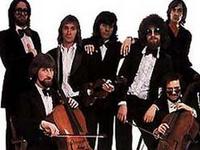 In my opinion, Electric Light Orchestra sounded better to me as a singles band. I could never find myself deeply in love with one of their albums, but their Greatest Hits was always great fun. Their influence on modern artists remains obvious and widely significant regardless. Their spots on the 1970s charts speak for themselves. 'Telephone Line' was one of their biggest accomplishments and contained one of the catchiest choruses of the 1970s. Chances are you've either heard it on the radio or in Billy Madison when he makes that call. The song speaks for itself as a man waits desperately for their fatal attraction to open up to them and pick up the phone. Despite the upbeat and brilliant melody, the song's theme is quite depressing. 'Nobody's Child' is another fun and showtunes-like song off of the shining Eldorado. It's just another example of ELO's orchestral talents and wit for pop hooks.
———————————————————————————-
Scott Walker – Best Of Both Worlds
[audio:https://obscuresound.com/mp3/sco-bes.mp3]
Scott Walker – The Old Man's Back Again (Dedicated to the Neo-Stalinist Regime)
[audio:https://obscuresound.com/mp3/sco-old.mp3]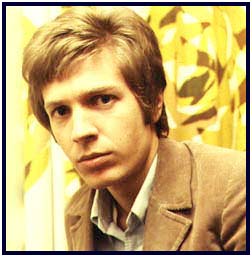 Before Scott Walker was a creepy but brilliant experimental composer of sorts, he was one the biggest heartthrobs of the 1960s. His discography is also one of the most interesting of the twentieth century. His first several albums consisted mainly of covers, until Scott 3 showcased his own talents. His first masterpiece in his own songwriting came with Scott 4, which is a genuine classic. Scott and Scott 2 were primarily cover albums, but all were still created with extreme ingenuity and emotion. The 1970s for Walker were attempts at restoring his 60s status, while coming just short. He released an album in 1974, and then broke a ten year silence with 1984's Climate of Hunter, which was surprisingly enjoyable with an interesting mix of his classic sound and modern 80s flavor. The albums that thrust Walker into the indie mainstream was 1996's Tilt, which came out of nowhere with a certain sound that was more of an art form than actual music. The album's formula followed over to this year's The Drift, which executed the familiarity of Walker's approving deep vocals with odd layers of sound and fascinating lyrics (when understood). He also has a tendancy to suddenly burst into a chorus, maximizing the volume of the track up to ten times, occasionally causing the listener jump suddenly. 'Best Of Both Worlds' is a track off of Scott 2, which is a cover of Don Black, who composed many of the James Bond themes. The lyrical foreplay and music is dark, but not as dark as his current material. When the next Scott Walker album releases in 2016, it will have a great following regardless of what the current trends will be. 'The Old Man's Back Again (Dedicated to the Neo-Stalinist Regime)' is an absolute masterpiece, where Walker takes his leftist beliefs and turns it into an imaginative lyrical situation about the ghost of Joseph Stalin returning from the dead. "He'd like another name, the one he's got's a curse," Walker says in his rich tone with beautiul backing strings, "the old man's back again".
———————————————————————————-
British Sea Power – Fear Of Drowning
[audio:https://obscuresound.com/mp3/bri-fea.mp3]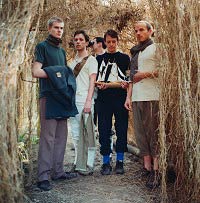 British Sea Power, consisting of four lads from Brighton, England, quietly released one of the better debut albums of the decade in 2003 with The Decline of British Sea Power. Taking from the likes of Joy Division, British Sea Power implements a richly textured but rapid post-punk sound, mixed with the catchiness of slight Brit-pop. 'Carrion' is fantastically engaging from the moment it starts, with a rough and edgy distorted guitar taking the lead. Eventually, the vocals of Yan kick in as the song fades into a beautiful chorus. One of my favorite aspects of the song is the outro, which lifts the keys and vocal reflex up quite a bit. 'Fear Of Drowning' is much more intense and punk formulated, but it's just as fun.