Who is Shugo Tokumaru? Many have never heard of him, though some know that the talented musician from Tokyo, Japan is a budding star. He has released two albums — Night Piece (released in 2004) and the more recent L.S.T. (released in 2005), along with playing with artists such as Jens Lekman, Animal Collective, and M. Ward. Along with a countless number of artists, one of Tokumaru's primary influences is Brian Wilson, as he explores his more vocal side on L.S.T. with soothing but creative pop tracks bursting with ingenuity. I am a sucker for his first album Night Piece even more so. I have yet to see a bad review about either of his solo albums. Though Night Piece spans just over twenty-five minutes, the ten songs are all memorable and highly diverse. The amount of instruments (mostly played by Tokumaru) on his albums are possibly "more than 100" according to Tokumaru in a fun interview by CMG. 'Paparazzi' is a perfect example of Tokumaru's musical inclimation, as his classical-style picking is just one form of his outstanding guitar work throughout the album. It's certainly not just guitars though, as strings take full entry into 'The Mop', creating a beautifully woven song. 'Typewriter' gives us a glance of Tokumaru's slight but pleasing vocals, over some interesting percussion as the harmonic talent that Tokumaru possesses is nothing short of brilliant. Though these three songs are off of Night Piece, I recommend L.S.T. just the same.
———————————————————–
———————————————————–
———————————————————–
———————————————————–
But that's not all…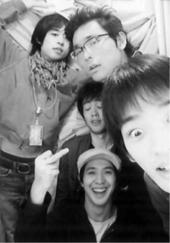 Gellers is the indie rock band that Tokumaru plays guitar for. The songs are more straightforward with less variability, though both of the songs are great fun, especially the epic seven and a half minute '9 Teeth Picabia', which reminds me a bit of the native Boredoms with the wacky vocals and samples. The song may sound a bit rough when the vocals eventually kick in, but they eventually grow on you with their unique flair. 'Locomotion' is more generic but much easier to get into, revealing a bit of shoegaze in Gellers' sound over some pleasant vocal melodies.
———————————————————–
———————————————————–
———————————————————–
Official Web Site (Shugo Tokumaru)
Official Web Site (Gellers)