Posted
August 19, 2006 by Mike Mineo
in
Sunny Day Sets Fire from all over the world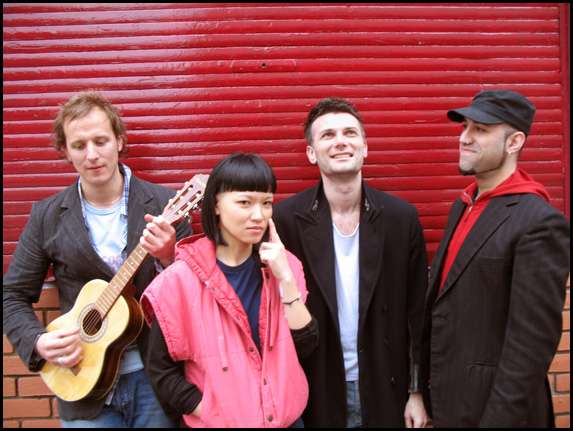 Music is a universal language. I believe that we can all agree on this, but Sunny Day Sets Fire may understand this slightly more than many. The foursome's members originate from Italy, Hong Kong, and the UK. Vocalist/guitarist/keyboardist Mauro (Italy) met vocalist/drummer Onyee (Hong Kong) while working in a cinema in London. After writing songs together during breaks, they found each other's musical aspirations to be similar and they started recording and playing shows together as a duo. After recruiting guitarist and baritone player Max (Italy), they released their first single in February with 'Brainless'. In March, they added Ed (UK) to play bass and synths. Sunny Day Sets Fire molds together different members from different countries, much like Deerhoof and Asobi Seksu, to create a very engaging and fun sound. Though their music doesn't collect any blatant Italian or Asian influences, their sound remains innovative and (though I hate the word) cute. This is mainly in part to the brilliant keys done by Mauro, which sets the tone for several of their songs, reminding me at times of kiddy-like fuzziness of The Boy Least Likely To.
After releasing a couple of singles, my favorite out of the bunch is 'Wilderness', which at times is reminiscent of Belle & Sebastian or the lovable pop of Architecture in Helsinki. Vocalist Mauro has a slight accent which just adds to the overall effectiveness and originality of the track. "Tell me what did you expect to see," Mauro says gleefully during the energized chorus, "when you went into the wilderness". The outstanding and dreamy atmospheric production of the song reminds me of another band I wrote about a few months ago by the name of Magenta Skycode, also from Europe. 'Lack Of View' is a nicely elegant acoustic song with very nice harmonic usage. 'Nations Underground' is noticably one of their earlier tracks, with Onyee at vocals this time, with her sounding just as fresh as Mauro. When the trumpets enter the song after Onyee proclaims, "hear the trumpet sound", it's a showing of the band's effort and unlimited reach. It was no surprise when they delievered songs such as 'Wilderness' or the anthem-like 'Brainless' as a follow-up. Keep an eye on Sunny Day Sets Fire because you could be hearing quite a bit from them soon. They will release their debut EP this fall.
———————————————————————————–
Sunny Day Sets Fire – Wilderness
[audio:https://obscuresound.com/mp3/sun-wil.mp3]
———————————————————————————–
Sunny Day Sets Fire – Brainless
[audio:https://obscuresound.com/mp3/sun-bra.mp3]
———————————————————————————–
Sunny Day Sets Fire – Nations Underground
[audio:https://obscuresound.com/mp3/sun-nat.mp3]
———————————————————————————–
Sunny Day Sets Fire – Lack Of View
[audio:https://obscuresound.com/mp3/sun-lac.mp3]
———————————————————————————–
Mike Mineo
I'm the founder/editor of Obscure Sound, which was formed in 2006. Previously, I wrote for PopMatters and Stylus Magazine. Send your music to
[email protected]
.