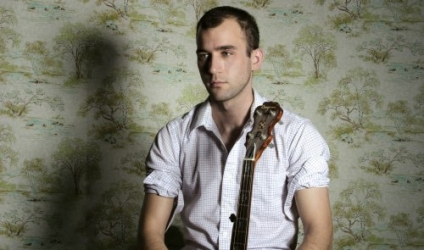 While the extreme popularity of Sufjan Stevens has often become abrasive, there is no denying he is one of the most talented songwriters currently making music. Though literally thousands of blogs has posted material from Sufjan, I would never miss the opportunity to post something that is very new and exciting. While Stevens is no stranger to lengthy songs, 'Majesty Snowbird' is one of his most significant epics, reaching over ten minutes in length. Though no studio version is available yet, the quality for this live version is phenomenal.
Stevens' vocals are introduced over a simple strum of an acoustic guitar, until a quick twinkle of keys signals the brilliant strings to take part. That's certainly not all though, as some very effective brass stomps itself in as some heart pounding percussion momentarily appears. The most impressive parts of the song are the musical solos after Stevens' initial verses, especially in the latter section of the song where Stevens creates an excellent vocal melody to blend in with the musical highlight. The conclusion to the song is also fantastic, as every single instrument previously introduced breaks free for two minutes of breathless awe. I'm really looking forward to hearing the studio version of this one, as the live performance is great.
——————————————————————————————-
Sufjan Stevens – Majesty Snowbird
[audio:https://obscuresound.com/mp3/suf-maj.mp3]
——————————————————————————————-
Sufjan Stevens – John Wayne Gacy, Jr.
[audio:https://obscuresound.com/mp3/suf-joh.mp3]
Sufjan Stevens – Concerning the UFO Sighting Near Highland, Illinois
[audio:https://obscuresound.com/mp3/suf-con.mp3]
——————————————————————————————-