Posted
September 19, 2006 by Mike Mineo
in
The Postmarks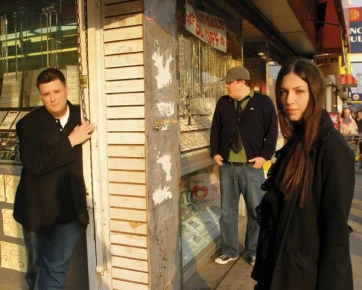 How lovely this sounds. Most of you are familiar with Swedish indie pop darlings The Concretes and The Cardigans, along with their use of sweeping orchestral arrangements and adorably light female vocals. It's interesting to see that an American band from Florida is following in their footsteps, possibly with even more fulfilling and original results. The Postmarks handle their musical arrangements with a delicate touch, as backing strings, twinkling high keys, xylophones, and various other typically unoccasionally used instruments all make their contributions. The Postmarks cite Brian Wilson as a major musical influence (who doesn't?), and the upbeat melodies do justice to the statement. Though it may seem to be a bit parallel, The Smiths are one of the band's most vocal lyrical influences. This is shown in the bleak 'Goodbye', as singer Tim Yehezkely describes a rather cruel breakup, informing her ex-love that there is no particular reason to leave a key under the door mat since she won't be coming back. That would be bleak, indeed.
'Know Which Way The Wind Blows' is sung in a light manner that reminds me a bit of Tracyanne Campbell (Camera Obscura). The song has a bit of a Parisian theme once the first chorus hits, maintaining a melancholic mood throughout as Yehezkely carries the song over some beautifully woven keys and organ. 'Leaves' is just a remix of a Postmarks song, done by Roger O'Donnell (Psychedelic Furs, The Cure). The Postmarks will release their debut album in January 2007 on Unfiltered Records and I'm certainly looking forward to it.
——————————————————————————————-
[audio:https://obscuresound.com/mp3/pos-goo.mp3]
——————————————————————————————-
The Postmarks – Know Which Way The Wind Blows
[audio:https://obscuresound.com/mp3/pos-kno.mp3]
——————————————————————————————-
The Postmarks – Leaves (Roger O'Donnell remix)
[audio:https://obscuresound.com/mp3/pos-lea.mp3]
——————————————————————————————-
Mike Mineo
I'm the founder/editor of Obscure Sound, which was formed in 2006. Previously, I wrote for PopMatters and Stylus Magazine. Send your music to
[email protected]
.