Posted
October 29, 2006 by Mike Mineo
in
Dogme 95 / Nick Wright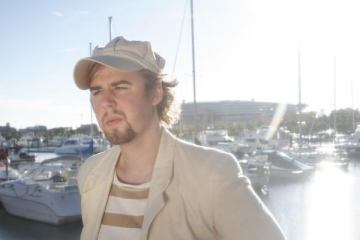 Nick Wright is Dogme 95, a historically informed solo project based out of Chicago. Instead of taking on the norm with mediocre acoustic melodies sung over boring songs about happy love, Wright tends to be a bit more interesting. His album, Arcadian Hymns, is about a variety of subjects from time travel, ill-concieved baptisms, and the mysterious makings of the universe. The same can be said for his new album, The Reagle Beagle, which is a fictionally sung tale about Wright's imaginary journey with Charles Darwin, on Darwin's boat (the second voyage of HMS Beagle) as he studied and enhanced his controversial beliefs of Darwinism. It is sure bet that this album deals with evolution, origin of species, survivial of the fittest, and an influential Englishman with a pad of paper. I have yet to listen to his new album, but I've been listening to Arcadian Hymns, his lengthy but informative debut album.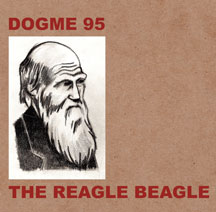 Wright describes himself as a diverse listener to music, being a fan of both the synth-powered minds of Eno and Byrne and the classic folk (he calls them "prison chants") of Alan Lomax. He delivers on his word, with most of the tracks being a variation of acoustic instruments, fuzzy synth, and drum loops. Most of his songs take a few listens for the melodies to remain truly memorably, such as 'Kingdom/Garden'. Sounding sketchy at first, Wright's moaning/vocals eventually coincide well with the musical aspect, which slowly decreases tempo appropriately as the song comes to a close. 'Push Baby Fallin' is a cool little song that is built up for about on minute with a straightforward moog-like synth as a continuous drum kit eventually layers itself into the mix. The acoustic 'House/School' eventually works in some claps and shuffles over a barebone acoustic melody. "I've been to Maine and everybody's going insane," Wright half-randomly rants throughout the song about the importance of literary terms and the necessary obligations that drive people crazy. Arcadian Hymns does have some somewhat pretentious songs (attempts at spoken word historical recollections) that try too hard for a Fiery Furnaces-like lengthy concept album. However, Wright's simpler and straightforward songs do have a lot to offer, melodically and lyrically. Luckily, most of the lacking songs are the last four on the album, so listen to the first ten songs on Arcadian Hymns for an enjoyable and diverse listening experience.
——————————————————————————————-
[audio:https://obscuresound.com/mp3/dog-kin.mp3]
——————————————————————————————-
[audio:https://obscuresound.com/mp3/dog-pus.mp3]
——————————————————————————————-
[audio:https://obscuresound.com/mp3/dog-hou.mp3]
——————————————————————————————-
Mike Mineo
I'm the founder/editor of Obscure Sound, which was formed in 2006. Previously, I wrote for PopMatters and Stylus Magazine. Send your music to
[email protected]
.