Posted
December 9, 2006 by Mike Mineo
in Features
Foxes. Foxes? Foxes! Unsigned? Why?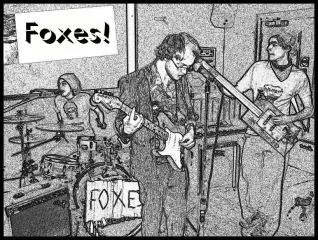 To the average tourist, the historical city of Oxford, England echoes nothing but the words of tradition and education, thanks to the renowned University of Oxford, which is the oldest in the world. Mixing those words and young minds together equates to the assumption that Oxford is full of cranky bald professors in their 60s who haven't heard music in decades. Actually, the city has one of the most thriving music scenes in England. Anyone visiting the area can check out OxfordBands for a bit of info on talented local acts. Foxes! seems intent on successfully emphasizing the excitement of the city with more than the exclamation point in their name. The trio consists of a bunch of lovable nicknames: drummer Holly P (Kayla Bell), guitarist Skullface (Adam Bell), and bassist Nate the Cat (Daniel Pacrami). I'm not quite sure what they all mean, but I know some inside jokes are meant to be. Drummer Holly P is also the lead singer for the band, which is very impressive considering that drumming and singing at the same time is quite a difficult task. As if working your feet and arms out at once isn't enough, now you have to stretch out your vocal chords as well. She pulls it off and makes it sound easy, and her luscious vocals make it even better. Bell has the energy of Emily Haines and angelic tone of Kori Gardner, with colorful lyrics describing anything from a cigarette search to the love of vegetables.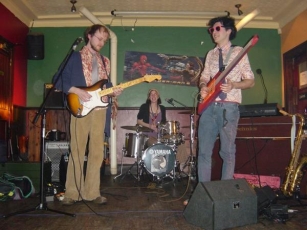 These four songs are off of their new EP, 46a Appleseed Drive. Foxes! are currently unsigned, though I wouldn't be surprised if that changed soon due to the enjoyably irresistable likeness of tracks such as '6 O'Clock' and 'Art Girl'. Skullface's guitar licks and Nate the Cat's bass lines aren't very complex, but they still remain entirely suitable and enjoayble in combination with Bell's vocals. They avoid repetitiveness as well, such as the quick but eerie guitar solo in 'Art Girl' and the keyboard utilization in 'Descartes'. '6 O'Clock' seems to be their signature song though, with a melody that is tough for any standard indie pop act to beat. They also have a tendency to talk about fruits or vegetables in several songs, so Foxes! is certainly a band that your mother would approve of. The trio is not entirely complex, but they are indeed entirely fun. If the abruptly effective 46a Appleseed Drive is an indication of things to come for Foxes!, I believe we have something very promising on our hands.
——————————————————————————————-
[audio:https://obscuresound.com/mp3/foxes-6oc.mp3]
——————————————————————————————-
[audio:https://obscuresound.com/mp3/foxes-art.mp3]
——————————————————————————————-
[audio:https://obscuresound.com/mp3/foxes-des.mp3]
——————————————————————————————-
[audio:https://obscuresound.com/mp3/foxes-app.mp3]
——————————————————————————————-
Mike Mineo
I'm the founder/editor of Obscure Sound, which was formed in 2006. Previously, I wrote for PopMatters and Stylus Magazine. Send your music to
[email protected]
.