Posted
December 14, 2006 by Mike Mineo
in
Halou above your head, in your ears, and under your bed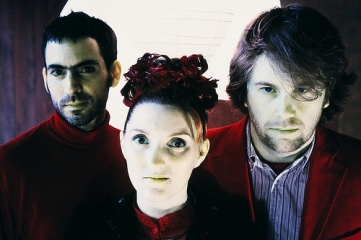 Would it be considered cliché to meet your true love in an indie record store? Maybe in the movies, but to Rebecca and Ryan Coseboom it's a reality. After meeting in Ryan's father's record store in 1992 in Santa Cruz, California, the two fell for each other and their musical interests. They both soon discovered that they were both musically capable and decided to form a duo that was initially called Anymore, a name that later formed into Halou. Their debut, We Only Love You, was released in 1998 to warm reviews and well-recieved reception. Their mixture of organic and electronic elements uses the dream pop traits of Cocteau Twins and Lush, which is traditionally known for droning musical textures and emphasized reverb. Their generally atmospheric sound tends to be more separable though, with catchy song structures that may be more comparable to the likes of New Order and Electronic. Rebecca Coseboom has the perfect vocal style for the band's synthetic traits and warm sensations, with fragile and resounding vocals that are somewhat reminiscent of Robin Guthrie. The year 2000 saw the release of Wiser, a warmer album that was just as enjoyable as their debut, involving a few more aspects such as hip-hop and trance. Instruments such as a cello and double bass were often used in expertise. After the album, the reputable studio engineer Count joined the band as a full time member after working with the likes of John Cale and New Order. Halou released Wholeness & Separation last May and it's growing on me to the point that I may personally consider it to be their most solid effort yet.
'Honeythief' begins with a set of chilling keys, as Rebecca's vocals launch at the same moment that the Count's progressive percussion kicks in. Her voice blankets itself flawlessly over the electronic textures that her husband details so well. The song is consistently low-key until the song instantly erupts violently after the two-minute mark. Obviously a high point, Rebecca's display of vague emotion is uninterrupted with a prominent artistic flow. 'Everything Is OK' works well with a smooth synth pad and a handful of varying percussion. When Rebecca bursts out, "And I'm so tired of you constantly over-thinking", you feel as an apology is in order. Her vocals somehow find their way to her own unique sense of irresistability, which is a harder feat to accomplish than it sounds in their genre of variation and experimentation. 'Stonefruit' is one of the more organic tracks on the album, showing the band's rawer side with the basic elements of a guitar, bass, and standard drum kit. The synths show up as usual, but only as a minor component in the chorus. The song goes a long way in showing that Rebecca Coseboom sounds pretty damn good regardless of the genre, whether it's twisted electronica or alternative pop.
——————————————————————————————-
[audio:https://obscuresound.com/mp3/halou-hon.mp3]
——————————————————————————————-
[audio:https://obscuresound.com/mp3/halou-eve.mp3]
——————————————————————————————-
[audio:https://obscuresound.com/mp3/halou-sto.mp3]
——————————————————————————————-
Mike Mineo
I'm the founder/editor of Obscure Sound, which was formed in 2006. Previously, I wrote for PopMatters and Stylus Magazine. Send your music to
[email protected]
.