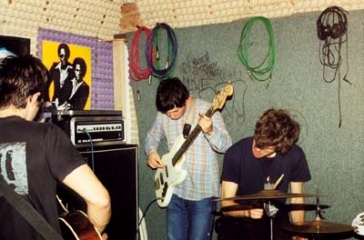 It's bittersweet for me to say that I have already heard several albums being released in 2007 that I find more enjoyable than the majority of my favorites for this year. An optimist would say that it just means 2007 is shaping up to be a fantastic year for music, while a pessimist would pout that it signifies how the music industry in 2006 was disappointing in general. Personally, I feel it's a mixture of both though this year was by no means disappointing. Along with new releases from Of Montreal and Field Music, I am really enjoying Myth Takes from the peculiarly named !!! (pronounced "Chk Chk Chk"). Most are familiar with their sophomore release Louden Up Now, an exceptional album that expressed radically engaging political views with blatant references to popular drug use. Even their ambiguous lyrical charm cannot match their tedency of creating genuine hooks, which always seems to avoid repetition and inconsistency in their occasionally complex sound.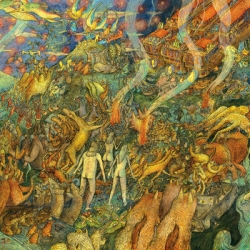 Myth Takes continues to maintain the rough and edgy sound that !!! is known for, but it is presented in a method that avoids many forms of unusable sloppiness. My favorite track on the album by leaps and bounds is 'A New Name'. The song represents the expectably fantastic bass work of Justin Vandervolgin, a trait that he also possesses in Out Hud (the excellent dance-laced side project that most members from !!! are involved in). Between the rhythm section lies a distant strum of guitar every measure, all until singer Nic Offer turns into some demonic version of Barry Gibb giving an impressionable rendition of catchy soul-based alternative. The song is one of the best tracks they have done and surprisingly one of their cleanest too. Other highlights on the album include the energetic 'All My Heroes Are Weirdos', the irresistably catchy 'Heart Of Hearts' and the guitar-driven eight-minute epic 'Bend Over Beethoven'. Myth Takes as a whole is generally more accessible than !!!'s previous two releases, even if some tracks may seem a bit ambitious, though enjoyably so. Longtime fans should find the album quite enjoyable, even with the lack of usually blatant references to drug use and political passion. Oh yeah, doesn't the cover art kick ass?
!!! (Chk Chk Chk) – A New Name
[audio:https://obscuresound.com/mp3/chk-ane.mp3]
!!! (Chk Chk Chk) – All My Heroes Are Weirdos
[audio:https://obscuresound.com/mp3/chk-all.mp3]
——————————————————————————————-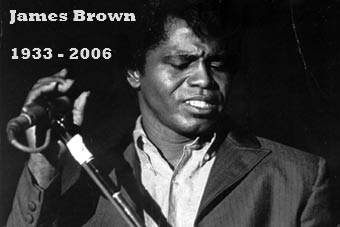 As many of you have heard by now, James Brown died early this morning at the age of 73. Known throughout his illustrious career as "the Godfather of Soul", Brown was one of the most successful soul artists of all-time. Though the majority of the younger generation knows him mostly for his drug use and legal issues, his musical career is best known by such hits as 'Papa's Got a Brand New Bag' and 'Super Bad', both of which are just a sample of the dozens of hits that Brown achieved during the 60s, 70s, and 80s. Brown successfuly blended in during those three decades, as these three songs below demonstrate. 'Living In America' was a hit in the 80s, as one can easily tell by the synths and automated percussion. I prefer his classics like most, including the hit 'Papa's Got a Brand New Bag'. Brown's style was still surprisingly relevant throughout the times, as his music will continue to live on. His cause of death was heart failure after a case of severe pneumonia.
James Brown – Papa's Got a Brand New Bag
[audio:https://obscuresound.com/mp3/brown-papa.mp3]
James Brown – Say It Loud – I'm Black and I'm Proud
[audio:https://obscuresound.com/mp3/brown-say.mp3]
James Brown – Living in America
[audio:https://obscuresound.com/mp3/brown-liv.mp3]