Posted
January 16, 2007 by Mike Mineo
in Features
Mezzanine Owls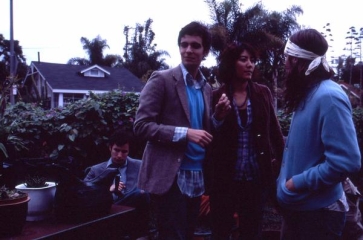 The uniquely titled Mezzanine Owls hail from the Los Angeles area, embracing their current local scene with atmospherically enjoyable rock songs layered with reverb, effects, and entrancing vocals. The band formed when singer/guitarist Jack Burnside met drummer Pauline Mu through a "drummer wanted" ad in the LA Weekly. The two hit it off and later met keyboarist/guitarist Jonathan Zeitlin through another ad. Fortunately, the three then met bassist Dan Horne through friends and not through ad inquiries, which I imagine became a tiring process after several attempts. With all four in tow, they began to write songs with aspirations of creating a memorable debut album. They enlisted the help of producer Andy LeMaster, who found promise in the young band and agreed to produce their debut album, Slingshot Echoes, in his own studio in Athens, Georgia. LeMaster's previous production work includes the likes of Bright Eyes, Azure Ray, and Now It's Overheard. Recorded in the spring of 2006, Slingshot Echoes is an enjoyable debut from a band who takes influence from the progressive stomps and atmospheric elements of The Clientele and Ride, sounding somewhat similar at times to fellow Los Angeles newcomers Silversun Pickups. Jack Burnside cites other influences as Yo La Tengo, Built to Spill, My Bloody Valentine, Pavement, and Bob Dylan, among many others.
The enjoyable 'Luxury Spirits' reminds me of the guitar harmonics that made the Wrens indie staples, working with a steady progression of synchronized guitar-led melodies and dramatic mini-solos. Burnside's vocals sound traditional but remain effective for this straightforward style that employs a stronger sense of memorability after each additional listen. 'Coyote' relays a lusher and more relaxing sound, with a trickle of bells and softly strummed guitar chords providing a sense of versatility and soft-spoken emotion. 'Counting Backwards' demonstrates effective usage of backing vocals, as Burnside, Mu, and Zeitlin all provide a strong sense of musical chemistry in this short but accomplished song that works around a repeated guitar verse, giving a sense of what the Arcade Fire would sound like if their aspirations were more alternative and straightforward. Slingshot Echoes is available now and despite a few songs that sound too similar in structure and sound, it remains to be an album certainly worth a couple of listens.
——————————————————————————————-
Mezzanine Owls – Luxury Spirits
[audio:https://obscuresound.com/mp3/mezz-lux.mp3]
——————————————————————————————-
[audio:https://obscuresound.com/mp3/mezz-coy.mp3]
——————————————————————————————-
Mezzanine Owls – Counting Backwards

[audio:https://obscuresound.com/mp3/mezz-cou.mp3]
——————————————————————————————-
Mike Mineo
I'm the founder/editor of Obscure Sound, which was formed in 2006. Previously, I wrote for PopMatters and Stylus Magazine. Send your music to
[email protected]
.