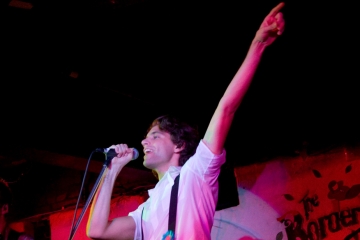 It's only a matter of time before Mika becomes the next pop star you love to hate. Of course, such feelings are primarily spurred by jealousy. However, unlike most rising pop stars, this Beirut native writes the majority of his impressively catchy songs. He has quite a voice too, comparable to the likes of Freddie Mercury and Barry Gibb, though that judgement call of comparison is obviously too premature considering the early state of Mika's career. His vocal training came early and harshly. "After I started singing as a boy, I started to get jobs everywhere", Mika said, "and with the help of a terrifyingly tough Russian singing teacher, I got to be really good at professional gigs". After such training, he attended the Royal College of Music. Such experience propelled Mika to the promising position he is at today. Before his rising career pushed itself into the spotlight, he did have a bit of turbulence. Mika moved from Beirut to Paris to London at a young age, with the reason being that during the civil war in Lebanon, his father was taken hostage and held at the American embassy in Kuwait. With that providing a very mature atmosphere for a young Mika at the time, the family eventually settled in London. Now, Mika is becoming a brand name in England thanks in part to his musical endeavors. After writing an Orbit gum commercial theme song and supplying in-flight music for British Airways, Mika released his first single "Relax, Take It Easy" as a download-only track. The song had a nice reception, recieving acclaim from the likes of BBC Radio and Scott Mills. While the song is certainly catchy, it is anything but original. Mika basically provides a nicely done falsetto over the melody of Cutting Crew's 80s hit, "(I Just) Died in Your Arms". His supportive 70s-esque vocal range over this 80s gem turns out to be surprisingly appropriate, something the Scissor Sisters bask in. Though it was a good display of Mika's vocal range, many questioned whether or not he could actually write his own melodies. "Grace Kelly" answered that question and it answered it well. The song is, simply put, an excellent pop song. If Mika has any sort of career after his debut Life in Cartoon Motion, "Grace Kelly" will be remembered as the song that was singlehandedly responsible for jumpstarting his prominence. As cringeworthy as the lyrics occasionally may be, the melody is quite irresistable and even if your fondness of the song is not as agreeable with mine, one can't help but laugh at his Freddie Mercury impersonation (from 01:50 to 02:07). He even references that he likes to "try a little Freddie" in the song, though I'm not sure if the lyrical usage is on the same page as my Mercury reference. I actually wouldn't be surprised if Mika reaches a popularity in similarity to James Blunt, as much as we all despise him. At the very least, Mika is certainly more tolerable.
Mika – Grace Kelly
[audio:https://obscuresound.com/mp3/.mp3]
Mika – Relax, Take It Easy
[audio:https://obscuresound.com/mp3/.mp3]
——————————————————————————————-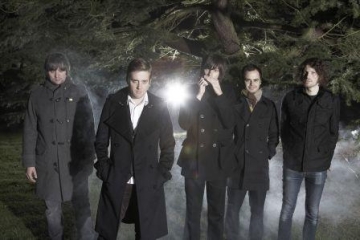 Honestly, I'm surprised that the Kaiser Chiefs have come back this strong. As much as I found Employment to be a solid debut, I would never have guessed that their newest single would be more effective than every song on Employment. Trying to avoid the "sophomore slump" has often proved difficult for bands of Kaiser Chiefs' nature. They were one of the introductory bands in the "art-rock" explosion that occured in early 2004. The names Franz Ferdinand, Bloc Party, and Kaiser Chiefs were all universally recognizable in England, with strong fanbases in the United States as well. Instead of tripping on intimidation, Kaiser Chiefs continue to ride on. Another product of Leeds, they are now embarking on a world tour. After finishing up the UK in the beginning of March, they will head to Tokyo for a gig, take a short break, and then tour the United States for most of April, with the majority covering the East coast before travelling up to Canada. The tour comes in anticipation to their second album, Yours Truly, Angry Mob. With the fantastic single "Ruby" leading the way, the album is guaranteed to generate sales. Produced by the accomplished Stephen Street (of Smiths and Blur fame), the album will be released on February 26th. "Ruby", in my opinion, is the best song they have ever done. The verse is comprised of various guitar chords at the end of each measure, with slight keys and a booming bass showing their worth over the energetic vocals of Ricky Wilson. The most joyful part of the song, like most Kaiser Chiefs songs, comes in the chorus. An eruption of synth is the clear indicator for it, as Wilson quickly belts out, "Ruby! Ruby! Ruby! Ruby!", in a chant that is sure to be a crowd pleaser at live shows. Cheers to the Kaiser Chiefs for not sinking under the pressure. We might all be treated to a rare occurrence for "art-rock" acts, being that a sophomore album ends up being more enjoyable than the debut.
UPDATE (1/29): Check out the video of "Ruby" here.