Posted
January 4, 2007 by Mike Mineo
in Features
The Eternals set to release third album, Heavy International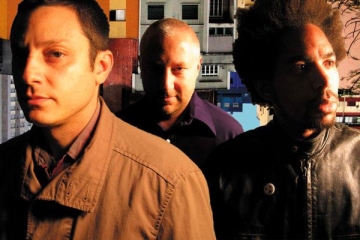 Originality has always been a major factor in determining an artist's worth. Though many artists strive to remain in their contemporary timeframe in terms of musical influences to promote media appeal, there are always those few who ignore musical chronology completely. Successful artists who have ignored time throughout their whole career have become known as "musical chameleons", with names such as David Bowie and Sparks coming to mind with that particular phrase that echos with the sentiment that the artist has the ability to adapt in any musical phase due to their own original sound. As far as genre goes, The Eternals are a difficult trio to pinpoint. One thing is for sure, many of their songs could have been successes in any miniature musical era of the past twenty years. Featuring Damon Locks (vocals and keyboards), Wayne Montana (bass, melodica, and guitar), and Tim Mulvenna (percussion), The Eternals are already known for luring listeners into a brand new world of countless influences. Whether it's their juicy hip-hop renditions or their dance-heavy orchestrations, all three members contribute their own flavor and mix it together in each and every song. The drummer's slot was originally occupied by Dan Fliegel for the band's debut album, though Mulvenna took over a few years ago. Locks, Montana, and Mulvenna all play keyboard and have lengthy musical backgrounds, with Locks and Montana fronting Trenchmouth, while departed drummer Fliegel was the touring drummer for Tortoise (who The Eternals have toured with). Their beginnings trace back to the late 90s, where they released a couple of promising singles on DeSoto Records. They released their self-titled debut album in 2000, showcasing a collection of unfocused but potentially innovative songs that yearned for a proper follow-up. The Eternals later achieved it with their sophomore album in 2004, Rawar Style. The album is more similar to the music they are making today, being a mixture of hip-hop, Latin, funk, and dance elements. Any doubt regarding the band's ambitions and focus were quickly reassured, as Rawar Style was definitively pleasing to most fans. It was also an album of tactful variation, with the radio friendly hip-hop fused 'Spance Dancehall' coexisting on the same album as more experimentally challenging tracks such as 'Bewareness' and 'High Anxiety', both combining several genres to create the most organized mash-up possible.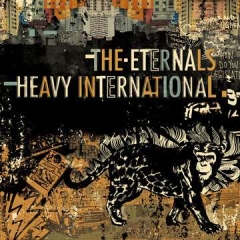 The Eternals' third album, Heavy International, will be released on February 12th on Aesthetics. Considering the dramatic shift of style from their debut album to their sophomore effort, many are appearing to expect some sort of musical innovation that will surpass their previous works. Whether the average listener likes it or not, Heavy International is very similar to Rawar Style, with a slight more emphasis on hip-hop. 'The Mix Is So Bizarre' is the bouncy opener to Heavy International, being at the very least a good demonstration of Locks' half-spoken vocal style. In clear contemporary hip-hop form, Locks chants over a leading funky bass line and a rampage of brass repetition. The song stands strong as one of the friendliest listens on the album, with most of the other tracks requiring about a dozen listens for thorough appreciation. 'Feed The Youth (Stage A Coup)' is a breezy slow-paced affair, requiring nothing more than a few percussion shakes while Locks demonstrates his diverse ability to capture theme, as he does with a romanticized reggae vocal accent in 'Feed The Youth (Stage A Coup)'. 'It Is Later Than You Think (Pt. 1 and 2)' is an instrumental focused on synth and dance that is another example of The Eternals' capable diversity. Surrounding this particular track are memorable songs fused with too many influences and genres to count. The styles on Heavy International are all presently recognizable, though the number of different deliveries may cause some form of unfocus for those who appreciate nothing more than stereotypical inpirations. Heavy International is an entertaining listen, but if it does not suit you, at least you're discovering several genres at once. Show your mind some love and give the album a chance.
——————————————————————————————-
The Eternals – The Mix Is So Bizarre
[audio:https://obscuresound.com/mp3/eter-mix.mp3]
——————————————————————————————-
The Eternals – Feed The Youth (Stage A Coup)
[audio:https://obscuresound.com/mp3/eter-fee.mp3]
——————————————————————————————-
The Eternals – It Is Later Than You Think (Pt. 1 and 2)

[audio:https://obscuresound.com/mp3/eter-itis.mp3]
——————————————————————————————-
Mike Mineo
I'm the founder/editor of Obscure Sound, which was formed in 2006. Previously, I wrote for PopMatters and Stylus Magazine. Send your music to
[email protected]
.