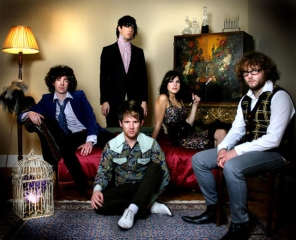 WinterKids is one of the first bands making their debut in 2007 that you will love to hate. It's not their music that will ignite the hate. Hell, their debut album, Memoirs, is actually quite catchy. It's just their swagger, their emphasis on youth, and their good looks that will make you cringe. Oh come on, but doesn't an overblown ego make for great music? Perhaps in the right case. Morrissey and the Gallagher brothers can certainly testify. Remember Menswear? You know, the short-lived Brit-pop band in 1995 who rode the airwaves using their fashionable criteria of good looks and catchy hooks. WinterKids, a bunch of kids in their early 20s from Peaslake (a small village in England), hope to reach that same success using a similar formula, though they may have a more realistic hope for longetivity. They have been compared to Pulp, though I find that a bit premature considering Jarvis Cocker's lyrical wit is based more off sexual fantasies and unforgivable perversions than actual longing for youth. Where Cocker's lyrics on fame and fortune were often satirical, WinterKids are much more straight-faced while still employing a similar amount of passion. Their melodies are also significantly less complex than their forefathers, such as the gruesomely linear 'Brainwashed Since 17'. I will give my regards to Hannah Snider, who provides engagingly effective synth and charming backing vocals. For future releases, I am hoping that the band will utilize her vocals a bit more. Vocalist James Snider is appropriate for the band's youthful push, but tracks that feature Hannah like the catchy 'Who Am I Kidding?' are entirely enjoyable, occasionally sounding like an English version of Emily Haines.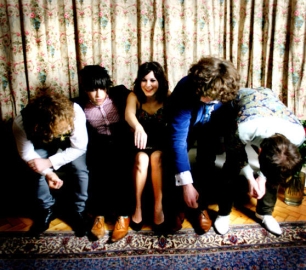 Despite a few ineffective songs, Memoirs is a pleasant debut that is certainly going to get quite a bit of attention. 'All The Money' is a short precursor of things to come. "If I had all the money in the world then I would change a few things," James Snider sings knowingly, "like the car and the house and the girl". Listening to their confident demeanor, it sounds as if they know that Memoirs has several songs that are certainly capable of bringing in "all the money in the world". 'Tape It' is the first single off of the album that the band is pushing hard and for good reason. You can watch the music video for the track here if your desire is for a visual representation. 'Tape It' is straightforward but catchy and is the likeliest canidate to thrust the band into the spotlight. The combination of Hannah Snider's xylophone and Bradley Osborne's hectic guitar proves to be effective, as James Snider does his angsty croon that listeners will become quite familiar with by the end of the year. I wouldn't expect popularity on the same page as Bloc Party and the Arctic Monkeys, but that is only due to the fact that the art-rock genre has been widespread for a few years now. However, as it stands, Memoirs is a convincing debut from a band who appears quite satisfied with it.
——————————————————————————————-
——————————————————————————————-
WinterKids – Who Am I Kidding?

[audio:https://obscuresound.com/mp3/winter-who.mp3]
——————————————————————————————-
——————————————————————————————-