Posted
February 21, 2007 by Mike Mineo
in Features
Charles Gocher: 1953 – 2007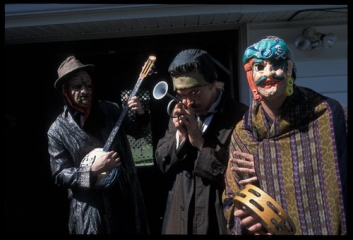 In terms of innovation, passion, durability, and flexibility, few American bands matched the quality of the Sun City Girls. Though they never came close to commercial success, they obtained an extremely dedicated cult following due to their highly diverse and unpredictably entertaining albums. The trio formed in 1982 in Sun City, Arizona, consisting of three friends: bassist Alan Bishop, guitarist Richard Bishop, and drummer Charles Gocher. The three friends never ceased to display their passion, releasing over 40 full-length recordings in over 21 years. Sadly, on Monday, February 19th, Charles Gocher passed away at the age of 54 after a struggle with cancer. In touch with his humane character, his disease was unknown to even the most dedicated Sun City Girls fans, which was simply how Gocher wanted it. Putting his influence as an extremely capable drummer and musician aside, Gocher was known a free spirit, both open minded musically and as a human being. Alan and Richard Bishop released this statement in regard to the tragic event: "With deep regret, we must announce that Charles Gocher passed away yesterday in Seattle due to a long battle with cancer at the age of 54. He is survived by the two of us who adopted him as a brother 25 years ago and his many friends around the world. He will be missed more than most could ever know. Our thanks to everyone for their support and encouragement during the past three, very difficult years. Many of you were not aware that Charles was ill and that's because he wanted it that way. Details of a memorial in his honor will be announced soon".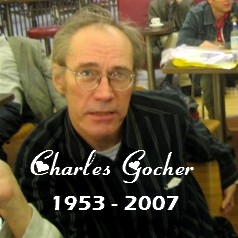 I have been a fan of Sun City Girls for several years now. During that time, they have shown musical blends and experimental genres that opened my eyes to a vast amount of styles and unique approaches. They are a perfect example of how a lack of commercial success does not mean that a band holds has no influence or impact on music. Understandably, I find that a lot of people have never even heard the Sun City Girls. While Gocher's death is certainly a tragic circumstance for an introduction, sharing the music of the Sun City Girls is certainly better late than never. Known primarily as musicians, they were also known as performance artists, dressing in festive attire such as kabuki makeup, associating cultural legends and mysticism in their lyrical content. They cannot be clumped into any genre, as they have used snippets of literally every major musical style known to man, displaying the likes of jazz, punk, surf, psychedelia, soul, hip-hop, improvisation, and beat poetry. Their influences have also stretched far and wide, creating music that echoes elements from geographical locations such as the Middle East, South America, South Asia, Africa, and Europe. Most of the time they strayed away from the Western scene and dwelled on foreign creativity, explaining their lack of Western success. My favorite Sun City Girls album is also arguably their most popular, being 1990's Torch of the Mystics. As shown in the three tracks below, there is not one band who sounds like Sun City Girls. The ethnicity presented in the album is far beyond the limitations of contemporary bands, from the whistling Western-esque "The Shining Path" to the Egyptian surf inspired "Radar 1941". "Esoterica of Abyssynia" is a nice display of the trio working together musically, being a freeform instrumental where the Bishop brothers and Gocher work well together expressively and rhythmically. Through their countless number of actual releases, the Sun City Girls have established themselves as one of the most influential artists in the history of American underground music. With the tragic passing of Charles Gocher, one can only hope that their music will now be appreciated to a fuller extent. I offer my deepest condolences to Golcher's family and friends.
——————————————————————————————
Sun City Girls – The Shining Path
[audio:https://obscuresound.com/mp3/suncity-shi.mp3]
——————————————————————————————
[audio:https://obscuresound.com/mp3/suncity-rad.mp3]
——————————————————————————————
Sun City Girls – Esoterica of Abyssynia
[audio:https://obscuresound.com/mp3/suncity-eso.mp3]
——————————————————————————————
Mike Mineo
I'm the founder/editor of Obscure Sound, which was formed in 2006. Previously, I wrote for PopMatters and Stylus Magazine. Send your music to
[email protected]
.