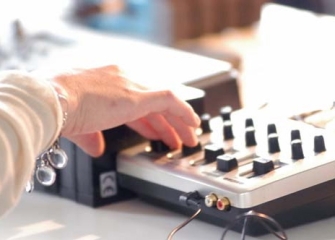 Japanese avant-pop is an interesting genre. Interestingly enough, the genre has yet to catch on with fury in it's native Japan. Despite this, artists such as Sachiko M and Haco have found cult followings in the United States and Europe due to their highly innovative sound. It's a wide genre to define, with each artist incorporating their own personal touch over an array of samples, actual instrumentation, vocals, and experimental production. For instance, Haco is more in the mold of Björk in being more accessible due to her angelic vocal incorporation and often serene depictions of sound, often shuffling between electronic and organic elements, as shown over her piercing vocals in "Moonlight in Glory". The song initially beings with a repeating percussion layed over several scratching samples and Haco's delivery, which almost sounds like a tribal chant. The song eventually weaves in an electric guitar quite well. Even though the instrument only lasts for a few seconds and about five chords, it is the most memorable integration on the song. "Standard Smile" is a beautiful collaboration with cellist and saw player Sakamoto Hiromichi. The slight pluck of a cello pulsates throughout the entire song with a few beep samples. When Hiromichi's beautiful cello enters the picture Haco's stunning vocal accompaniment is not far behind. In an adjacent angle to the strings, Haco demonstrates her inherent ability to be able to integrate her vocals in a song without interrupting the sheer beauty and passion. "Standard Smile" is an innovative stunner, being one of Haco's best songs. Despite the oddball pop demonstrated on "Moonlight in Glory" and the brilliant orchestration in "Standard Smile", she is also known to venture into the experimental unknown. "Start-Up + No Wave" is more reminiscent of noise and tonal functions, working on an experimental probability of varying melodies through the drone of distortion of several waves.
Speaking of experimental waves, Sachiko M is more keen on sampler integration, being one of the first artists to introduce the use of sine waves, with her first solo release Sine Wave Solo including nothing but the elusive sound of sine waves. For those unaware, a sine wave is often the sound you can hear during the transmission of sound waves, light waves, and ocean waves. In daily use, even whistling and vibrating glass give off sine waves. Sachiko M has revolutionized the genre with creating vague harmonies within the use of sine waves, with it occasionally sounding like a very light form of noise, a trait probably best known in relation to popular natives Boris. Alongside Toshimaru Nakamura, Sachiko is credited as the founder of the sine wave movement, with their collaborations "Do #2" and "Live in Bordeaux" providing accurate examples of their use. Nakamura is also known for his use of a mixing console as a live instrument, often relying on improvisation and theoretical probability. His actual type of console varies, from the mini version above to the expanded studio version. Obviously, this "sine wave" genre is not a sound suitable for everyone. Though many will regard it as nothing more than a constant shrill noise, those who are fans regard the duo as musical innovators to the highest degree. It's pointless to argue the validity though. Much like defining one's beauty, this genre's likability relies on the sole individual.
Haco & Sakamoto Hiromichi – Standard Smile
[audio:https://obscuresound.com/mp3/haco-sta.mp3]
Toshimaru Nakamura & Sachiko M – Do #2

[audio:https://obscuresound.com/mp3/sachi-do2.mp3]
Toshimaru Nakamura & Sachiko M – Live in Bordeaux
[audio:https://obscuresound.com/mp3/sachi-liv.mp3]
Web Sites: Haco, Sakamoto Hiromichi, Toshimaru Nakamura, Sachiko M
BUY: Haco & Sakamoto Hiromichi, Haco, Toshimaru Nakamura, Sachiko M
——————————————————————————————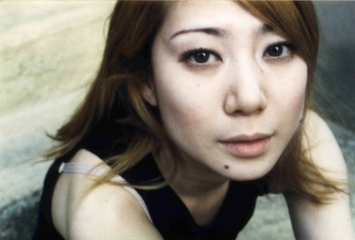 On the other spectrum, Tujiko Noriko is steadily rising in becoming one of Japan's most popular avant-pop acts. Ever since her debut in 2000, Keshou to Heitai, Noriko has been considered one of the most effectively creative avant artists based out of Japan. I first discovered Tujiko Noriko about two years ago when I wrote a review of Blurred in My Mirror for Stylus. Looking back, I was infatuated with Noriko's concise understanding of structural layers, a quality that is rare to come by in the overlooked genre. Many are fond of calling Noriko's style "glitch pop", a genre that focuses on adding several different electronic layers of sound on top of the introductory melody. Unlike her fellow contemporaries Haco and Sachiko M, Noriko's style is much more consistent in flow and general presentation. With a hushed vocal tone, she speaks in Japanese or English depending on the track, often incorporating both together. The music is a blend of samples, loops, scratches, and clicks, with the occasional guitar and bass peeking through in suitable circumstances. Noriko's vocals barely rise above a whisper and a sigh but her emotional intensity is of a significant proportion, relying on the variability of both verbally rushed and unhurried vocal sighs. Solo is her ninth release including last year's solid collaboration with Aoki Takamasa, 28. It was released last week and has already amassed a generous amount of critical acclaim.
"Magic" opens up Solo and is actually one of the most standard pop songs you will hear from Noriko, who is often known for even more experimentation. The fact that I dare to call any song from Noriko "standard pop" is that "Magic" holds an actual chorus and repeating structure, a quality Noriko often strays away from. Still, the structure and arrangement of the song takes several listens to adapt to, much like most of Noriko's other songs. Despite the surprising formula, "Magic" is still an extremely enjoyable song, slowly becoming one of my favorites from Noriko. "Let Me See Your Face" is more typical of a her label's (Mego) release, being that of an atmospherical trip through beauty and romantic regret. "Let me see your face again, let me believe in you again," Noriko whispers through a clouded realm of sweeping pads and looped layers, repeating "again" for longing emphasis. "Saigo No Chikyu" is a surprisingly intense vocal performance, reaching a volume that Noriko has never attempted before. Over the echoed percussion and light melodic synths, it's a complete success, just like the entire album. Solo is one of the most impressive releases from Tujiko Noriko, also being perhaps the most accessible. It is one of those albums that will satisfy old fans and also grab a whole new audience. Noriko is currently creating experimental short movies in Paris. As usual, she is ceaseless in creative development.
——————————————————————————————
Tujiko Noriko – Let Me See Your Face
[audio:https://obscuresound.com/mp3/tujiko-let.mp3]
Tujiko Noriko – Saigo No Chikyu

[audio:https://obscuresound.com/mp3/tujiko-sai.mp3]
——————————————————————————————