Posted
February 13, 2007 by Mike Mineo
in Features
Minmae: An Album a Year Keeps the Fans From Tears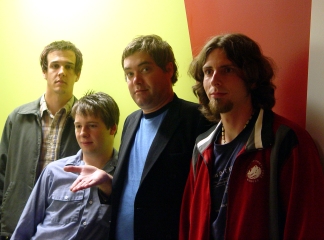 I'm not sure whether it's the technology, the fast food, or just the lazy perspective in general. Whatever it is, there is no doubt that today's musical artists produce less on a yearly basis than their forefathers did on average about fifty years ago. In the 50s and 60s, an artist usually released at least one album per year, often with admirable quality. These days, we usually have to wait five years between releases for an artist with even a bit of prestige. Sure, we still have the occasional Ryan Adams but for the majority, artists just seem to enjoy breaks more. One could make a case that music production has advanced and takes longer to implement but really, this abundance of technology should really make things quite equatable. Due to their vigorous work ethic, I wouldn't be surprised if Minmae feels the same way. The band has consisted of a revolving door of members through it's nine year career, though frontman Sean Brooks has always been the leading man. Formerly of Thee Psychic Hearts, he formed Minmae in 1998 with a 7″ entitled Poltergeist Over England. Though he is based in Oregon, Brooks resided in southern California for a short time in his quest to recruit a suitable group of backing musicians to support his promising project. After much anticipation from their local fanbase, Brooks released his debut full length album Vonsachiang in 2000 under the Minmae alias. Billy Sprague supplied mixing and percussion, but it was mainly a one man show by Brooks who released the album to momentous applause as Minmae's status began to rise with prominence. In 2002, Brooks finally formed a consistent lineup with Jake Anderson, Ben Moro, Steve Kozik, Josh Kempa, and Chris Calvert. Since their formation nine years ago, Minmae has released nine albums, twelve 7″ singles, and a 12″ split with Electroscope. Now that's what I call a work ethic. The most impressive thing is that every single release has been with consistence and confidence, maturing slowly but steadily with each release. Despite the numerous amount of releases, Brooks' sound and vision has remained relatively the same since the formation. They released Le Grand Essor de La Maison du Monstre last year, an album that despite it's French title, borrows from most traditional alternative and Americana influences such as Robert Pollard's Guided by Voices. This year, Brooks has changed the lineup around again. Well, Brooks does indeed like to change it around but at least he isn't Mark E. Smith. Now, Andy Price will take percussion duties with Ian Watts on guitar.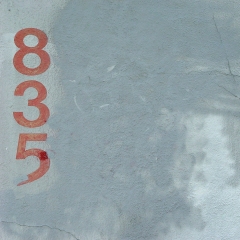 Despite the lineup change, their new release and ninth full length album, 835, consists of the original lineup that disbanded in 2006 (with the rhythm section consisting of Josh Kempa and Chris Calvert). The album consists of the same old Minmae sound, using their traditional strategy that has proved successful in the past. A typical song from Minmae is often soaked in haunting melodies and generally downbeat emotions, creating an atmospherically captivating feel of serene isolation. The instruments applied are fairly standard, with guitar and rhythm both consisting as a forefront. A few synths and keys may also occasionally poke through in the more adventurous escapades. Brooks' mysterious vocals align themselves well with his musical style, whether it's guitar-driven songs bordering on folk or ambient inspired brooding ballads that sound like a distant cousin to The Clientele. "Goodbye" certainly gives off a longing emotion, though the song is as standard as Minmae gets. Brooks is direct with the melody and structure, providing a catchy and slow-paced chorus over an array of colliding guitars. "Your Band Controls the Weather" sounds like a more typical Minmae, being a relatively lengthy song that works off of ambient elements. The mood is particulary bleak as Brooks depicts a gray and snowy landscape complemented by a repeating guitar progression and droning synth line. Despite it's slow movement, the song is extremely engaging and is one of the most interesting songs that Brooks has written. While the creativity and depth is nothing special, it's the mood that is set that is quite stunning. 835 takes an odd start with the eight-minute "Pay More" and "Your Band Controls the Weather", though it sets the stage of likable bleakness. The album is not all gray skies though, as "Goodbye" and "Policy Blues" are perfect examples of Brooks' ability to create pop songs that are both catchy and as likable. While certainly not upbeat, they are enjoyable with their own forms of ingenuity. "Policy Blues" is a song that evolves over time, beginning with a faint acoustic guitar. Brooks' vocals demonstrate a rare display of emotional range here, a result that comes off surprisingly well. Eventually, a series of distorted guitars and increasing percussion adds a gracious amount of excitement toward an otherwise typical track. 835 is one of Minmae's most mature efforts, even if the emotional mindset is often varied and unfocused, unlike their previous releases. Still, Minmae fans and new listeners alike should find enjoyment in 835, which will be released on March 13th.
——————————————————————————————
[audio:https://obscuresound.com/mp3/minmae-goo.mp3]
——————————————————————————————
Minmae – Your Band Controls the Weather
[audio:https://obscuresound.com/mp3/minmae-you.mp3]
——————————————————————————————
[audio:https://obscuresound.com/mp3/minmae-pol.mp3]
——————————————————————————————
Mike Mineo
I'm the founder/editor of Obscure Sound, which was formed in 2006. Previously, I wrote for PopMatters and Stylus Magazine. Send your music to
[email protected]
.