Posted
February 26, 2007 by Mike Mineo
in Features
The Parish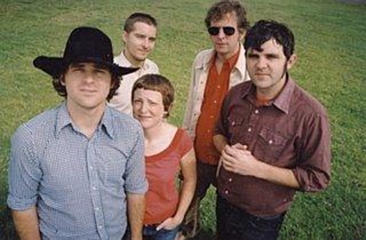 Over the past few years, it has been exemplified that marriage and music go quite well together. Just like the varied process of marriages, we've seen some come out successful and others come out flawed. From the fun catchy pop The Rosebuds and Mates Of State to the deep musicianship of the Arcade Fire, husband and wife collaborations have often proved to be effective in mixing romantic and musical chemistry with a little help from some friends. The Parish is another example in the recent trend, with husband and wife duo Zac and Kim Stanley writing most of the songs. They also both sing on all of the tracks, with Zac on guitar and Kim on keyboards. As usual, The Parish have a backing band consisting of several of the couple's friends. Andy Asp plays lead guitar, Frankie Koeller is on bass, and Graham Hill plays drums. The Parish was formed from the remnants of Zac and Kim's previous band, Little Dirt, who were locally acclaimed and opened for the likes of The Wrens and David Thomas. After Little Dirt broke up in the spring of 2005, Zac and Kim moved to Oakland, California with their sights set to form a new band. After grouping up Asp, Koeller, and Hill, they gained a following by playing several shows in and around Oakland. They headed into the studio in the middle of 2006 after getting signed by Cavalry Records, eventually releasing their debut album The Way We Bend in December 2006.
The Parish's sound must certainly sound fresh in California; a music scene highly capitalized in punk and art-rock. Zac and Kim Stanley bring a sound more familiar of the South, being a smooth alternative flow with touches of country and psychedelia, with some aspects being a homage to the jam bands of the past. It would be easy to compare Zac Stanley's style to that of My Morning Jacket's Jim James, though Stanley is certainly less experimental with a deeper tonal emphasis. You may also be able to detect a Neil Young influence, though that lies more in the vocal style than the actual tone. Still, both Stanley and James share fondness for warm melodies enhanced by reverbed guitars and natural expression. Kim Stanley is also a nice addition to several of the songs on The Way We Bend, often harmonizing with her husband over enjoyably radiant melodies. "J.C." is an excellent example of the couple's chemistry. Fortunately, both can sing well and it shows as Zac presents his amiable vocals in unison with Kim's light touch. I'm quite fond of the song during it's final minute, where Zac launches into a yelp over a few quick guitar slashes quickly followed by Kim's vocal response. She also lends her organ skills toward th end, adding to the already bursting amount of energy. "Mountaineer" is another great example, even if Kim's presence isn't particularly noticeable. Though Zac takes the majority of the song, Kim jumps in at the end of every other verse or so. The most impressive thing about the track is the integration of Kim's organ in addition to the squealing guitar of Andy Asp and the drum transitions done nicely by Graham Hill. All instruments react very well to each other, especially the interaction between the drums, guitar, and the mirroring of Zac's persistent vocals over the melody of both. "Land Of Wires" is the opener to The Way We Bend, being a bit a surprising it's downtempo emotional prowess. While it is one of the slower paced on the album, it's understandably touching with a variety of guitar solos, emotional duets, and steady progressions. If anything, the song introduces listeners to the band's tendency to create engaging songs based around a variety of structural methods. The Way We Bend is quite an impressive debut, being one of the most straightforwardly enjoyable releases I've heard of late. You can pick it up on their MySpace for $10.
——————————————————————————————
[audio:https://obscuresound.com/mp3/parish-jc.mp3]
——————————————————————————————
[audio:https://obscuresound.com/mp3/parish-mou.mp3]
——————————————————————————————
[audio:https://obscuresound.com/mp3/parish-lan.mp3]
——————————————————————————————
Mike Mineo
I'm the founder/editor of Obscure Sound, which was formed in 2006. Previously, I wrote for PopMatters and Stylus Magazine. Send your music to
[email protected]
.