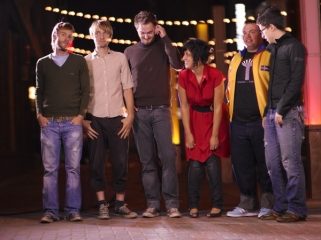 Most of us know about the Bears from Chicago. Yeah, the disappointing football team whose promising year was ruined by a grinning quarterback from Louisiana. But what about Bears from Cleveland, Ohio? Unlike their football counterparts, this fun loving band is poised to have another great year in 2007. Originally consisting of the duo Craig Ramsey and Charlie McArthur, both multi-instrumentalists brought their bedroom project Bears out of the closet after spreading them throughout Cleveland and later recruiting four more members to play with them live. Guitarist Patrick Tripto, bells and tambourine player Rachel Hart, bassist Sean Sullivan, and drummer Jared McGrath all joined the band after hearing the duo's promising demos, which reflected the likable pop of indie staples such as The Shins and Belle & Sebastian. Their first demo was made in 2005 for Popfest in Athens, Georgia. The reason being was that Ramsey's previous band, Kiddo, was invited to play there and Bears saw it as an opportunity for promotion. The short demo consisted of "Walk Away" and a bare-bone version of "Daydreams", without the bass and Rhodes piano. After distributing fifty copies, several listeners enjoyed what they heard and started to spread the word. Ah, the power of circulation. After the demo, they recorded a compilation with folk artist Karl Jacobsen, a Chicago native who goes under the alias Cheap Relative Steel. It has yet to see a release date, but the band assures us that it is completed. Perhaps when they earn a well-deserved record deal, the unreleased songs will find their way out of the darkness. Yes, that's right. As surprising as it may be, Bears is yet to be signed. After resorting to their own studio, the band released their excellent self-titled debut album Bears last April.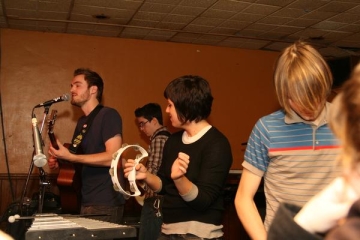 Bears is full of sparkling chimes, lovely melodies, and generally upbeat songs, with most of them being short but sweet by often falling short of three minutes. Their optimistic viewpoint is a breath of fresh air from the typical downers that inhabit the current state of most talented unsigned artists. Of course, you could attribute the word "twee" to their classification, though I have yet to warm up to that word. Sure, the bells and whistles make Bears sound "cute" at times, but the fantastic melodies and likable atmospheres that the band creates with a variety of instruments is what I am most impressed with. "Everywhere" is a nice little love song led by an acoustic guitar and a series of music box keyboards. The Zombies are a clear influence here, as indicated by the 60s-esque vocals drenched in reverb and cleanly modified melodies. "I want you everywhere that I go" is an example of the simplistically effective lines that Bears uses to create an atmosphere of innocent love that relies on actual feelings rather than lustful appearances. "How to Live" takes a bit of an acidic and psychedelic feel toward the band's portrayal. The song is straightforward with a structure that sticks to the same path for the majority of the song. The organ progression is very engaging and entrancing, making the vocals seem like more of a vocal accompaniment, rather than an offbeat melody. The younger kids should love "When You're Away", a very likable two-minute ode that works over an array of bells and keys. Sure, the song is their best example of everyone's favorite "twee" label, but another influence that pokes out at me is that of The Lucksmiths. If you're a fan of twinkling keys layered over acoustic melodies accompanied by honest and heartfelt lyrics that are as simple as their name, Bears is certainly for you. Though it was released last year, it's just starting to garner the proper attention of critics and fans. Either way, it just strikes me as surprising that a band of this caliber can remain unsigned for such a period of time.
——————————————————————————————
——————————————————————————————
——————————————————————————————
——————————————————————————————
——————————————————————————————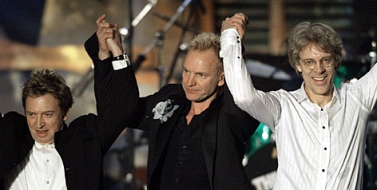 Elsewhere: Did anyone else find this year's Grammy Awards to be as lackluster as I did? I mean, they've been horrible for years now but the only performance I was thoroughly impressed with was the duo of John Legend and Corinne Bailey Rae. I suppose it was not a coincidence that all the artists who performed won their following award. Well, the one thing that kept it afloat was the introductory performance by the reunited The Police. They pulled of "Roxanne" without a hitch. Despite the simplicity of the song, the intensity was still there and it reminded me of some of their greatest hits. All three members of the band were in top form but I was impressed most with Stewart Copeland. He still drums and uses the exact same mannerisms as he did when he was in his 20s. These are complementary of Instrumental Analysis, so head over there for seven more of their greatest hits. Tour dates will be announced shortly, most likely at a press conference later today in LA at The Whisky.
The Police – Every Breath You Take

[audio:https://obscuresound.com/mp3/police-eve.mp3]
The Police – Message in a Bottle

[audio:https://obscuresound.com/mp3/police-mes.mp3]
UPDATE: Tour dates have been announced. Check them out here. It looks like a good summer to me.