Posted
March 30, 2007 by Mike Mineo
in
Blue Fringe: Don't Mind the "Religious" Tag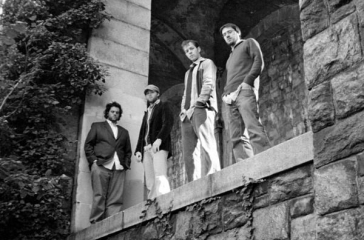 In this world of constant indecisiveness, music is one of the only aspects in life that individuals of all religions, races, and philosophies can enjoy together, to a collective extent. Apart from the occasional political ballads written about a certain unsuccessful presidential career, music remains primarily focused on an aspect that all people can relate to: human emotion. Whether it be love, hate, jealousy, or admiration, music has instrumentally and lyrically portrayed artistic emotion to a degree that is often enjoyable and creative. When I saw that Blue Fringe defined themselves as "America's favorite Jewish rock band", I was a bit confused. Sure, the four members are all Jewish, but does that even overlap into the actual songwriting? Apparently it does, as the members are quite fond of incorporating plenty of lyrical and instrumental Jewish themes, with several of the songs even being in Hebrew. Personally, I am not religious and I have little knowledge of organized religion, but I still enjoyed most of the songs from this band, mainly due to their fascinating approach and style. Unlike most religious bands, Blue Fringe expresses no ignorant superiority factor whatsoever. They aren't trying to convert anyone at all. Simply put, they just appear to be proud of their origination and beliefs. They're just four friends from the East Coast (mainly Baltimore and New York) who share both similar religious and musical philosophies, with a respectful dedication for both. Blue Fringe has already reached a distinguishable amount of success since their origination in the late 2001, a time of constant anti-Semitism as a result of the terrorist attacks on 9/11. Such a chaotic stage produced an interesting introduction for the band, who released their debut, My Awakening, in June 2003 and their second album, 70 Faces, exactly two years later. Their third album, The Whole World Lit Up, was released last month and it is undoubtedly their most impressive and mature effort yet. Through each release, they have gained quite a following, playing live shows in Canada, Australia, the UK, Africa, and even Israel, in addition to the United States. As for the members in the band, Dov Rosenblatt appears to be the frontman, being a multi-instrumentalist who is able to play guitar, piano, and drums, in addition to singing. He is also a member of the New York-based band, Gonzo Station. He has been active in music since his early childhood, playing keyboard at private parties since he was eleven years old! The band notes that Hayyim Danzig appropriately resembles "an upright bass" with his towering 6'4″ frame and strong stage presence, which is ironic considering he is the group's bassist. Nicknamed "The Prince of Bass Frequencies", his influences are traditional, being Victor Wooten and Charles Mingus. Guitarist Avi Hoffman is one of those stereotypical guitarists who value hard work, being extremely dedicated and, of course, a die-hard Beatles fan. Though The Beatles remain his favorite, his influences grew to more diverse guitarists like Stevie Ray Vaughan and his desire to incorporate his Jewish roots grew. Danny Zwillenberg is the drummer and is arguably the most stylistically admirable out of the four members, being skilled in the percussive styles of ska, reggae, pop, and of course, Jewish rock.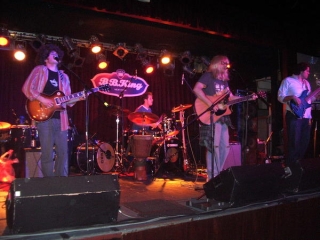 Their third and newest album, The Whole World Lit Up, is a collection of traditional Jewish songs with a very original and contemporary touch. Also, for pure enjoyment and influential dedication, the band threw in an exceptional cover of the Flaming Lips' "Do You Realize??". Though most bands who cover the Flaming Lips often end up failing due to an overdone approach, Blue Fringe succeed immensely by making the cover even more simplistic than the original. Where more artists would insert some cheesy synth, Blue Fringe rely on a lush acoustic guitar falling over Zwillenberg's delicate percussion work. While Rosenblatt's vocals do not sound even a bit reminiscent to Wayne Coyne's, his gentler touch goes well with Blue Fringe's more linear approach. Simplistic it may be, but it is also significantly enjoyable. On the flip side, "Eshet Chayil" is based off of a traditional Jewish song, with additional modern songwriting added by Rosenblatt and Zwillenberg. Translating to "Woman of Valor", "Eshet Chayil" showcases the band's disciplined approach in a similar passion to the cover of "Do You Realize??", except this time their original sound is exposed. Rosenblatt's vocals blend in smoothly with the boastful guitar work of Avi Hoffman, with Rosenblatt's vocals alternating between English and Hebrew, even utilizing the language's throat-based effect that has been mocked on SNL and "Meet the Fockers" and whatnot. It actually works here, adding an indistinguishable flavor to a very relaxing and agreeable song. "Listen To You" is another cover, this time being of the New York-based alternative band Inasense, later to be known as Soul Farm. Originally written by Noah Chase and C. Lanzbom (who both ironically met in Israel), Blue Fringe's cover version holds the best guitar work on The Whole World Lit Up, showcasing Hoffman's dedication in the brightest light.While the guitar work is impressive and the production is quite crisp, I found myself disliking the vocals and the latter half of the song. Perhaps I'm tired of the average love song, and this is accurately what I would call "Listen To You". Hoffman's work on the song is purely essential, with pleasant but unoriginal vocals failing to show the same genuine content that previous Blue Fringe songs held. Even with this in mind, The Whole World Lit Up is an pleasurable and well-rounded listening experience. Even if you're not religious like me, it's quite easy to enjoy it.
——————————————————————————————
Blue Fringe – Do You Realize?? (Flaming Lips cover)
[audio:https://obscuresound.com/mp3/fringe-doy.mp3]
——————————————————————————————
[audio:https://obscuresound.com/mp3/fringe-esh.mp3]
——————————————————————————————
[audio:https://obscuresound.com/mp3/fringe-lis.mp3]
——————————————————————————————
Mike Mineo
I'm the founder/editor of Obscure Sound, which was formed in 2006. Previously, I wrote for PopMatters and Stylus Magazine. Send your music to
[email protected]
.