Posted
March 27, 2007 by Mike Mineo
in Features
I Admit, I'm Late to Hedwig's Party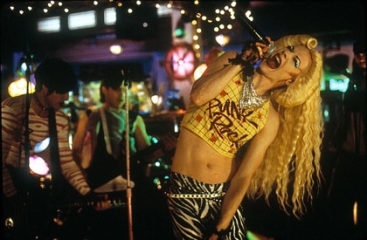 I know, I know. Most of you have already seen "Hedwig and the Angry Inch", the offbeat musical/comedy/drama/satirical movie released in 2001 by the talented director/actor/singer John Cameron Mitchell, based on the cult off-Broadway play that began running three years prior. Even though I'm extremely late to the party, I saw the film for the first time on Saturday night. I'm not going to spoil the plot for those who have yet to see it, though hopefully this post can shed some light on the movie for those who were formerly unfamiliar with it. The story follows Hedwig Robinson, a (former) man from war ravaged East Berlin who falls in love with "sugar daddy", a rather masculine American GI named Luther with a large appetite for candy and "fine" individuals. To pass as a woman, Hedwig undergoes a flawed "snip-snip" procedure that leaves his gender indistinguishable, being where the "Angry Inch" derives from. After the five inch deduction, Hedwig marries Luther with an intent to legally relocate to the prosperous United States. Once there, he discovers that the marriage is not particularly durable, with Luther leaving him for a new boy toy on their one-year anniversary, ironically being on the same day that the Berlin Wall is torn down. Alone in a new country, Hedwig turns to his childhood passion for comfort: Western rock music. Recalling his own influences of Bowie and Lou Reed, he recruits a band and befriends a young and confused teenager, who later steals Hedwig's songs and becomes a rock star. Throughout the film, Hedwig gives a description of his life through song and script at a variety of venues, with never a dull moment in sight. I won't give any more of the plot away, though I will tell you that emotions of jealousy, rage, confusion, love, and good old rock 'n roll are repeating themes throughout this brilliant "rock opera", as many prefer to call it. The multiple plots are also very interpretable, causing a tune for great discussions. Mitchell plays Hedwig, using his own vocals to sing the highly enjoyable songs, doing an outstanding job on the acting, directing, and vocal front. I suppose the cult following for this movie speaks for itself, with hardcore fans referring to themselves as "hedheads". The fact that artists such as Yoko Ono, Yo La Tengo, Rufus Wainwright, Robyn Hitchcock, Sleater-Kinney, and Frank Black covered songs from the movie speaks volumes about the quality of songwriting in the film.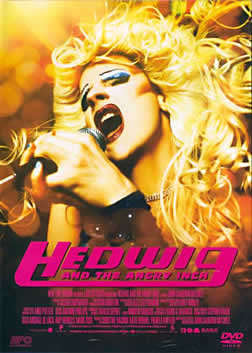 Since this a music blog, I figure it's customary to focus on the movie's most enjoyable aspect: the music itself. After watching the film, I immediately looked into the soundtrack and grabbed the songs. The soundtrack was written by the extremely gifted Stephen Trask, who also starred in the film as Skszp, the guitarist of Hedwig's band. Most of the backing band in the movie was actually played by Trask's band, Cheater. With relevance to Hedwig's early childhood listening to "the American greats" on a radio in his oven (yeah, they had a small apartment), much of Trask's music for the film is focused on Bowie-esque glam rock, with a countless number of theatrical hooks blending with the familiar enigmatic lead guitar of Bob Mould, the boisterous and stylistically glam vocals of Mitchell, and the delightful high-pitched backing vocal accompaniment from Miriam Shor, who also lends a delightful performance in the film as Hedwig's overshadowed backing singer and occasional lover, Yitzhak (another opposite gender role, as she is a woman playing a man). Trask's soundtrack is absolutely brilliant with gems such as "The Origin of Love" and "Midnight Radio". My favorite track is "The Origin of Love", though I would suggest watching the film before listening to it, as it is accompanied by an excellent story-sequenced animation done by Emily Hubley. Mitchell thought of the the concept for the song and Trask created the music, with the introduction being a melodic narrative of sorts explaining an amusing fictional account of why people are attracted to one another, stressing what "soul mates" really are. I could explain the interpretation for this one as well, though it's easy enough to figure out and I am really urging you to watch the film. I don't feel like spoiling everything. "Wig in a Box" is arguably the most popular song on the soundtrack, showcasing Mitchell's theatrical presence to a full extent. "I put on some makeup, turn on the eight-track, I'm pullin' the wig down from the shelf," Mitchell bursts out over an escalating rush of guitars and keys, "suddenly I'm Miss Farrah Fawcett from TV, until I wake up and I turn back to myself." The song is the ultimate idealogy of self-acceptance, another consistent topic that the movie deals with emotionally vividly. "Midnight Radio" appears to be a pure tribute to Bowie, as it's also the finale to the movie. It contains one of those choruses that will have you on your feet, just begging for more. Mitchell's range is quite impressive here and he pulls off the Bowie influence quite well, with Shor's backing vocals peeking through at the perfect moments. "Wicked Little Town" is actually sung by Stephen Trask himself, who handles the vocal performances of Michael Pitt's rock star character, Tommy Gnosis. Gnosis plays a pivotal role throughout the movie, with Hedwig in a confusing state of mind trying to decide whether he loves Gnosis or absolutely despises him for stealing his own songs. Either way, it's clear that Hedwig considers Gnosis to be his own "soul mate". With the exceptions of a Takashi Miike or Tarantino movie, "Hedwig and the Angry Inch" may be the most bizarre movie I've ever seen. Even so, it's also one of the most brilliant.
——————————————————————————————
Hedwig and the Angry Inch – The Origin of Love

[audio:https://obscuresound.com/mp3/hedwig-ori.mp3]
——————————————————————————————
Hedwig and the Angry Inch – Wig in a Box

[audio:https://obscuresound.com/mp3/hedwig-wig.mp3]
——————————————————————————————
Hedwig and the Angry Inch – Midnight Radio
[audio:https://obscuresound.com/mp3/hedwig-mid.mp3]
——————————————————————————————
Hedwig and the Angry Inch – Wicked Little Town (Tommy Gnosis Version)
[audio:https://obscuresound.com/mp3/hedwig-wic.mp3]
——————————————————————————————
BUY: Soundtrack / Movie
Mike Mineo
I'm the founder/editor of Obscure Sound, which was formed in 2006. Previously, I wrote for PopMatters and Stylus Magazine. Send your music to
[email protected]
.