Posted
March 14, 2007 by Mike Mineo
in Features
Pela: The Latest From Brooklyn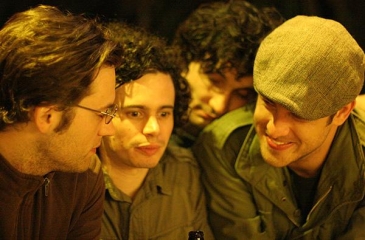 Pela defines themselves as the definitive "American rock 'n roll band". Placed in an era where fortune often originates from superficial aspects, Pela can wholeheartedly attribute their rising success to occupational risks and genuine hard work. Primarily based in Brooklyn, New York, the members of Pela have originated from states as far as California, coming together through the distinct likelihood that is music. Vocalist and guitarist Billy McCarthy, lead guitarist Nate Martinez, bassist Eric Sanderson, and drummer Tomislav Zovich have all achieved a variety of different accomplishments in their quest to pursue music to the fullest extent. Anything from selling neckties in Times Square to playing polka at Croatian weddings sufficed for financial support in a time for the stereotypical broke musicians. In addition to such interesting occupations, several members have graduated college, learned new languages, studied jazz, and even lived in Africa. They have also toured extensively over the past two years, gaining followers at a rapid pace that grants rivals with jealousy. During these tours, they have also learned the ropes with the some of the best, sharing the stage with artists such as The Flaming Lips, Sleater-Kinney, Norah Jones, The National, and The Decemberists. Man, it seems the term "free time" is obsolete in Pela's vocabulary. All this means is that defining Pela as "working class artists" certainly seems applicable considering their dedicated nature. The results from their efforts equate to music that is enjoyable, rich, and original in this decade of superficiality and general blandness. This was demonstrated on their first two EPs, All in Time in 2005 and the iTunes-exclusive EP Exit Columbia Streetlast fall. Both received gracious reviews and now the band's success has reached an all-time peak, appearing in the upcoming documentary "Rockin' Brooklyn" with local artists like TV on the Radio and The National. Along with the documentary and their ironically titled song "Episodes" appearing in an episode of Scrubs, it should only be a matter of time before Pela joins the ranks of the elite artists originating from Brooklyn. While the band expresses noticeable influences among the characteristics of Springsteen, The Replacements, and The Pixies, Pela has grasped a certain factor of innovation that is rarely heard from the average contemporary artist.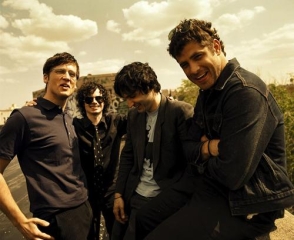 At the moment, alongside a brand new world tour, Pela are planning to release their debut album Anytown Graffiti on April 24th. When I first heard the first song on the album, "Waiting on the Stairs", I was instantly reminded of the ambitious nature that exceptional modern acts like Arcade Fire and British Sea Power incorporate into their songs. Perhaps this is a foreshadowing to an eventual eventual following, as I can't see Anytown Graffiti being released with little recognition. Billy McCarthy's hook-inducing vocals are backed by an array of extremely distinctive musicians, crafting melodic fortune worthy of an immediate listen. In addition to fan favorites like "Lost to the Lonesome" and "Waiting on the Stairs", Anytown Graffiti is an impressive album worthy of respectable recognition. Indeed, "Lost to the Lonesome" is an immediate eye-catcher, displaying the band's fondness for crafting bodacious melodies that resonate with the utmost passion. With an introductory stutter of a deep bass line from Sanderson, the double guitar attack of McCarthy and Martinez eventually find their way into the picture as Zovich's percussion increases with rapidity. "Just don't stand there like a ghost in my room," McCarthy eventually concludes the rapturous chorus with, "and don't just stand there telling me I'm nothing". Clearly frustrated over the topical ideals of "loving" relationships, such viewpoints are expressed consistently on Anytown Graffiti. They themselves cite the album's central theme as a reflection of "broken love, reckless hope, confusion, celebration, isolation, discovery, addiction, loss", in addition to the traditional youthful angst that usually goes hand-in-hand with quality these days. "The Trouble With River Cities" reminds me of Springsteen's working class ideology, depicting the average American as someone who desperately seeks to leave their small hometown in search of larger towns. "At times when you tremble you seem to resemble a window that stayed open too long," is a line that builds the song up powerfully. In addition, songs like "Your Desert's Not a Desert At All" and "Anytown Graffiti" provide for a nice change of pace as a display of the band's slower-paced and more emotional tendencies. The latter of the two keeps the aforementioned working class depiction in place as well, with McCarthy directly pleading, "I'd kiss them tears right off your face," in emotional distress after, "get in this car, we'll get out of this place to county line near the air force base". From the explosive "Cavalry" to the dynamic "Tenement Teeth", Anytown Graffiti is a considerably strong debut from a band who appears destined to make a name for themselves.
——————————————————————————————
[audio:https://obscuresound.com/mp3/pela-los.mp3]
——————————————————————————————
[audio:https://obscuresound.com/mp3/pela-wai.mp3]
——————————————————————————————
Pela – The Trouble With River Cities

[audio:https://obscuresound.com/mp3/pela-the.mp3]
——————————————————————————————
Mike Mineo
I'm the founder/editor of Obscure Sound, which was formed in 2006. Previously, I wrote for PopMatters and Stylus Magazine. Send your music to
[email protected]
.