Posted
March 10, 2007 by Mike Mineo
in Features
The Features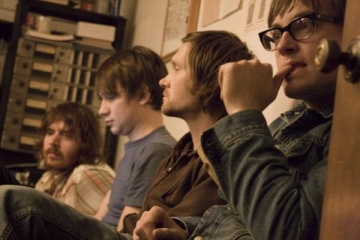 The Features love to keep it short but sweet. The four-piece from Nashville, Tennessee has distinguished their precise formula since their formation in 1997, being the ability to construct fun and catchy pop songs that rarely exceed three minutes in length. Quality over quantity – it's a saying that never gets old, regardless the profession. I know, I know… the last few posts on here have been nothing but straightforwardly "catchy" power-pop, but cut me some slack, I couldn't pass on The Features. They're just too damn fun. Don't worry though, I'll throw in some oddly creative avant-garde artists soon enough to quench the average elitist's thirst. Anyways, The Features acknowledge themselves as an important factor in a Nashville scene that is stereotypically dependent on the faces of Garth Brooks and Faith Hill. However, in the eyes of The Features, the unheralded artists of Nashville include Kings of Leon, Silver Jews, and Ben Folds. When the Kings of Leon cited The Features as one of their biggest influences, it came as no big surprise. After all, the two groups aren't that dissimilar, both geographically and musically. Though the Kings of Leon are certainly more vocally intense, both utilize the naturalization of rock music with leading guitars, aided keys, and bouncing rhythms. The Features are more accessible though, producing an odd power-pop cross between The Shins and Modest Mouse, particularly on "Contrast". Their influences are a bit more expected, giving the typical nods to Ray Davies, Elvis Costello, Randy Newman, and the Talking Heads. Their debut came in 1997 with a self-titled EP that consisted of five songs which were largely dependent on key-led melodies, drawing comparisons to The Rentals and fellow local Ben Folds. A big break came later that year when Universal signed The Features, leading to another EP in March 2004 titled The Beginning and a full-length debut that September, Exhibit A. The Beginning introduced the band's new distinct direction of psychedelic rock influences. This was mainly attributed to their implementation of organs and reverb, shifting a new focus toward the guitar. The keys were still a prominent factor though, making the presence of their Costello influence even more noticeable. Exhibit A was their first release that consisted of over six tracks, being twelve tracks that were in a continuous style to that of The Beginning. Despite glowing reviews from the likes of NME and The Guardian, the album failed to sell as well as projected and Universal dropped them. I guess the label thought they had too many "generic" power-pop acts on their roster as it was, with artists like Rooney and Saves The Day already reigning in terms of sales. However, The Features certainly have more depth than many of Universal's other artists, though the fact that the Insane Clown Posse and Smash Mouth sells more records is based on a universal ignorance either way.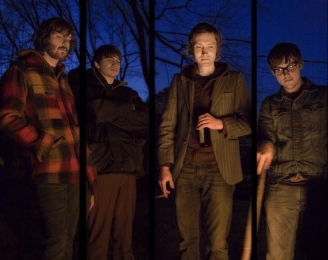 Despite the drop from a prominent label, the band, being Matt Pelham, Roger Dabbs, Mark Bond, and Rollum Haas took it in stride. Instead of crying their eyes out like an average American artist in girl jeans and bloodshot eyes, they carried on and released their second album Contrast last year on a new label, Junket Boy. Even though Contrast is only five songs long, the band still lists it as a full release. Whatever floats their boat. I guess it makes it easier to create an entire album that is of great quality, which Contrast is. I enjoyed all five songs, which is all fifteen minutes. Well, for an older man in average health, I would image it being a nice listen for a steady two mile run. The songs are bursting with passion, vibrant guitars, and energetic vocals that are complementary of Matt Pelham. Though their psychedelic factor, which drew them comparisons to the Elephant Six collective, has diminished slightly, a slight tone is produced in the organic keys displayed in the fantastic "Wooden Heart". Pelham draws on the group's tendency to create dynamically explosive choruses, stretching his vocal range to a point that both emphasizes emotion and harmonic durability. When he shifts his vocals to stress the importance of "time, ta-ha-ha-hime", one cannot help but grin. "Contrast" is of proportionate quality, this time shifting back and forth between guitar, synths, and keys. The "woo-hoo"s are in typical indie rock fashion, calling on the likes of Modest Mouse and The Rentals in showing that even the most traditional of additions can lift a song to the highest potential. Pelham builds with the bridge with a series of guitars and a shout of, "we are slipping into…" before a chorus leaps out and exclaims optimistically "contrast, contrast" in an enjoyable repetition. The formula is generic, but the results are highly enjoyable. "Commotion" is more reminiscent of their earlier material, being highly focused on keys with the shift between instruments being more dramatic. The guitar serves as the primary vocal backdrop, with another fantastic chorus being in standard aggressive riffs, with the accompanying melody actually sounding similar to that of the comedy-rock band, Electric Six. The lyrics in "Commotion" is focused on youth and those clueless parents who assume their kids are angelic virtues. Pelham is a bit more knowing, grittily spurring out, "but your sister and your brother know exactly how you're planning to spend your time," before launching into a very rough-edged chorus, nearly shouting,"takes a little commotion to get a round outta you". The Features have served up another enjoyable experience with Contrast, a five-track sophomore album that can be purchased for $6. Fans of Kings of Leon, Elvis Costello, and Modest Mouse will certainly find enjoyment in this and previous albums from The Features.
——————————————————————————————
[audio:https://obscuresound.com/mp3/features-woo.mp3]
——————————————————————————————
[audio:https://obscuresound.com/mp3/features-con.mp3]
——————————————————————————————
[audio:https://obscuresound.com/mp3/features-com.mp3]
——————————————————————————————
Mike Mineo
I'm the founder/editor of Obscure Sound, which was formed in 2006. Previously, I wrote for PopMatters and Stylus Magazine. Send your music to
[email protected]
.