Posted
April 9, 2007 by Mike Mineo
in
Erasure to Release Thirteenth Studio Album in May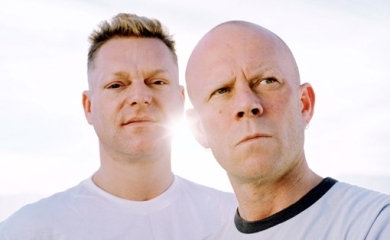 I have mentioned Erasure a few times prior to this post, though those comments date back a year or so. I figured that today would be a fitting time to remind those who missed them what's going on, as the duo is planning to add another release to their extensive discography in May. Bluntly stated, Erasure is a household name to most fans of synth-pop. They were originally one of the staples of 80s pop along with Depeche Mode and The Human League, and like Depeche Mode, they are one of the very few bands of the synth-pop era that still maintains the ability to create great music to this day. I wrote a bit on Erasure's debut, Wonderland, and how the band formed about a year ago here, for those who would like a bit of background. Consisting of synth composer Vince Clarke and enigmatic vocalist Andy Bell, they are one of the most durable duos in pop history. Clarke, along with the likes of Martin Gore and Gary Numan, is recognized as arguably the most productive composer of synth-pop in his era. As many of you probably know by now, Clarke was actually one of the founding members of Depeche Mode before he departed to focus on Yazoo and Erasure. While looking for strong vocals to accompany his synth work in Erasure, he actually found Andy Bell through an advertisement in Melody Maker, a retired publication that has matched more than a few famous pairs. A flaw seen in society is that if a guy listened to Erasure in the 80s, it would appear as no big deal at all. Now, if a male appears to be enjoying any form of "dramatic synth-pop", he's likely to get questioned about his masculinity. Even so, I have a suggestion for all Erasure fans: continue to play their music with pride and as loudly as you possibly can; mainly because the current standard for masculinity is for men to wear tight jeans and eyeliner while singing along to Good Charlotte. I just love sociological trends. Anyways, ever since the duo returned to prime 80s form with Nightbird in 2005, fans have been anticipating a follow-up. Since Nightbird, Erasure has released two albums, an acoustic cover album of their own songs and an acoustic live album. Both were unnoticed on the charts for the most part, though I found them to be an enjoyable twist.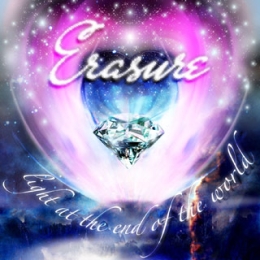 After a respectable twenty-one year career, Erasure is set to release their thirteenth studio album, Light at the End of the World, on May 21st. Just like Nightbird, the new album is a return to Erasure's hailed sound of the 80s when they released classic synth-oriented albums like Wonderland and The Innocents, with memorable songs like "A Little Respect", "Sometimes", and "Ship of Fools" being trademark songs of their decade. Clarke continues to show his veteran synthesizer talents and Bell sounds just as powerful as ever with his spine-tingling vocals. This being said, Light at the End of the World is a mixed bag for the most part. While it does contain some songs that are better than anything the duo has written in at least fifteen years, there is a lack of consistent flow and song differentiation. The blatant gems like "Golden Heart" and "When a Lover Leaves You" shine brightly with extremely notable hooks and alluring melodies, even if other duds such as "Darlene" and "How My Eyes Adore You" sound too repetitive and over-the-top. Bell occasionally sounds as if he is forcing a hook too much, to an unbearable extent. Clarke's songwriting also appears rushed in some rough patches, with choruses whose only variation from the verse is an increased percussion track. The album's first single, "I Could Fall in Love with You", is presentable but it hardly reaches the capability of the album's better songs, such as the insanely catchy "Golden Heart" or the darker "Storm in a Teacup". The video for "I Could Fall in Love with You" had an interesting concept, with Erasure asking couples to send in actual footage of them kissing, hugging, and showing affection. You can check out the lovable sappiness here. Though Light at the End of the World certainly isn't Erasure's best album, it is a strong effort in a genre that is steady declining in quality. With the album containing one or two brilliant tracks, a few awful ones that are much too melodramatic and repetitive, and a whole bunch of mediocre fillers, I may have been expecting too much from the veteran synth-pop duo.
——————————————————————————————
[audio:https://obscuresound.com/mp3/erasure-gol.mp3]
——————————————————————————————
Erasure – I Could Fall in Love with You
[audio:https://obscuresound.com/mp3/erasure-ico.mp3]
——————————————————————————————
Erasure – When a Lover Leaves You
[audio:https://obscuresound.com/mp3/erasure-whe.mp3]
——————————————————————————————
Mike Mineo
I'm the founder/editor of Obscure Sound, which was formed in 2006. Previously, I wrote for PopMatters and Stylus Magazine. Send your music to
[email protected]
.