Posted
April 22, 2007 by Mike Mineo
in
Matthew Dear Releases "Deserter", Prepares Asa Breed
Since the time when his first single, "Hands Up For Detroit", was released eight years ago, Matthew Dear has established himself as one of the most diversifying electronic artists of this current decade. Though he has been largely classified as one of the most influential producers/musicians in the minimalist sub-genre, Dear has captivated his artists with a focus on several electronic styles and studied approaches. Whether it was the infectious dance minimalism of his breakthrough debut full-length Leave Luck to Heaven or the club-friendly atmosphere of his techno induced Audion releases, Dear has shown no fear in venturing toward a variety of musical styles. Apart from his birth name, Dear's musical projects are known by three different pseudonyms: False, Jabberjaw, and Audion. While all four of his outputs are hardly repetitive or formulaic, each one is usually backed by their own stylistic approach. As can be heard on the exceptional "Dog Days" and "The Crush" (both on Leave Luck to Heaven), releases under his original name tend to be more accessible and directly executed compared to his other projects, occasionally bordering on light synth-pop overlapped with a minimalist approach. Dear's solo works tend to be more vocally involved, often using a building synth track as a focal point for emotion. Both Jabberjaw and False are more widely considered side projects with a limited amount of releases, though the emphasis on glitch-deep production on Jabberjaw and the percussively involved minimalist-house on False both represent fresh shades of further innovation in providing for Dear's ceaselessly enjoyable methods. Dear's self-titled and Audion releases have both been staples of Spectral Sound, a Michigan-based label that, with large credit to Matthew Dear and his massively popular single "Dog Days", has gained an prominently respectable status among electronic musicians. Spectral Sound, along with its partnering Ghostly International, was actually formed by Matthew Dear and Sam Valenti IV after they met while attending the University of Michigan. While Audion's music has become widely circulated through clubs all over the world with two great albums and a handful of enjoyable EPs, Dear's next release, Asa Breed, will be released under his birth name.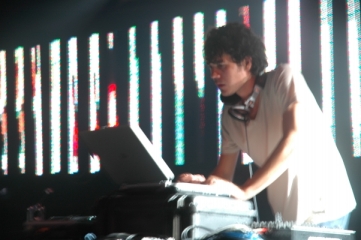 Asa Breed represents Dear's first solo release on Ghostly International, the subsection of Spectral Sound that has been known to put out releases that were engaged in electronic pop and ambient elements. Asa Breed is also Dear's first full-length since the outstanding Leave Luck to Heaven, as the eight songs on 2004's Backstroke help compose what is considered a "mini-LP" in Dear's catalog. The details for Asa Breed were announced last month, revealing a June 5th release date preceded by the release of a 10″ single on May 8th. The 10″ single happens to be "Deserter", the third track out of the twelve on the upcoming Asa Breed. If the single is any indication, I am led to believe that Asa Breed will be a very pleasing affair. "Deserter" expectedly is a continuation of the more accessibly electro-pop approach of Dear's solo works, though this particular single exposes a deeper and more emotional side to Dear's past releases, most of which were focused primarily on the instrumentally capable aspect. Here, Dear's vocals plays an overtly major role in the final composition with shrugged sighs, reverbed hushes, and several in the regrettable vein of, "Been around the world, seen my share of existence, smoked too much, an infidel for commitments." When the conclusion of the song nears closer, Dear goes into a successive repetition over the shifting percussion and conspicuous beeps and synths. "Just keep on searching, don't be uncertain," Dear states assuringly, "your life will only be just what you wanted from it." He seems to be speaking from experience, as such a lyric seems quite descriptive of Dear's musical career, being one that will eventually be recognized as definitely influential due to his impressive range and consistent array of releases. The new album was recorded mainly in Detroit and Texas, being representative of Dear's musical beginnings and his original place of residence. "A lot of the record deals with abstractions of human relationships," Dear goes on to say, "it's very much a record about love." The guests on Asa Breed are set to include Mobius Band, labelmates on Ghostly International. In his search for finding an individualized ideological sound, Dear may come exceedingly close in the highly anticipated Asa Breed
——————————————————————————————
Matthew Dear – Deserter
[audio:https://obscuresound.com/mp3/mdear-des.mp3]
——————————————————————————————
[audio:https://obscuresound.com/mp3/mdear-dog.mp3]
——————————————————————————————
[audio:https://obscuresound.com/mp3/mdear-the.mp3]
——————————————————————————————
Mike Mineo
I'm the founder/editor of Obscure Sound, which was formed in 2006. Previously, I wrote for PopMatters and Stylus Magazine. Send your music to
[email protected]
.