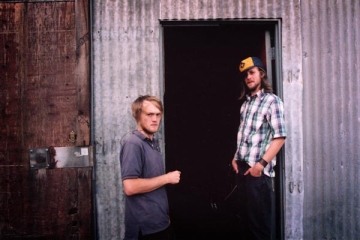 It must be an absolute pleasure to be in a band with your best friend. Unlike musicians who work together for no other reason than to produce effective results based on similar instrumental skills, bands with originative friends are often found to have a rare form of chemistry on stage, in the studio, and out of it as well. Though members in other bands may develop a friendship over time, it is a rare occasion when you find a band where at least two members were best friends prior to the formation. Adam Stephens and Tyson Vogel were both born in the same year of 1981, growing up in the same town of San Francisco together. Of course, their introductory interest in music began in the early 90s when influential grunge acts like Nirvana and Pearl Jam were ruling the scene. However, instead of playing air guitar and lip-syncing to the latest Nirvana song with their fellow classmates, Stephens and Vogel were already being productive by writing music together. At the young age of twelve in 1993, being forefront observers of the musical transition from the 80s to 90s, they had a head-start on their contemporaries when they had already written their first song synchronously. Despite performing songs collectively for most of their early lives, the duo did not form an official project until they were twenty-one in the year of 2002. Taking a cue from the James Joyce novel of the same name, they called themselves Two Gallants, taking an interesting approach with absolutely no consideration to the rock-oriented era in which they grew up in. Instead of dabbling in post-grunge or some other unfastidious sub-genre, Stephens and Vogel decided to become fixated on an influence that was at its peak before either member of the duo was even born. The genre of quality folk music is indeed dwindling and may have been a risky venture at the time, but eventually Two Gallants proved that their approach was an effective route to choose, as Stephens and Vogel made their approach seem nearly natural.
After playing several gigs throughout the Bay Area, they signed to Alive Records and released their debut album, The Throes. While it a nice demonstration of their gritty sound that consisted of primarily of folk and blues, The Throes only reached a minimal amount of fans. Despite this, one of those who enjoyed the album was none other than Conor Oberst of Bright Eyes. Predictably, in the summer of 2005, Oberst signed him to his label (Saddle Creek) and Two Gallants released their second album, What the Toll Tells, in early 2006. In combination with the band's increased national touring and their newly expansive sound, What the Toll Tells opened the band up to a new group of audiences. Most listeners became infatuated with the band's integration of blues and folk, with a lyrical display that touched on a variety of interesting themes, from racial segregation to political uprisings. Both of the band's members contribute equally to their music formula, with an equal split of vocals often being a common standard. Instrumentally, Stephens plays the guitar and harmonica while Vogel handles percussion duties. In October, the band was involved in that infamous police tussle at the rock club, Walter's, in Washington where some power-hungy police officer tasered a few people, including Stephens and a fourteen-year-old kid (who went into a seizure). A video clip of what went down can be viewed here, as well as an informative account by the poster.
After that unfortunate event, the band went back into the studio to record a 12″, entitled The Scenery of Farewell. Consisting of five tracks, it will be released on Saddle Creek on June 19th. Compared to their first two albums, it offers a style that sounds more bare and personal, with a particular focus on acoustics and Stephens' harmonica use. Ironically enough, there could be an accurate comparison made on the 12″ for Bright Eyes and Oberst, whose approach on folk seems similar enough. Two Gallants also give off the same sort of vocal snarl, accompanied by vocally melodic hooks that are accompanied by the thickest of acoustic guitars. "Lady" is a worthy track, with a duet of sorts representing the bridge and chorus with several interesting lyrics. "You know she got the best of me, 'cause she's not lying next to me," establishes a tone of distinctive loneliness, with the barren and enjoyable instrumentation sounding fittingly intimate. "Up The Country" is another bleak depiction that fulfills the band's compelling intentions. Stephens' use of the harmonica brings great remembrance to Springsteen's Nebraska days, while the vocal melody shifts the song into a territory that is dubiously catchy and altogether memorable. With a more barren set of instrumentation, the band has clearly molded their lyrical use as well, presenting story-led lyrics that really make the songs feel complete. "Seems Like Home To Me" is led by the duo's vocal bursts, occasionally sounding like a track that would sound entirely at home being chanted in a Southern prison. For older fans, "Seems Like Home" was originally titled "Untitled II (Shine On Me)", while "Up The Country" was previously labeled as "All Sloppy, No Joe". The Scenery of Farewell prepares fans nicely for the duo's next release, which should be released sometime later this year.
——————————————————————————————
——————————————————————————————
——————————————————————————————
Two Gallants – Seems Like Home

[audio:https://obscuresound.com/mp3/gallants-see.mp3]
——————————————————————————————