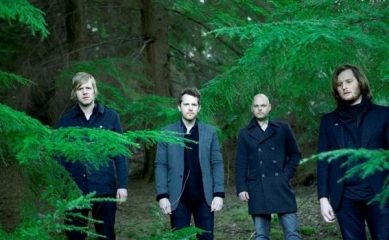 I know, I know. It may seem at this point that my recent intentions are so blatantly to exclusively feature Swedish artists. Including the two featured today, that is three in a row! Well, the truth is, unless I am writing a specific feature, I simply write about what I am enjoying at the moment. So no, it is not intentional at all. I often find music on a whim, whether it is by word of mouth or stumbling upon it by way of luck. To tell you the truth, I had no idea The Mary Onettes were from Sweden until after I listened to them and I looked it up. It is hard to blame me, as their style recollects a heartfelt focus on jangly 80s rock and dreamy pop, with the most conspicuous influences including influential UK-based acts like The Cure, New Order, and The Stone Roses. Their initial history plays like a story of great success followed by an even greater downfall. Based out of Jönköping, the four-piece signed in 2004 with a promising label that promised them worldwide attraction. A few months later, the label dropped them and proved to be quite a scam. Still, the band still had little to worry about, as they signed with Sony a few months later. They did actually release their debut EP with Sony in 2005, though the sales were apparently too underwhelming for the major label as they were dropped shortly thereafter.
At this point, most bands would pack it up and call it a career. Well, The Mary Onettes had this little thing called "dedication". After deciding to release all future releases under a self-created label, a couple of demos somehow fell in the hands of the respectable Swedish label Labrador. You can guess what happened next. Indeed, the band recently released their debut full-length album, The Mary Onettes, on Labrador, first genuine label of their career. Being the kind young gentleman that they are, you can stream the entire album for free on their Last.fm page. "Lost" is the leading single from the album, with an introductory guitar progression overlapped by a series of airy synths that is extremely reminiscent of New Order. The songwriting of leading man Philip Ekströms is often times extraordinary, showing beaming signs of distinctive lucidness through bright melodies, easily attainable hooks, and mysteriously enticing vocals that produce a respectable likeness to Robert Smith or Bernard Sumner. Several publications are actually calling "Lost" the best song of the year, with an emotionally filled chorus being a major component of this very enjoyable track. While it is the best track on the album and one of the more receptive of the year, the likeness to similar artists who achieved success two decades ago stops it from achieving the sort of "classic" status that many are hailing it as. That being said, it is extremely accessible and is a great demonstration of the band's genial approach.
The Mary Onettes' debut album, while sometimes suffering from an output of repetition, has a handful of very enjoyable songs that are represented by the likes of "Lost" and the indubitably catchy "Void". The more downtrodden songs tend to have an established emphasis on synth, with "The Companion" being yet another song that is easily comparable to New Order. It is a commendable sign that The Mary Onettes can easily incorporate guitars, bass, percussion, and synths so well together in an integrable fashion, as they are an extremely likable band with heaps of potential. While it may be difficult to clump them into the same contemporary and art-riddled category with natives Peter, Bjorn & John and The Concretes, The Mary Onettes carry their influences to great heights on a satisfying debut that should leave listeners with a fulfilling sense of nostalgia and gratification.
——————————————————————————————
——————————————————————————————
——————————————————————————————
The Mary Onettes – The Companion

[audio:https://obscuresound.com/mp3/maryo-the.mp3]
——————————————————————————————
——————————————————————————————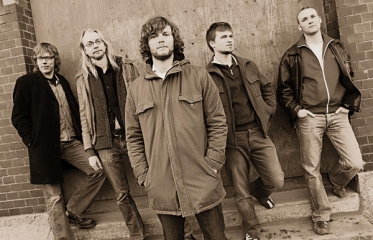 The Milestone Corporation were actually one of the first bands featured on this site over a year ago. At the time, I was quite enamored with their EP, Big Night Out, which contained a set of enjoyable songs that were presented in a traditional rock 'n' roll nature, with Petter Uvesten dominant vocals and Carl Leskinen's constitutive organs being trademarks of a band who I swore would hit it big outside of their native Göteborg, Sweden. Though that has not happened yet, there is certainly still a glimmer of hope. I was pleasantly surprised when I received an e-mail from Carl this past week, as I had nearly forgotten about the talented five-piece. Since early 2006, the band has been focused on creating a more professional sound with their gained experience, touring last summer throughout Sweden and building up an even bigger fan base than before. They are quite big in their native country, amassing a fan base that is very impressive considering their lack of overseas visibility. In fact, according to Last.fm, The Milestone Corporation have just as many fans as artists like Patrick Wolf or Islands, almost purely based on their own native Swedish fan base. Once the word gets out, I would not be surprised if American audiences eat their material right up.
For the most part, The Milestone Corporation are in a very similar place to where they were a year ago. They have captured the attention of Swedish audiences but are still in constant search of a fitting American fan base. Though they lost a drummer since last year, they replaced him with "an even better drummer and even better songs," according to Carl Leskinen. They also released a new five-song EP by the name of Songs About Steven, all of which can be downloaded on their web site for free. These Swedish artists seem so generous in offering their albums as a free download, an aspect that perhaps more Western artists should take to heart. Those who have heard earlier songs from the band may notice a more complex and diverse sound. While "Steven" has the same form of natural catchiness that earlier originations of the band contained, gloomy growers like "Tail Lights" explore new territories that may have been too complex for the band a year ago. "Tail Lights" is a very nice step forward in emotional depth. Also, as I said before, one of my favorite aspects about the band is Leskinen's use of keys. I have not heard many recent bands who integrate it so flawlessly into their form of rock music. "Black Bag" is another example of previously unchartered territory, incorporating captivating moments of swing, jazz, and blues. Uvesten's vocals take an enjoyable new shape here, showing their range and diversity with a rough-edge that fits the style perfectly. Songs About Steven is another one worth a listen. Plus, it is free.
——————————————————————————————
The Milestone Corporation – Steven
[audio:https://obscuresound.com/mp3/milecor-ste.mp3]
——————————————————————————————
The Milestone Corporation – Tail Lights

[audio:https://obscuresound.com/mp3/milecor-tai.mp3]
——————————————————————————————
The Milestone Corporation – Black Bag

[audio:https://obscuresound.com/mp3/milecor-bla.mp3]
——————————————————————————————