Posted
May 17, 2007 by Mike Mineo
in Features
Arthur & Yu Capture Tranquility On "In Camera"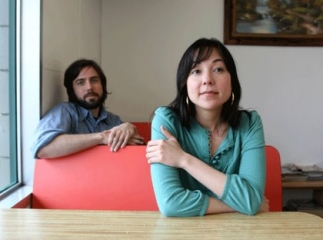 Kurt Cobain once claimed in an interview that Jonathan Poneman, the founder of the ceaseless label Sub Pop, coined the term "grunge". Considering the impact that the particular movement had on music in the late 80s and early 90s, it remains somewhat ironic that the word may have come from an industrial bigwig. Even though Cobain's statement has never actually been validated, Sub Pop's credentials would cause it to come as no surprise if it were. While Poneman's Sub Pop label is known today by the mass hysteria of high school hipsters as the label for sunny-day pop favorites like The Shins and The Postal Service, Sub Pop's originations trace back to the late 70s with original founder Bruce Pavitt. Eventually joining forces with Poneman in 1986, the newly acclaimed label captured the essence of the early 90s by signing premiere grunge acts like Nirvana and Mudhoney. In an approach that they continue to utilize, Sub Pop capitalized on what younger audiences were enjoying at the time by signing the most promising and exciting acts that they could find in the previously bustling genres. Fortunately for Poneman and Pavitt, they discovered the most popular grunge act of all time in Nirvana. Fast forward ahead about fifteen years to present day and Sub Pop is arguably the most successful indie label in the United States. Currently, it is indeed true that Sub Pop is more intent on softer-spoken indie-pop bands in the mold of Rogue Wave and Iron & Wine, though it is hard to blame them considering that is the type of music that seems to be garnering the most attention from their target audience.
When Jonathan Poneman announced earlier this year that he would be launching a new label, many began wondering the direction in which it would take. Like Sub Pop, Poneman's Hardly Art label is based out of Seattle and continues his tradition of finding new artists who appear to be quite promising. As of now, there is only one artist signed to the new label: Arthur & Yu. Comprised primarily of Grant Olsen and Sonya Westcott, the duo presents a peek of what may lie in the future for Hardly Art, being not much different than the generally low-fi pop music that Sub Pop's contemporary lineup is churning out. For those who find the female half of the duo's vocals to sound familiar, Westcott appeared on James Figurine's droopy and enjoyably synth-infused single "55566688833". Additionally, Westcott was the original bassist for Sub Pop favorites Rogue Wave. While they enlist the help of several friends (including Ben Kersten, Bobby Wane, and Scott Blue) for live shows and some instrumentation, Arthur & Yu is mainly a two-person show, much like the name implies. As far as the vocals go, Olsen and Westcott both split them up evenly on their full-length debut, In Camera. Both instinctively possess enjoyable voices as well, both relaying a form of lushness and serenity with tranquil harmonies and sedative instrumentation, often incorporating soft acoustic guitars, weightless keys, and restful percussion. They blend such elements together to create a memorable sound that is both immediately engaging and melodically notable.
Grant Olsen, half of the duo, mused in an interview that Neil Young may be upset to know that they dedicated a song to him in In Camera's second track, "Come To View (Song For Neil Young)". "Bob Dylan wrote "Song For Woody Guthrie" and Dylan got "Song For Bob Dylan" from Bowie on Hunky Dory," Olsen explained while discussing his admiration for Neil Young. "To have "Song For Neil Young" come from someone like us is a pretty raw deal, don't you think?" Well, actually, I do not think that Neil Young and his heart of gold would mind if he actually heard the song, as it is quite enthralling. While Olsen's vocals are more noticeable than Westcott's in this particular track, both vocal settings are very successful in the incorporation of both styles, even if they are somewhat similar in nature. Throughout most of In Camera, while instrumentation plays a large role, the part of vocals plays an even more significant one. Acting as the most noticeable aspect on most songs, both Olsen and Westcott craft melodies that are enjoyably analogous to the soothing instrumental tracks being presented in a nearly impeccable maneuver. The opening track, "Absurd Heroes Manifestos", is a swift track that makes the duo's listed influences of Nancy Sinatra and Jane Birkins seem quite accurate, with a mixture of acoustic guitars, transitioning vocals, and woodwinds establishing a very pleasing atmosphere of equanimity. Various tracks like "The Ghost Of Old Bull Lee" and "Flashing The Lobby Lights" are particular shining points for the band, showcasing an impressive structure of agreeable atmospheric qualities and appropriately themed lyrics portraying loss, despair, and rebirth. In Camera will be released on June 19th.
——————————————————————————————
Arthur & Yu – Absurd Heroes Manifestos
[audio:https://obscuresound.com/mp3/arthur-abs.mp3]
——————————————————————————————
Arthur & Yu – Come To View (Song For Neil Young)
[audio:https://obscuresound.com/mp3/arthur-com.mp3]
——————————————————————————————
Arthur & Yu – Flashing The Lobby Lights
[audio:https://obscuresound.com/mp3/arthur-fla.mp3]
——————————————————————————————
Mike Mineo
I'm the founder/editor of Obscure Sound, which was formed in 2006. Previously, I wrote for PopMatters and Stylus Magazine. Send your music to
[email protected]
.