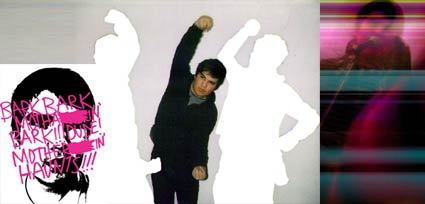 Seeing the rampant success of bands like Xiu Xiu and Man Man, Jacob Cooper must have been considering all aspects when deciding on the name for his new solo project. Following the currently popular band-naming ritual of duplicating an one-syllable word twice, he decided to take a slight risk and repeat it three times instead. Sounding almost like a cacophony, Cooper eventually decided on Bark Bark Bark in early 2003, based on a phrase in his favorite classic video game, "Duck Hunt". Based out of Tucson, Arizona, Cooper has stuck with the name for the most part despite occasional quick changes on tour to humorous names like OMG WTF, Anne Frankenstein, and Lil' Islam — mainly to attract some much-garnered attention. As those aliases may display, Cooper is indeed a bit of an eccentric character. Whether it is his fondness for "ghost hunting" (exploring haunted houses) or his obsession with sci-fi and zombie movies, his creative outlook on life carries over to his musical career quite interestingly. His debut album, Haunts, is filled with lively tracks focused on "ex-girlfriends, outer space, zombies and ghosts." While his recollection of crazy ex-girlfriends can certainly be found comparable for most listeners, the topics of zombies and ghosts tend to be a bit more on the anomalous side. In fact, only a few songwriters in the form of Owen Pallett or Stephin Merritt come close.
Ironically, though Cooper claims to hate synth-pop, much of his music is electronically generated through sequencers and synthesizers, incorporating occasional guitars and drum loops for a customary appeal. As a studio band, Bark Bark Bark usually consists of solely Jacob Cooper, though he often receives live help from fellow musically inclined friends. Haunts has built a steady amount of hype after Cooper's busy touring schedule; sharing the stage with names like Of Montreal, Architecture In Helsinki, Ratatat, and Sunset Rubdown. Speaking of Of Montreal, while it is not nearly as deeply layered or shrouded with complexity, Cooper's stylistic delivery is not far off from Kevin Barnes'. Usually singing with a high-pitched delivery of fury and romantic trepidation over a bustling assortment of synths and keys, Coopers' hooks find themselves to be frequent vacating the fourteen songs on Haunts. The songwriting is often surprising and intriguing, substituting traditional verse-chorus format for enjoyably offbeat motives and cloudy desideratum. With Haunts set to be released on May 22, there are several tracks off the album that I have found myself humming along to during the day; a surprising incident considering unconventional structures and unpredictably boastful melodies contained in the pleasing debut.
The title track, "Haunts", is a very strong piece of songwriting through its display of vigorously innovating songwriting, drawing an appeal for fans of left-field electronic pop music. While the synths are typical and expected, Cooper's incorporation of guitar and rhythm gives the album an entirely new introspective, sounding oddly like Interpol's Paul Banks during the brooding chorus where Cooper sings convincingly, "I'm the one that haunts you." The introductory track, "Brand New Shoes", delivers a convincingly infectious two minutes of enjoyable pop, supplying an outburst of synths to a contagious chorus in which Cooper makes another swift sign of comparative evidence to Kevin Barnes or even The Chameleons' Mark Burgess, as Cooper emotionally cries out, "I'm still sick of you, you've got me running around, but these shoes are so new." While several songs like "Heart" and "I'm Needy" sound too jumbled for their own good and the near-rap approach in "One Thing Stands" falls flat, the majority of songs on Haunts remain engaging and worth the listen. "I Love You But I Don't" begins shakily but transcends into the most polished song on the album through its masterful incorporation of classical piano and buzzes of synth. "We will eat your father's toast and we will watch your mother roast," is one of the indistinguishable lines on "I Love You But I Don't" that Cooper sings, leaving interpretation up to the individual listener. The catchy "Tattoos" is a definitive example of Cooper's twisted wordplay and makes nice use of his distorted instrumentation, while "Pluto Never Forget" is memorable in the distinctive trait that it leaves an impression as a concisely written gem bustling in artistic determination and rapid progression. Cooper certainly draws up several forms of innovation in the generally enjoyable Haunts, an album that truly establishes an artist with no comparison that will be deemed entirely accurate.
——————————————————————————————
——————————————————————————————
Bark Bark Bark – Brand New Shoes

[audio:https://obscuresound.com/mp3/barkbark-bra.mp3]
——————————————————————————————
Bark Bark Bark – I Love You But I Don't

[audio:https://obscuresound.com/mp3/barkbark-ilo.mp3]
——————————————————————————————