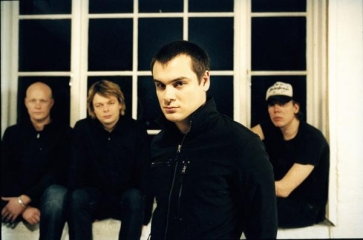 It has often been suggested that the geographical location of an artist can play a surprisingly vital role in the overall musical equation. Looking at most contemporary artists alongside their place of origin, it makes a good amount of sense. With a dependency on the specific environment's artistic trends and media interest, an artist's location can often define his approach and style. So, how would it sound if the members in your band originated from a variety of different backgrounds? Forever Like Red know the answer to this question quite well, as their four members hail from three different countries. While vocalist/guitarist/pianist Cameron Meshell was raised with a "traditional Deep South God-fearing upbringing" in Shreveport, Louisiana, the other three members are from across the deep Atlantic. Lead guitarist Pelle Hillstrom is from Sweden, while the rhythm section consisting of bassist Mikkel Heimburger and drummer Jesper Kristensen are from Denmark. Forever Like Red came together primarily because of Meshell's early demos. Looking for a useful collaborator, Meshell showed a few of his songs to an old friend of his, Pelle Hillstrom. Though he was in the electro-pop group Modwheelmood at the time, Hillstrom quickly developed his focus toward Meshell's project after being extraordinarily impressed by Meshell's ambitiously enjoyable songs. The final two pieces of the band came subsequently a few months after Meshell and Hillstrom began to write songs together. After working together as the rhythm section in the LA-based band Citrus, the bassist-drummer combo of Heimburger and Kristensen joined Forever Like Red in early 2006 after discovering Meshell's conspicuous songwriting ability.
Forever Like Red keeps in touch with their namesake, as the color "red" is certainly not looked upon as the brightest or most optimistic in the Crayola factory. Deceit, violence, sin; red is usually indicative of a moral flaw or nebulous mindset. Meshell's songwriting is often dark, with the doom and gloom dominating most corners of each song structure. Even with the contempt and emotion, Meshell manages to avoid being excruciatingly melodramatic, a flaw that many contemporary musicians fail to overcome. While Forever Like Red's approach may appear somewhat generic to the atypical alternative-rock philosophy, Meshell's vocals and consummate swagger carries the band to great heights; a place where other acts in the formulaically repetitive genre can only strive to reach. He can lend a majority of his creativity to a jumbled childhood that involved living in a racially turbulent South with a religiously obsessed mother. While it may sound like some conventional novel, it was all a reality for Cameron Meshell. After Meshell wrote songs while he was younger, he often hid them from his mother who found most of Meshell's favorite music to be offensive. After moving out and living on his own, he found the rest of the world to be quite the opposite; showing great admiration for his songwriting.
"Forever Like Red is an attempt to describe a life-changing moment that remains frozen in time," Meshell explains, sounding certain of his band's hopeful impact. Their debut album, Distance, will be released later this year after being preceded by a handful of impressive EPs. "Dream On", "Father", and "Exit Signs" will all be included on Distance, representing three of the ten upcoming tracks. "Dream On", while sounding somewhat traditional, is made notable through an exceptional chorus in which Meshell's vocals glide easily throughout the effortless melody, one that is certainly likely to remain stuck in your head. It may have radio stations gushing. On the other hand, "Father" is more ambitious both instrumentally and melodically, as Meshell's capable vocals end up at a crossroads between Muse's Matthew Bellamy and the late Jeff Buckley; both respectably enjoyable comparisons. The Buckley comparison is quite distinct in the verse where a building guitar progression is eventually picked up by a tight rhythm section, picked up by another fantastic chorus where the Bellamy comparison is put into light. While the structure may be slightly too tedious and bromidic, the song is impressive nonetheless. "Exit Signs" recalls a few more Buckley comparisons, as Meshell shares a bit of symbolic romanticism in, "And I will wait 'till the sun goes down to share the stars with you; I swam across the desert, did you see me? I guess you were blinded by all those concrete skies." When he concludes the chorus with, "There will always be someone else with an exit sign where love begins", it is representative of how bleakly imaginative and generally enjoyable Forever Like Red is.
——————————————————————————————
——————————————————————————————
——————————————————————————————
——————————————————————————————