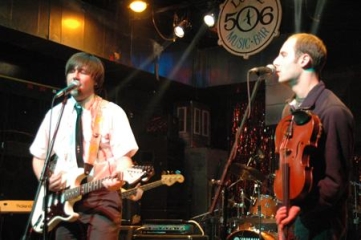 The dentist. A source of pain, misery, and harsh realizations. Even though I have never had a cavity in my life, I still despise the place like most others do. Maybe it is those sharp instruments being inserted into my mouth or perhaps it is the bright lights that shine in my eyes when I am placed in the hands of some unidentifiable professional with an unknown object in his hand. Either way, the dentist's office certainly is not on my list of most anticipated places to visit every six months. I get a feeling that Nathan White knows this common feeling of detest. Even though he is a student of The School of Dentistry in North Carolina, White has another passion besides the admittedly vital profession of dentistry. That's right, like most individuals featured on this site, he is also a musician. Whether it is his way of giving back something enjoyable to those who silently abhor his profession or just an escape from the stress of root canals, White clearly knows what he is doing both in the fields of dentistry and musical composition. He started rather atypically, performing in the commonplace high school bands and building upon his skills at an early age. Upon high school graduation, White pushed music aside momentarily and began to focus on his studies. It did not last very long though, as music returned to Oliver's life in 2004 when he met Mark Lebetkin over a common infatuation with The Pixies. The two proceeded to play together for two years on and off, strumming their guitars and creating nonchalant melodies in their heads.
In March of 2006, the duo began to finally take their progressive musicianship seriously. Meeting with producer Zeno Gill (known for his work with The Rosebuds), the two expressed the desire to transform White's songwriting into a polished set of studio-recorded songs. After enlisting the aid of drummer Lee Waters (who had previously played with Dan Bejar), the trio recorded their debut three-song EP, Alphabets. Going under the recording name of Nathan Oliver, the release saw a respectable amount of airplay, mostly on local radio stations around Raleigh's (WKNC). Comparisons arose and immediately likened White's impressive and unique songwriting skills to acts like the Arcade Fire and The Unicorns, with past influences of The Pixies and Nick Drake also showing a strong presence. Though much of Nathan Oliver's material is laden with keys, synths, and excessive reverb, it can be best classified as an indie-folk album with several contemporary production elements. One of the most notable tracks on Alphabets was the stellar "Black Ship White Sails", an exotic beast of a song that utilizes a distorted viola in portraying White's overzealous melodic capabilities. Also on Alphabets, "State Lines Pt. 1" is a catchy pop song that blends the whispering synths of The Postal Service and the emotionally cohesive acoustics and vocals of Elliott Smith, displaying White's tendencies for drawing up a song that is both modern and creative in nature, never failing to keep the listener intertwined in a full state of genuine interest.
After Gill became impressed with the group's effort on Alphabets, he agreed to produce their debut full-length album: the self-titled Nathan Oliver. Signing the band to his Pox World Empire label, Gill brought in drummer Matt McCaughan and the four individuals set out to work on the album. White finished writing seven more songs, with the ten songs on the album consisting of those new seven and the three on Alphabets. These ten songs on Nathan Oliver are consistent with White's untraditional style of songwriting. While "Black Ship White Sails" and "State Lines Pt. 1" remain the most enjoyable two songs on the album, each of the ten songs delivers provokingly in its own style. The dramatic strings and acoustics in the story-tale interpretation of "All That She Wants" is reminiscent of Nick Drake's style, though White relays the song with an impressive collection of instrumentation in the key-oriented chorus. "All that she wants is another baby, she's gone tomorrow boy," White sings with immersed solitude, musing about human regret to the best of his experience. Softer and more acoustic songs like "I Lived In A Crater", "Sleep Song", and "Face The Cold!" are also expectedly enjoyable, with the latter being supplemented by an advantageous supply of orchestrated strings. The darker and more distorted songs in the vein of "Greys And Blacks" and "No Name" both prove to be lasting and memorable, with overlooked elements like the finger-snapping in "No Name" providing as excitable catalysts in an otherwise typical blend of indie-rock. Nathan Oliver's full-length debut should supply listeners with a state of satisfaction, as the majority of White's songs are unequivocally composed with genuine fervor. Even if his occupation is eventually as a full-time dentist, White should always take comfort in knowing that he gave many individuals pleasure through the sound of something other than teeth drilling. Nathan Oliver is one of those rare debuts that sounds like a band's second or third album, soaking in past experiences and creating a sound that is unique to their own presentation.
——————————————————————————————
Nathan Oliver – Black Ship White Sails
[audio:https://obscuresound.com/mp3/noliver-bla.mp3]
——————————————————————————————
Nathan Oliver – State Lines Pt. 1

[audio:https://obscuresound.com/mp3/noliver-sta.mp3]
——————————————————————————————
Nathan Oliver – All That She Wants

[audio:https://obscuresound.com/mp3/noliver-all.mp3]
——————————————————————————————