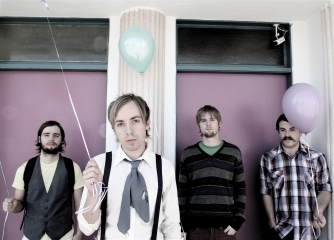 When four men are huddled together in a room, deciding on what to call their new band, Nurses is probably the last name on the list for the usual sort. Usually guys want something gritty, dirty, rough, and intimidating; something lasting to strike in the hearts of those ignorant few who use a band's name as the deciding factor as whether to listen to them or not. Fortunately for us all, the four members of Nurses are letting their fantastic sound do the talking. Like the profession that their name bears, Nurses quietly and expertly utilize proficiency behind larger names (doctors?) who unrighteously bear more attention. Excuse the metaphor, but I believe that Nurses are yet another band poised for a big year. They remind me of witty and unconventional pop phenoms like Wolf Parade, Frog Eyes, Danielson, or any random number of Spencer Krug projects. The quartet proudly proclaims their influences in more recognizable acts like Radiohead or Queen, but Nurses' form of innovation is something that cannot even be compared to the most respectable of preceding artists.
Before their relocation to the bustling state of California, the formation of Nurses was based in a rather differing setting in Idaho Falls, Idaho. After packing up and moving to Temecula, California, the four musicians (Aaron Chapman, John Bowers, Bobby Bolton, and Damon Daw) were nearly homeless for some time, spending all of their money on band-oriented expenses such as recording and touring. While their time eating one meal a day (throw-away food from work) certainly was strenuous, it appears that the four boys' hard work will pay off quite shortly. Finally receiving some attention with glowing reviews of their enjoyably innovative sound, the dream of three proper meals a day should not be far off. In fact, if their new material sells as well as I believe it deserves, they should be able to scrounge up enough for a new car or two! It all depends on how well the public recieves them, and by the way things are looking on the local press side of things, it is not entirely unrealistic to expect big things from Nurses.
Nurses' debut album, Hangin' Nothin' But Our Hands Down, was recorded last year in San Diego with producer Jason Cupp (known for his work with The Elected). As it sees its release this year, the album presents the epitome of a sound that continues to gain momentum as the decade progresses, with songs that are both easily accessible and creatively engrossing. Though tracks like "Hungry Mouth" contain standard structures that are easy to become consumed in, the melodic and instrumental interaction proves to play the largest role in producing a truly memorable result. The band directly compares the exceptional "Hungry Mouth" to the sound of The Decemberists or the Arcade Fire, though I hear more of a Modest Mouse influence with the steady percussion and aggressive guitar progressions. The lyrics, hand-in-hand with their melodic counterparts, are interesting and tell fascinating tales of societal flaws. Toying with the topic of domestic abuse and personal ignorance, "Hungry Mouth" is a suitable example. "When she gets those bruises don't you know it's 'cause I… made her my wife," their vocals quiver as a precedent to a bursting chorus, with lines in the form of "fireworks sitting in my family tree" making their own Arcade Fire resemblance more relevant in the form of lyrical familial ties.
For those scratching their heads at my earlier Danielson comparison, look no further than "Alone At Last". Though it is a mere two minutes long, the vocals in this energetic track are entirely reminiscent of Danielson's shrill, nearly screeching vocals. "Alone At Last" is another example of the Nurses' tendency to use standard song structures as an archetype for easy accessibility, only to be expanded upon by innovative use of melody and comprehensive vocal production. Unlike the electrically nonchalant swagger of "Hungry Mouth" and "Alone At Last", "Wait For A Safe Sign" is one of the handful of songs on Hangin' Nothin' But Our Hands Down that uses a more dramatic focus, incorporating touching keys with a chorus that is heavily dependent on twinkling bells and tense shouts. With vocals that resemble those of Win Butler or Danielson and melodies that are reminiscent of a less complex Wolf Parade or Sunset Rubdown, the critical praise for Nurses' exceptional debut, Hangin' Nothin' But Our Hands Down, should not be far off. Though I have been saying this quite a bit lately, expect many publications to be calling this gem one of the best debuts of 2007.
——————————————————————————————
——————————————————————————————
——————————————————————————————
——————————————————————————————