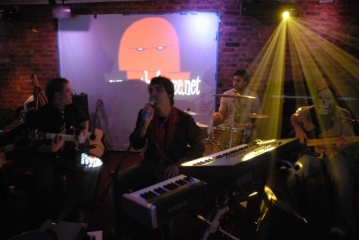 We can all appreciate a sense of humor when its central topic is the music industry. After all, with the best of humor often being the type that one can relate to, music aficionados can always enjoy a chuckle at a particular joke directed toward music-oriented commercialization. Whether it be MTV's scantily clad method of attracting viewers, artists relentlessly attempting to expose their political views to promote their latest album, or even MySpace's entry as a major player into the industry, it is occasionally refreshing to see and hear artists jest about the flagrant topics in the way they do best: by creating songs about them. Well, while England's The Furze focus their lyrical content on a traditional form of romantic frustration and occupational setbacks, their sense of humor comes in a subtle fashion. Clearly distinguishing themselves as four gentleman who show no fear of letting loose, one of their promo pictures jokingly depicts the slogan, "You looked better on myspace".
Not only that, but instead of presenting a typical biography (influences, location, etc.), the creative four-piece wrote a little sci-fi story depicting how the band supposedly came together, being that the four members are somehow connected to "The One", some fictional character who is the only one who can save the world from "the Snaggle Toothed Toxic Bull Croaker". The four members of The Furze claim that they are connected to "The One" "via a large computer screen". Yeah, I am as confused as you are. I know it may sound like one of those wackjob Scientology stories but hey, at least the band is making things interesting. To clear things up a bit, they revealed that the band was "created after a hard night drinking and the use of a teleportation machine." Well, that is probably half-true. Fortunately, their music is more accessible than their fictional origins. Even so, NME has gone as far to question or not whether The Furze's lively style will be "the future of British rock". As easily as the NME is handing out compliments these days, the band must take it in stride.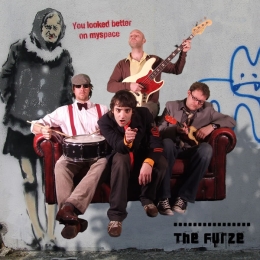 Hailing from the suburbs of Maidenhead, the members of The Furze are known on a cordial first-name basis. Ash sings, Dave plays guitar, Paul plays bass, and they have a drummer who calls himself Wookie. Oddly enough, he describes himself as "the shy, mysterious one" out of all the members. The four met in high school when they were merely teens, with 2007 marking nearly ten years together as a band. While The Furze is far from a household name at this point, they have opened for several prominent acts, with Kaiser Chiefs, Supergrass, and even the late Elliott Smith being just a handful of impressive opening slots. In fact, Bob Geldof proclaimed the band as "one of the best live acts on the scene." As most of us know, Geldof has seen his share of new acts, so a compliment coming from him is certainly cause for celebration. In addition, The Furze has had companies like Konami and Apple use their songs in video games and commercials, being the most blatant example of how The Furzes' electric-oriented guitar pop can be both immediately engaging and impressively in-depth.
Though their career has spanned almost a decade, The Furze have mainly released mini-albums to feed the hunger for new material. Largely considered to be one of those bands who sound more proficient live than in the studio, it was long considered by the band to just release studio recordings of the song for public benefit. However, they have finally gotten around to releasing Subterranean Kicks, an EP featuring ten new songs. The two lead singles, "I'm On Fire" and "Hope The Light", show shades of early Brit-pop and eccentric punk. Their time with Supergrass must have rubbed off, as the comparisons are certainly evident. Ash has the appropriate snarl and swagger to create a lively appearance over boisterous riffs and a ceaseless rhythm section. Do not be surprised if either one of these tunes turn out to be quite popular by the end of summer in the UK. "Fly Away" is the b-side to the I'm On Fire single, presenting a much more intense production cloaked in aggressive guitars and high-pitched vocals. While Supergrass may have rubbed off on their a-sides, it appears that bands in the form of The Darkness or Guns 'N Roses may have had an influential role in "Fly Away".
"Communications Down" is a milder, acoustic track. It is the b-side to the Carry Me Home single, released last July. Considering both "Fly Away" and "Communications Down" are simple b-sides, it is quite impressive that The Furze's throwaway tracks can be as enjoyable as they are. Though the newly released Subterranean Kicks features catchier and less strenuous tracks in the form of "Hope The Light", The Furze hold a fair amount of diversity for a band rooted in traditional Brit-pop influences. While they describe their music as a bit of a tribute, being "a throwback to original indie", perhaps NME was not too far off calling them the "future of British rock". Well, I personally would hesitate to state such a claim, but it is certainly justifiable considering their abrupt, concise, and fastidiously enjoyable sound. If you have the opportunity to check these guys out live, I would recommend it. I have heard nothing but great things.
——————————————————————————————
——————————————————————————————
——————————————————————————————
The Furze – Communications Down

[audio:https://obscuresound.com/mp3/furze-com.mp3]
——————————————————————————————