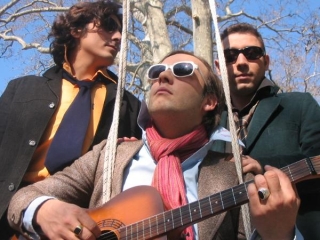 Oh, here we go again. Another elusive foreign artist whose biographical information can only be sought after by those of his native tongue. I do not plan to tread through my broken French on an indifferent Sunday morning, so I will provide what little information I initially had about Romain Guerret, the man behind France's latest synth-focused phenomenon, Dondolo. Guerret, like recently acclaimed French electro duo Justice, largely credits forefathers Daft Punk for their impact on French synth and house music. In a revealing sense, Daft Punk's Thomas Bangalter and Guy-Manuel de Homem-Christo were largely responsible in the early 90s for exposing the world to France's bustling synth-based scene. Not only did they set the standard for native acts to follow, but they also provided the masses of electro fans around the world with a newly acquired knowledge about the scene in a small country whose previous trademarks were largely limited to film noir, the Eiffel tower, and croissants. The thirty-two year old Guerret is based from the South of France, growing up listening to the diverse likes of Elvis Presley, The Cure, and Talking Heads. Inspired by the success of Daft Punk, he began writing songs actively in the early 90s and began remixing and collaborating in 1997, eventually leading to the release of a solo album in 2003. The two mysterious sunglass-toting lads to the sides of Guerret in the above photo joined him shortly afterward, with one playing guitar and the other keys during live performances. He later went on to work with the likes of Ladytron and LCD Soundsystem's James Murphy, continuing to build upon a type of sound that sounded both nostalgically familiar and surprisingly innovative.
The first aspect of Guerret's work that many will notice is that his approach is more straightforward compared to native contemporaries like Justice or preceding influences like Daft Punk and Air. Toying with the fairly undisclosed genre of "synth-funk", Guerret comes off like a natural. While synths make up the majority of his tracks, Guerret also implements funk guitar riffs, mesmeric bass lines, and ceaseless percussion mixed through variations of frequent vocoders and spoken monologue. As noted above, Guerret's influences are extremely diverse, ranging from classic new wave/punk favorites like the Pixies or the Buzzcocks to synthetic innovators in the vein of Kraftwerk or ABBA. In fact, Guerret's newest album, Dondolisme, displays such a grasp of influential style that I found my jaw near the floor after a first initial listens. Guerret clearly has inherited the skill to craft songs through a variety of genres, whether it be the spoken-word, nearly-instrumental synth gems like "J'ai Deux Amours" and "Zarte Melody" or the power-pop infused guitar-led irresistibility of "A Question of Will". In fact, it is in this song where all the admirable qualities of Romain Guerret is revealed the most accessibly. An irresistible melody, the excellent use of guitar, a suave line of synths, top-notch production; this embodies the type of musician Guerret has grown to become over the past few years.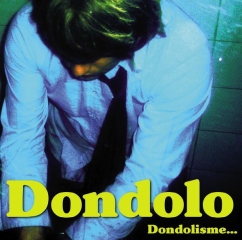 Guerret displays the wit and stylistic flavor to express diversity that is rarely seen in today's perception of "quality" music. For those in doubt, this is pure quality. While it is understandable that those who are not fond of expertly layered 80s-esque synth tracks will not find several tracks on Dondolisme enjoyable, I fail to see how songs like the excitable, Cure-influenced "A Question of Will" or the eruptive "Fluffy Angel" will create conflict with the listener. You can bet that "Fluffy Angel" will be talked about in indie circles significantly this year, as it epitomizes creativity to the fullest extent by incorporating synths, guitars, and vocals of varying emotional degrees to create an unconventionally successful song that truly lingers memorably for quite some time. Through its devastating synth-led build-up, the song soars heights that were previously thought unimaginable by those in doubt of synth's incorporation into successful contemporary music. Guerret once said in an interview, "'A successful song has to move me, make me cry, give me a physical and psychological sensation in an inexpressible manner." If he were given an outsider's perspective of his own album in Dondolisme, he and I would agree that the majority of tracks on here are wildly and imaginatively, in Guerret's own words, "successful".
Sifting seamlessly between melancholic slow-moving tracks like "Let Your Daddy Sleep" and dance-inducing topics of fury like "Flying Hervé Perrin" or "L'amithomane", Guerret proves he cannot only provide for a transition of styles, but also tempo and sociological emotion. If you are a fan of any form of electronic music whatsoever, I would highly recommend Dondolo's Dondolisme. Though I can hardly understand a lyrical word, the musicianship that Guerret displays is an admirable form of craftsmanship that only comes a few times per year in electronic music. Dondolisme is a trademark of consistency and accuracy; an album whose importance will be more largely recognizable several years from now when Guerret's "synth-funk" proposal blooms optimistically further into an ambitious craze. Even without looking ahead to the future, Dondolisme is one of the most enjoyable albums of 2007. Check out the suave trio in action on their their fascinating music video for "Chanteur À Succès" here.
——————————————————————————————
——————————————————————————————
——————————————————————————————
——————————————————————————————