Posted
June 2, 2007 by Mike Mineo
in Features
Obscure Sound: Best of May 2007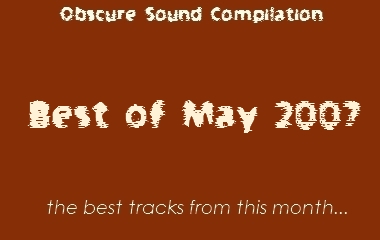 Here is the third compilation, gathering the best tracks featured on this site in May. As usual, you can either download the songs individually (by clicking on the song name) or as an entire RAR file by clicking the link below the track listing. Enjoy.
01. Polytechnic – Quay Street (post)
02. Rocky Votolato – Lilly White (post)
03. Manic Street Preachers – Send Away The Tigers (post)
04. Nurses – Hungry Mouth (post)
05. The Cribs – I've Tried Everything (post)
06. Bark Bark Bark – Haunts (post)
07. Ulrich Schnauss – Here Today, Gone Tomorrow (post)
08. Arthur & Yu – Absurd Heroes Manifestos (post)
09. White Rabbits – Take a Walk Around the Table (post)
10. Coconut Records – Easy Girl (post)
11. Xiu Xiu Larsen – Little Mouse of the Favelas (post)
12. The Assistants – Taste It (post)
13. The Detroit Cobras – Try Love (post)
14. Strike The Colours – Safety In Numbers (post)
15. The Mint – Finding New Ways (post)
Mike Mineo
I'm the founder/editor of Obscure Sound, which was formed in 2006. Previously, I wrote for PopMatters and Stylus Magazine. Send your music to
[email protected]
.