Posted
June 25, 2007 by Mike Mineo
in Features
The Cripple Lilies Fight La Bête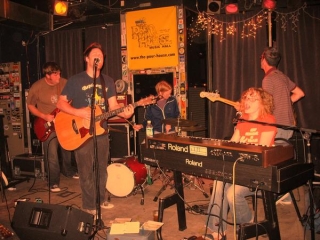 In an age where hip-shaking, provocative attire, and other sensuously superficial aspects unfortunately hold more merit in the music industry than actual talent or musicianship, several instruments are beginning to lose recognition in the area of contemporary music. Most of the current popular acts surround themselves in either distortion-heavy guitar riffs, sexy electro-bass beats, or… well, that would be the end of it. That is how surprisingly linear the current appeal is for popular music. Repetitive emo-bordering rock music and overplayed attempts at hip-hop remain at the front line. If you were to tell most casual fans of these genres that flutes, mandolins, and even classical piano still existed in successful modern music, some may even laugh and consider it to be a blatant joke. A joke? Hardly. All it requires is a slight strain of purely initiated musicianship. The Cripple Lilies should be quite proud of themselves. Though they have only released one full-length studio album, the group from Florida has successfully implemented the types of instruments that the mainstream public has foolishly disregarded as classical aspects of the past.
Along with other folk songwriters who wisely ignore the crumbling state of commonplace pop music, The Cripple Lilies utilize everything from pianos and flutes to baritones and mandolins in their beautifully instrumented works of art. While they often play with several other musicians during live performances, The Cripple Lilies primarily consist of songwriting duo Chad Bishop and Elizabeth LoPicollo. Originally known as Chad Bishop and CB Radio, The Cripple Lilies minimized their sound and name simultaneously. While bigger is stereotypically known to equal better, this was not the case for The Cripple Lilies. Their subtraction of several instruments allowed the band a much more personable approach, leaving behind overbearing production in favor of a friendlier, softer, and more piano-led route. The duo was bold from the beginning, releasing a live album as one of their first means of gaining a fan base. Typically, bands are hesitant when playing live shortly after their origination. The Cripple Lilies were so confident of their overall ability that they decided to release a short live album as a means to cease all harsh initial speculation. Released in early 2005, Live @ 88.1 FM, gave audiences a foreshadowing of what was to come for the gifted duo. When their debut full-length, La Bête, was released last May, the expectations of the fans who clang onto their live album in 2005 were fulfilled.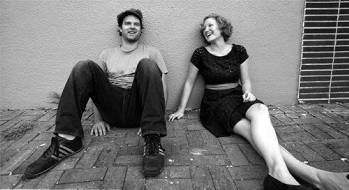 The beautiful opener, "The Charred Heart of the Tin Woodman", sets an immediate tone for this delicately crafted album. Beautiful is a word that most critics will find themselves using a lot when describing La Bête (French for "The Beast"). As the elusive strumming of an acoustic guitar echos in the background, an evasive accompaniment of keys presents itself as the signature element of "The Charred Heart of the Tin Woodman". Bishop takes the vocal duties on this one, using honey-soaked vocals that sound deep, sincere, and generally wholesome. Elizabeth LoPicollo truly makes her mark through her impeccable piano prowess. Not only on this track but also throughout every song on the album. She is an outstanding talent, playing flute, piano, synth, and mandolin in an overpowering showing of musical talent. She is also a fantastic vocalist, as she demonstrates in the excellent "Left Over Legs". It begins like a typical song from The Cripple Lilies, incorporating a piano and an acoustic guitar as LoPicollo softly croons her way into the hearts of every attending listener. When a lively set of percussion is complemented by the swipes of an electric guitar it just serves as an example to the duo's tasteful musical prowess. The hook displayed through the sudden form of invigoration is surprisingly both appropriate and fulfilling.
"Early in the Morning (Space for Leda)" is an enjoyable synth-tinged romp that once again features the warm vocals of Chad Bishop. LoPicollo's vocals occasionally appears as a backing display, establishing the duet style as a consistent theme on La Bête. Whether it is Bishop or LoPicollo handling the lead vocals on a track, they both usually appear on the same song in some form. The part of lead vocals appear to be split nearly evenly between the nine songs on La Bête. Though the album is somewhat short, there is not one missed opportunity to be heard. Each song is credibly worthwhile from the abruptly enjoyable "Left Over Legs" to the immaculate "Put Me to Sleep", a track that prominently features LoPicollo's affably utilization of flute, with an apparent lounge setting established through the continuous use of piano. La Bête is a relaxing journey, entirely worthwhile regardless of the circumstances. Bishop and LoPicollo are certainly one of the most talented duos I have heard all year.
——————————————————————————————
The Cripple Lilies – The Charred Heart of the Tin Woodman
[audio:https://obscuresound.com/mp3/criplil-cha.mp3]
——————————————————————————————
The Cripple Lilies – Left Over Legs

[audio:https://obscuresound.com/mp3/criplil-lef.mp3]
——————————————————————————————
The Cripple Lilies – Early in the Morning (Space for Leda)
[audio:https://obscuresound.com/mp3/criplil-ear.mp3]
——————————————————————————————
Mike Mineo
I'm the founder/editor of Obscure Sound, which was formed in 2006. Previously, I wrote for PopMatters and Stylus Magazine. Send your music to
[email protected]
.