Posted
July 5, 2007 by Mike Mineo
in Features
An Angle Covers All Corners on Third Album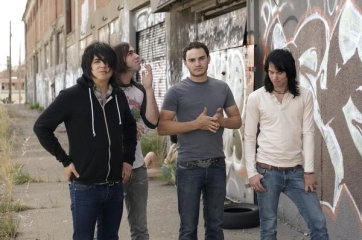 Kris Anaya could have easily become the frontman for a generically incapable indie-rock band. He could have learned three chords, gathered a few friends from high school, and started a band that would amount to absolutely nothing. But that would have been too easy for Anaya, as he fortunately knew that true success comes in the form of hard work and innovation. Instead, he can thank his parents for making a wise decision in regard to his early musical capabilities. Like most young kids looking for a role model, Anaya grew up idolizing his older cousin and anything that his older cousin enjoyed, including rock music and, specifically, Bad Religion. That particular cousin grew up to be Mark Meraji, guitarist for the hard-punk quartet, Red Tape. If Anaya had no parental guidance, he would have probably ended up fronting some band of a similar nature, mimicking a genre and the artists within it that provide a sparse atmosphere for creativity. However, when his parents took notice of his new music-oriented interest, they did not wholeheartedly support the basic learning approach. Instead, they decided to enroll him in classical guitar and piano lessons which, as Anaya later admits, seemed to "pan out" successfully. Now, as the chief songwriter of the critically acclaimed five-piece An Angle, he recently released their third album, The Truth Is That You Are Alive, earlier this month.
It would most likely be impossible to stray into a feature of An Angle without reading a comparison to Bright Eyes in the first few sentences. Since their origination in 2000, An Angle's incorporation of indie-rock and contemporary folk has set a point of establishment for comparative measures to Bright Eyes, most noticeably in the facts that Anaya possesses the same tactful lyrical prowess and snarly vocal delivery as Conor Oberst, drawing influences from the folk revival of the 1960s. Anaya also embodies the tag of a very young musician beyond his years, as the first stages of An Angle date back to his high school days. Though he was never foolishly called the "next Dylan" or anything along those lines, Anaya's body of work remains impressive for his youthful age. Another impressive aspect is that Anaya is based out of the diverse Sacramento, California, if only for the reason that he draws from a sound that is modernly rooted in the Mid-West. While California remains to be the MTV staple for emo duds and commercialized punk, talented folk songwriters like Anaya continue to progressively bloom with continuously successful releases and atypical approaches as staples of the state's independent scene.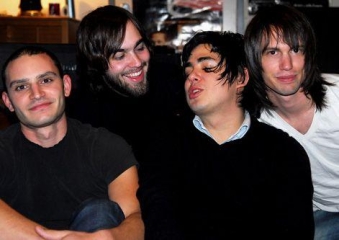 Even after the first listen, it became rather apparent to me that The Truth Is That You Are Alive would become my favorite album from An Angle. The thrill mainly came from my belief that this will finally be the album where Anaya will draw away from the Oberst comparisons. While Oberst is an extremely talented songwriter and comparisons are usually complementary in his name, I always believed that Anaya would find more success in a fairly different stylistic approach. In this album, it appears that a reference to Wilco or Ryan Adams would be more appropriate than one to Bright Eyes. As evidenced in the straightforwardly catchy "Clean and Gold", Anaya has traded drawn-out poetic analysis for a traditional structure, a simplistically enjoyable instrumental approach, and a chorus that would bring most to their knees in sheer irresistibility. The uproarious chorus contained in "Child In Me" reminds me distinctively of the Arcade Fire, even if a number of bands have been using the implemented backing reverb approach for years. Much of the content on The Truth Is That You Are Alive is relayed in a similar nature. Compared to An Angle's previous releases, Anaya appears more at ease with the material. Whether it is the beautiful duet contained in "You Are Loved" or the minimally acoustic approach in "Going to Heaven", Anaya does it all seamlessly with a natural ease.
Expectedly, the tracks that boast a wide array of instrumentation are more melodically focused in comparison to Anaya's capable lyrical perspective. Songs like "Clean and Gold" and "C'mon C'mon" benefit from a bustling display of instrumental prowess, whether it be the brass, lively percussion, or expertly incorporated keys. While The Truth Is That You Are Alive is the most accessible album to date from An Angle, it is also the most enjoyable. Freeing himself from repetitive comparisons and artistic struggles, Kris Anaya has finally crafted an album that offers enough diversity to allow for artistic individuality.
——————————————————————————————-
[audio:https://obscuresound.com/mp3/anang-cle.mp3]
——————————————————————————————-
[audio:https://obscuresound.com/mp3/anang-chi.mp3]
——————————————————————————————-
[audio:https://obscuresound.com/mp3/anang-you.mp3]
——————————————————————————————-
Mike Mineo
I'm the founder/editor of Obscure Sound, which was formed in 2006. Previously, I wrote for PopMatters and Stylus Magazine. Send your music to
[email protected]
.