Posted
July 24, 2007 by Mike Mineo
in Features
Film School is in Session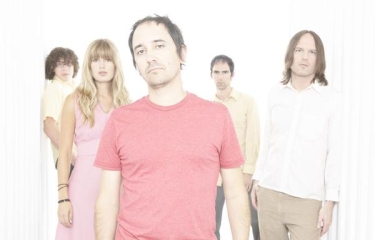 When a band has the confidence to call one of their songs "Sick Hipster Nursed by Suicide Girl", they do not leave much room for error. While the name of such a track sounds like some badly translated Japanese horror film, Film School are one of the few acts who can get away with it. With their droning guitars, reflective pedals, and meticulous rhythm section, the five-piece crafts stellar atmospheric rock that draws from post-punk and noise-rock. Formed in 1998 by lead songwriter Greg Bertens, Film School had the original intent of being a solo project. In fact, their solo album released in 2001, A Brilliant Career, was nearly exclusively the work of Bertens. Though he employed several collaborators for the album in the form of instrumentation, Bertens wrote the twelve songs on his own. Several A Brilliant Career contributors that were based out of California and New York — guitarist Scott Kannberg, keyboardist Jason Ruck, and guitarist Nyles Lannon — later became cemented members in Film School's lineup after Bertens recognized the potential of the initial group. A Brilliant Career scored several prominent reviews with critics comparing the album's hypnotically engaging sound to Sonic Youth or a more subdued Steven Malkmus; ironic considering that a few members of Pavement also lended a hand in A Brilliant Career's developmental process.
After Bertens filled the rhythm section with bassist Justin LaBo and drummer Ben Montesano in anticipation for the A Brilliant Career tour, they released an EP in 2003 and 2005. Finally, after six years, Film School released their sophomore album, Film School, in 2006, marking the first full-length record for the band with a fixated lineup. The lineup did not last very long however, as the band underwent quite a change within the past year. Dave Dupuis now replaces Lannon on guitar, Lorelei Plotczyk takes over LaBo's duties on bass, and James Smith is the new drummer. As they plan to release their third album, Hideout, on September 11th, Film School remains the brainchild of Greg Bertens. Even as he continues to adjust with a continuously revolving cast of musicians, the sound of Film School remains impressively consistent.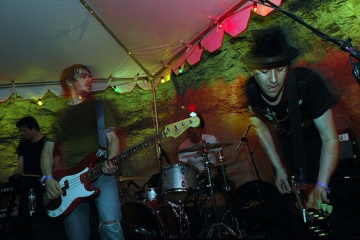 While it took Bertens over five years to release Film School's, he churned out Hideout rather quickly in comparison. Oddly enough, this is the most polished material of their career. Not only do they manage to maintain their gratifying nod to past influences, but Film School is now a band that refreshingly has come into their own stylistic niche. The spacey guitars still resonate prominently with an occasional dash of keys like their previous releases but Bertens appears most comfortable with this new lineup. This also is a more focused group effort, as newly appointed bassist Lorelei Plotczyk adds her vocals on several enjoyable tracks like "Plots and Plans" and "What I Meant to Say". While Film School has always been content on being compared to Sonic Youth, the latter of the two is the most accurate depiction yet. Their faint duet is muddled under the strains of several guitars and organs, reminding me distinctively of any memorable Lee Ranaldo-Kim Gordon duet. Bertens' vocals are actually quite feminine themselves, being soft and lulling over corresponding instrumentation. Count Hideout as another release where the most memorable song also happens to be the last song on the album.
Even so, "What I Meant to Say" is certainly not the only shining moment of Hideout. "Compare" incorporates several uses of tremolo but manages to avoid any comparisons to Interpol through Bertens' soothing vocals. As the guitars begin to build up and roar more prominent throughout the song, Bertens' vocals do the same in comparison. While the insturmental factor of Hideout is lavishly majestic, it is the production of the album that impresses me most. Most bands fall flat when they dare to attempt. This is one of the reasons why bands like Sonic Youth are so idolized. They manage to incorporate atmospheric tones of beauty and disdain through impenetrable layers of sound. Just as impressively, the heavily reverbed vocals always sound just as compellingly appropriate. Hideout is a very impressive album from Film School, a band that seems to have finally found the perfect lineup for their deeply atmospheric sound.
——————————————————————————————-
Film School – What I Meant to Say
[audio:https://obscuresound.com/mp3/film-wha.mp3]
——————————————————————————————-
Film School – Sick Hipster Nursed by Suicide Girl
[audio:https://obscuresound.com/mp3/film-sic.mp3]
——————————————————————————————-
[audio:https://obscuresound.com/mp3/film-com.mp3]
——————————————————————————————-