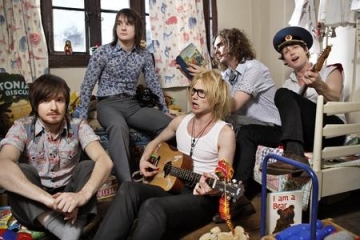 In the world of music, a musician's originative location is often irrelevant. As long as you can play an instrument or write songs, that is all that matters. Though the past has seen discriminatory causes where an artist is ignorantly grouped in with others of the same birthplace, modern times have auspiciously ceased such ignorance significantly. With thanks to growing media and rapid technological standards, you could now find an artist hailing from California who plays country-folk just as easily as you could find a songwriter from Nebraska performing surf-rock. While small towns may have suffered from a lack of exposure several decades ago, the age of internet has opened people's eyes to a bustling variety of music. Actually, come to think of it, that is my sole intention in keeping this web site active and engaging. If it were not for recommendations and helpful suggestions, music would be too dull and repetitive for it to even carry a fan base. Holding such philosophies close to their heart, some bands have a better grasp on it than others. The five members in Tiny Dancers all grew up in small towns in England's West Yorkshire countryside. Though they all describe their towns as a nurturing place for a child to grow up, they willingly admit that it was not the greatest place to find the latest and greatest musical acts. In fact, they considered music to be an escape from the countryside upon traveling to the more urban venues of Manchester and Leeds when expressing the desire to abandon familiar sights, if only for a few hours. As vocalist David Kay recalls, it was a stunning sight for a boy from the countryside. "I was just amazed at the size of the buildings and stuff. It just seemed so big! I was all wide-eyed."
Like most young kids growing up in the UK, the members in Tiny Dancers grew up idolizing traditionally British acts like The Beatles, David Bowie, the Rolling Stones, and XTC, throwing in occasional foreign treasures like the Beach Boys and Talking Heads into the mix. While the elders residing in their small towns most likely would have no clue who the majority of those artists are, the brash and curious nature of kids allowed the young five-piece to engage in artists who were (and are) considered to be the epitomes of musical success. When vocalist David Kay, guitarist Ev Etherington, bassist Dez Wathey, muti-instrumentalist Glover, and drummer Zed Morrison finally met, they were all fairly familiar with one another. They had all been involved in the local music scene to some degree since the ages of 12 and 13, playing in a variety of bands throughout the West Yorkshire area. After their formation, they hit it off immediately. "Rehearsals quite often turn into spontaneous disco dance sessions," Glover said of the band's primitive stages. "From the start we felt we were doing something genuinely new, that we weren't trying to emulate anything else out there." After having fun with a variety of cover songs (notably the Beach Boys), the five-piece began writing their own material. When they released their debut five-song EP, Lions and Tigers and Lions, last November, it drew critical acclaim from the few who got their lucky hands on it. To much anticipation, they released their debut full-length, Free School Milk, on June 18th.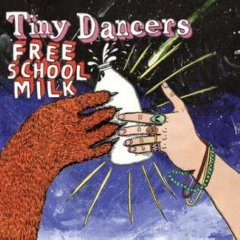 Older fans of the band should immediately find a sense of familiarity with the album. Four of the twelve songs were previously released throughout the debut EP and the single for "I Will Wait For You". Even with this in mind, the greatest song on Free School Milk is entirely new. "Hannah We Know" is the band's second single from the album and it should raise their already acclaimed status quite a bit. Kay delivers a breathtaking vocal performance that is staggeringly reminiscent of the late Grant McLennan, an immediate aspect that sent a chill up my spine. Though the band does not publicly list them as a main influence, the inspiration that The Go-Betweens had on Free School Milk is blatant. The instrumentation is tender and endearing on each track, carefully crafted with a vocalist that brings the best out of a superbly executed melody. "Hannah We Know" demonstrates the band's ability well, sprinkling an assortment of radiant keys over a distant acoustic guitar and a steady rhythm section. As an additional electric guitar illuminates a sensationally fervent chorus, Kay does not skip a beat. He continues to deliver impeccably, drawing applause both in the form of stylistic delivery and melodic comprehension.
While "Hannah We Know" is the obvious central highlight of the album, the other tracks do hold up respectably well. "I Will Wait For You" and "Baby Love" are both bouncy pop gems that manage to juggle both catchiness and ingenuity with ease, resulting in a form of success that is hard to come by. Free School Milk also allows room for a bit of country twang, as tracks like "Ashes and Diamonds" and "Baby Love" exhibit an enjoyable stylistic form that British bands are rarely seen to conquer. Tiny Dancers does it with ease and sincerity, carried largely by the constantly transitioning vocals of David Kay. In addition, this is also a largely upbeat release, showcasing songs with a sense of harmonic capability that renders perfectly suitable for the summer months. Free School Milk is an elaborately stunning debut album, one that emphasizes a form of maturity which is rarely seen by bands as fresh as Tiny Dancers. The hooks in this album are countless and each one is invigorating, providing a sense of powerful emotional rapture through exceptional songwriting. It is hardly surprising that they have already signed to a major label (Parlophone), as Tiny Dancers are poised to hit the big time. Perhaps growing up in a small town is not such a bad thing for a musician after all.
——————————————————————————————-
——————————————————————————————-
——————————————————————————————-
Tiny Dancers – I Will Wait For You

[audio:https://obscuresound.com/mp3/tinyd-iwi.mp3]
——————————————————————————————-