Posted
July 30, 2007 by Mike Mineo
in Features
Paper Puts Me to Sleep… in a Good Way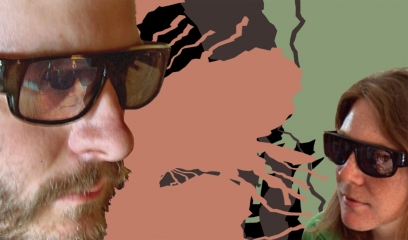 Maybe I should find myself a wife. Perhaps she would be able to spark my musical talent and transform my lyrical ability into an emotionally focused skill where I would be able to make grown men cry with ease. Or maybe that is just some wishful thinking on my part. It just seems that, quite coincidentally, this is the second band in a row that I featured which includes a husband and a wife. And no – these are not some giddy cover bands who play in your local bar every Friday night. This couple, like Mr. and Mrs. Strigens in Testa Rosa, are quite talented and capable of writing their own little masterpieces. It is nearly ironic that they call their project Paper. Such a dull object would never accurately portray the deep electronic soundscapes that Aaron and Adrienne Snow create with synthesizers, guitars, drums, bass, and occasionally their own voices. They are hardly amateurs either, as both husband and wife have played in several bands since they met in the 90s. These include Landing, Surface of Eceyon, and White Rainbow – all relatively low-scale bands with a marginal but dedicated fan following. Regardless, Mr. and Mrs. Snow have gained the proper experience from each band necessary, as each band plays a very similar style of music that correspondingly encompasses Paper's stylistic traits. All focused on the electronic aspect of music, they implement natural instruments (guitars and bass) with experimental effects of electronic devices (synthesizers, Moog, pedals), resulting in a sound that is a cross between minimalism and left-field electronica.
Currently based in Connecticut, the two members of Paper have been quite busy over the past several months. In addition to keeping up with their other bands whilst writing material for Paper, Aaron and Adrienne delivered a healthy baby girl, Elise, in May. I would not be surprised if they use their own albums as a way to nurse their newborn baby to sleep. And I mean that entirely as a complement – Paper's music is lush and tranquil, resulting in a generally relaxing experience. Hell, this is one of the healthiest antidotes for insomnia that you are likely to find. No prescription necessary either. You can find such wearily enjoyable dabbling on Paper's debut, As As, which was released in June on States Rights Records. I recommend picking it up for $10. After all, I can only imagine the financial strain of first-time parents. Even if you have no pity, the album is worth the buy based on quality alone. Now released after three years in the making, Aaron described the sound of As As as "poppy krauty trippy floaty funny drummy bassy trippy stuff." I am trying to do Paper's description more justice than that in this feature but I guess you can consider Aaron's version to be a concise summary. After all, he is the songwriter. Also, there is word circulating that Yacht (one of States Rights Records' most recognizable artists) may do a remix of a few songs on As As. If that goes through, it should certainly be interesting. Though both Yacht and Paper are electronic artists at heart, there is a fine line between dance and ambient electronica. Whenever Yacht's Jona Bechtolt gets around to doing such a remix, I will certainly post it if worthwhile.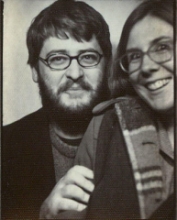 From the minimalist perspective, Paper heavily relies on tonal repetition. The title of the album alone signifies the couple's admiration for such repetitive usage. With the structural compositions on As As heavily influenced by drone music and ambient house, the result is merely a beautifully vocal-enhanced form of ambient electronica. Adrienne Snow's light, angelic vocals add a touch of shoegaze to the overall state, as her voice appears frail over the layers of delicate synth pads and repeating percussion on tracks like "Cloudy, Cloudy, Cloudy" and "Love". The perfect album for driving through a city of lights at night, the compositions throughout are consistent in rhythmic manner but also maintain the ability to differentiate themselves in terms of tempo and instrumental involvement. For example, "Love Attack" works off a repeating pattern of highly pitched synths and percussive impact, reflected elegantly in the breezy vocals of Adrienne Snow. On the other hand, the proceeding "Feel" is a track that is significantly less involved. Merely working a spacey synth pad over the slight throbbing a programmed bass, it serves as an instrumental break between the more involved "Love Attack" and "Mountain".
The only fault some may find in As As is the inability of several tracks to truly differentiate themselves from others of the same instrumental nature. Both "See" and "Feel" utilize the same minimalist format, scraping together a synth pad with the gentle heartbeat of a bass. However, with those two songs serving as a statement for two of the five human senses, it is difficult to criticize an intentionally crafted attempt where both feelings are seen as aspects that many take for granted. Those who wish to avoid such musically incorporated artistic statements may wish to skip such tracks, though I never allow my own judgmental viewpoint to become similarly linear. That may be why I enjoyed both tracks to an agreeable extent. "Love" touches more on human emotion, depicting the unpredictability of such a romantic movement through subtly erratic changes in backing key. Aaron Snow lends his vocals to this track, sounding just as fragilely celestial as his wife does during her occasional vocal moments scattered throughout the album. The non-vocal tracks remind me at times of an early Ulrich Schnauss, displaying an immense grasp of atmospheric potential without the diversification that his latter albums expressed. Perhaps Paper can take Schnauss' route and follow As As up with an album with more varying styles and tones. Despite the setback, As As is a soothing album and a promising debut that has the ability to sound remarkable when the listener is in the right mindset. Take this one for a spin when you are feeling stressed. Relaxation is key.
——————————————————————————————-
[audio:https://obscuresound.com/mp3/paper-lov1.mp3]
——————————————————————————————-
Paper – Cloudy, Cloudy, Cloudy

[audio:https://obscuresound.com/mp3/paper-clo.mp3]
——————————————————————————————-
[audio:https://obscuresound.com/mp3/paper-lov2.mp3]
——————————————————————————————-
Mike Mineo
I'm the founder/editor of Obscure Sound, which was formed in 2006. Previously, I wrote for PopMatters and Stylus Magazine. Send your music to
[email protected]
.