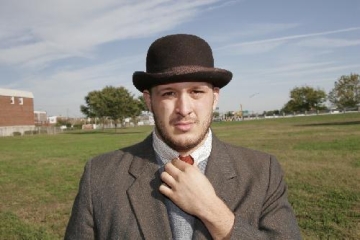 My latest review takes a look at the talented B.C. Camplight's second album, Blink of a Nihilist. The Philadelphia native conquers his own personal demons as he wages through an enjoyable effort that blends irresistible hooks with classic influences.

B.C. Camplight
Blink of a Nihilist
My Review on PopMatters
by Mike Mineo
There is an unspoken rule regarding describing an artist in comparison to his preceding influence. Relating a particular musician to a legend like Brian Wilson is one of those comparisons to be used sparingly, if at all. By risking to do so, one is attempting to contrast a contemporary artist who is largely dependent on past influence to a definitive innovator like Wilson, arguably the greatest American songwriter of all time. So, how can I justify the mention of the inexperienced Brian Christinzio and the prolific Brian Wilson in the same sentence ? It certainly goes beyond their matching first names. Apart from their possessive skills in crafting radiantly captivating songs and melodious pop hooks, both Christinzio and Wilson have defied the odds and conquered mental illness. However, unlike Wilson, Christinzio's peak appears to have come after his personal battle. With his second album under the alias of B.C. Camplight, Blink of a Nihilist picks off where his debut, Hide, Run Away, left off. A native of Philadelphia, Christinzio has maintained the common goal of musicians everywhere to create the "perfect pop record", a feat that Wilson has accomplished at least twice.
Christinzio's own view of songwriting perfection comes in the form of emphasizing accurately with human emotion. In fear of coming off as baseless or cynical, Christinzio even went as far as disguising himself as a volunteer in a mental institution with the sheer purpose of gathering life stories from the mentally ill for a fresh perspective. For those who view such an act as vile, it is essential to remember that Christinzio was once in a similar situation. A few years ago, he was in a state of mental chaos, wondering if he would ever write music again. Fortunately for everyone involved, he defeated his inner demons and came back even stronger as a respectably skilled songwriter.
Blink of a Nihilist is a continuation of Christinzio's modernistic approach of integrating synths and crisp vocal production with brass orchestral elements and piano variations. While strains of synth glide breezily over keys in tracks like the infectious opener "Suffer for Two" and the minimally haunting "Forget About Your Bones", the most evident example of classical and electronic incorporation comes in the instrumental "Werewolf Waltz". Barely over a minute long, it is a brief and concise example of Christinzio's multi-talented arsenal, as he plays practically every instrument on the album. It is also a brief demonstration of his consistent style, relaying classically arranged piano and strings as a precedent to an eventual synth transition.
While the instrumentation remains impressive, the majority of the enjoyment on Blink of a Nihilist comes in the form of Christinzio's charming vocal melodies. What the brooding "Grey Young Amelia" lacks in initial excitement is made up for by Christinzio's impeccable vocal harmonization, reminiscent of Wilson to the effect that it remains somewhat eerie. As in Hide, Run Away, an immediate likeness in Christinzio's vocals can be made to both the Beach Boys and, more modernly, the High Llamas' frontman Sean O'Hagan, another talented multi-instrumentalist with an admiration for classic pop songwriting in the mold of Brian Wilson and Burt Bacharach.
While Christinzio is the primary driving force behind BC Camplight, he finds additional aid in the backing vocals of Stephanie Vernacchio. Much like the collaborative pair of AC Newman and Neko Case, the duo displays mutual charisma and invigorated buoyancy through synchronized harmonization and lively accompaniments. Vernacchio's shining moment arrives in "Officer Down", a track that abandons traditional structure by introducing an irresistibly infectious chorus before the proceeding verse. The chorus, a bustling array of effervescent keys and steadfast percussion, is backed solely by Vernacchio's angelically engaging vocals, sounding both refreshing and wholesome. While many of the tracks on Blink of a Nihilist immediately reap from Christinzio's straightforward style of piano-led pop, a tad of unconventionalism can be found in the form of "I've Got a Bad Cold", a barbershop quartet-like spoof that would probably sound more suitable if used on an overplayed cough medicine commercial.
Even with its commercial advantage, latter songs on the album like "I've Got a Bad Cold" and the repetitious "Scare Me Sweetly" sound misplaced on an album full of contagious melodies and fun, summery pop songs. Even while subtle comparisons can be made to bands like the New Pornographers and their the twinkling catchiness in "The Hip and the Homeless" or the High Llamas' gentle arrangements in the exceptional "Soy Tonto!", Christinzio has definitively established himself as an individualized artist in his own right. While Blink of a Nihilist is not the flawless and "perfect pop record" that Christinzio continues to search for, it is one remarkable step forward. 8/10
——————————————————————————————-
——————————————————————————————-
——————————————————————————————-
B.C. Camplight – The Hip and the Homeless

[audio:https://obscuresound.com/mp3/bccamp-hip.mp3]
——————————————————————————————-