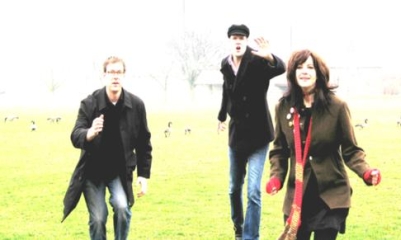 In the marvelously abundant world of music blogs, it is rare occasion when a new artist that is worthwhile has yet to be exposed. I have found over the years that there remains thousands of writers like myself who find satisfaction in exposing these artists to a broader audience, recognizing quality through a means of personal taste and quality musicianship. When I first listened to Testa Rosa, I was almost positive that other music blogs were already buzzing with excitement over the trio from Milwaukee. Not only does the music of Testa Rosa allow for a remarkably delightful experience, but their stylistic fervor is an exceptional blending of various styles that results in a sound all too rich to be ignored. From 60s Motown to synth-infused post-punk, Testa Rosa has created an experience that no other band will even come close to rivaling this year. Lead singer/songwriter Betty Blexrud-Strigens is an absolute driving force; a talent of a rare caliber to behold. With a soaring voice that is comparable to the intensely dramatic Mary Weiss or other 60s "girl group" songstresses, the fact that she has the ability to both sing and wrote the majority of her gems is breathtaking. The remainder of the trio is filled by Paul Hancock and Blexrud-Strigens' husband, Damian Strigens. "We all write but Betty wrote about 70% of the songs on this record," Strigens said. All three members are multi-instrumentalists and are competent in most conventional methods of playing. While you will most often find Blexrud-Strigens behind the microphone with her husband on guitar, Hancock on bass or piano, and touring partner Jay Tiller on drums, the three musicians in Testa Rosa have the ability to play the majority of instruments thrown at them.
I remain optimistic that the reason for Testa Rosa's lack of exposure is that their debut album is not even released yet. Hopefully when Testa Rosa drops on August 7th, more people will take notice to this exceptional trio, as the majority of their current fan base is comprised of followers from their previous band, The Mustn'ts. Strigens also previously played with The Lovelies and The Frogs, the latter for five years. Seeking a change of pace and style with a name that is slightly easier to pronounce, the remnants of The Mustn'ts formed Testa Rosa and never looked back. They are one of the newest additions to Latest Flame Records, a Milwaukee-based label that is continuing to grow in respectability as they sign quality acts like Testa Rose. Like most of their preceding influences, whether it be 60s pop or sadcore folk in particular, Testa Rosa are purely romanticists at heart. Blexrud-Strigens' lyrics often circulate around romantic situations soaked with regret and isolation with a hesitation to take that final step into conclusiveness and let go. While such a lyrical focus remains fairly overused in contemporary music, it is reveled in the case of Testa Rosa with an ornate display of charm through Blexrud-Strigens' poetic ability and dramatic vocal finesse.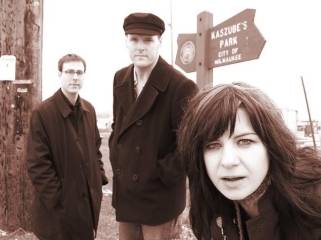 While the album's focal point remains consistent in its embracing of rapturous melodies and irresistible pop hooks, the range of emotion is an aspect that remains enjoyably diverse throughout each varying song. While the swaggering "Hollow Arm" is ignited by a collection of rollicking guitar licks, the sorrowful "Arms of a Tree" remains dependent on Blexrud-Strigens' poetic ability and acoustical charm. Both songs are similarly enjoyable but are executed quite differently, leaving me considerably impressed especially because the two songs are back-to-back. Despite Testa Rosa's envious characteristic of not having one lackluster song, the first two songs, "Ollie & Delilah" and "Book About Clouds", are undoubtedly the album's best. Written by both husband and wife, the opening "Ollie & Delilah" is a tantalizing tale of two troubled lovers whose only source of solace comes in the form of their love for one another. Even so, this is much more than a "love conquers all" song. Whether this were to be released in 1967 or 2007, it would prove to be an ineluctably compelling. Both infectious and stylistically savvy, "Ollie & Delilah" is the most definitive example of the cumulative talent found within Testa Rosa. "Delilah softly holds his arm while Ollie smiles, swallows heart," Blexrud-Strigens sings before the stunning chorus, using her own vocals as the backing melody. "And he says, 'Don't be scared, I am here, you'll always have my heart.'" Entirely worthwhile in every aspect, "Ollie & Delilah" is a beautifully endearing masterpiece, tugging at the heart with its ravishing melodic ability and sheer lyrical power. One of the best songs of the year.
The equally satisfying "Book About Clouds" was written entirely by Blexrud-Strigens. Harnessing her own expressive vocals over a piano-led melody touched by the weeping of an electric guitar, this song in particular has a slight country tinge that reminds me of Stevie Nicks in several aspects. Whether it be solely in the sweeping instrumenation or her ability to create hooks utilizing a convincingly poignant vocal tactic, even my ongoing praise can hardly do the first two songs on Testa Rosa justice. Never dull or tiring, the repetition in "Book About Clouds" is merely enhanced by an exuberant melody whose durability is only surpassed by its preceding track, "Ollie & Delilah". Slowly working its way up to becoming my favorite debut album of 2007, Testa Rosa is an absolute treasure with not one song that lacks in quality or artistic vision. While I may be one of the first sites to post about Testa Rosa this year, I guarantee you that I will not be the last. They are simply too irresistible to pass up.
——————————————————————————————-
——————————————————————————————-
Testa Rosa – Book About Clouds

[audio:https://obscuresound.com/mp3/testaro-boo.mp3]
——————————————————————————————-
——————————————————————————————-