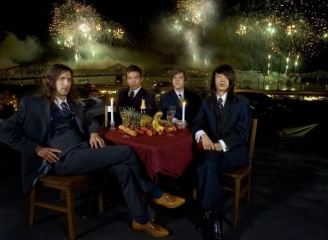 Note: Thanks to weeone for the information: Chea Beckley remains the keyboardist in the group and Zeke Buck is no longer part of the line-up.
It is always interesting to see in which direction a band will follow after experiencing even the tiniest morsel of commercial success. By the end of 2004, things were looking up for VHS or Beta, the newly acclaimed four-piece out of Louisville, Kentucky. In reaching a wide variety of audiences, they had landed a song on both the stoner-comedy Grandma's Boy, the superficially laced drama The O.C., and were receiving glowing reviews for their second album, Night on Fire, from the likes of Rolling Stone and Blender. Fans and critics alike were generally impressed with the group's take on "art-wave", a newly coined sub-genre that proved to be a concise summation of the band's style. As much as I despise newly originated genres formed by critics and fans alone, I suppose "art-wave" fits VHS or Beta surprisingly well. As it obviously claims, their apparent incorporation of art-rock and new wave derives from the artists that the young songwriters in VHS or Beta grew up listening to in the 80s. Whether it be The Cure or Depeche Mode, recollected influences are one of the aspects that VHS or Beta can seamlessly blend into contemporary trends, most notably in the ceaseless form of art-rock. However, deep down past the aggravating stages of classification, they remain radio-friendly producers of catchy pop music with a tinge of dance and funk.
With this in mind, it was not much of a surprise when they toured with Duran Duran in 2005. Even though VHS or Beta borrows several components of its sound from Duran Duran's heyday, VHS for Beta are synth revivalists at heart who also happen to share a fondness for modern alternative rock. Nothing to be ashamed of, right? After all, Duran Duran is in the studio with Timbaland and Justin Timberlake as they prepare to release their twelfth album in October. I'm sadly not kidding about any of that either. As for VHS or Beta, they plan to release their third album, Bring on the Comets, on August 28th. After the departure of keyboardist Chea Beckley, they currently sit as a trio. Regarding VHS or Beta's transition from Night on Fire to Bring on the Comets, lead vocalist, guitarist, and songwriter Craig Pfunder states that the new album was written "for the world" instead of "for one group of people." As vague as that may come across to new listeners, it is once again surprisingly accurate. Whereas both Night on Fire and VHS or Beta's 2002 debut, Le Funk, pleased a loyal fan base with a variety of stylistic attempts, Bring on the Comets is more commercial friendly with straightforward, directly infectious singles like "Can't Believe a Single Word" and "Burn It All Down". Hell, Le Funk had several ambitious epics that exceeded seven minutes. You will not find anything remotely close to songs like "Solid Gold" or "On and On" on their newest release, as Bring on the Comets serves as merely a representable collection of three-to-four minute pop songs. Apart from a few wasted opportunities toward the end of the album, the meat of this album revolves around the two impressive singles.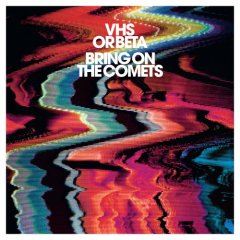 Already intently knowledgeble on the nature of a quality single after the enormous promotional success of "Night on Fire", Bring on the Comet features their most accessible, radio-friendly song yet in "Can't Believe a Single Word". While it will tragically disappoint fans who followed the band since their Le Funk beginnings with a lack of depth and experimentation, the traditional structure is fortunately uplifted by a chorus that, while expectedly formulaic, offers a beckoning call that is destined to reach the top of the charts with an irreproachable charm. "I say to you would you ever want to walk away from here?" Pfunder asks, desperately rushing his own charm. The melody is simple and the lyrics are even more elementary but this song is potently compelling nonetheless. Though I grew tired of it after a few listens, "Can't Believe a Single Word" will most likely be the song that propels VHS or Beta to the upper stage. However, it is far from my personal favorite on Bring on the Comet. That title goes to the synth-fused "Take It or Leave It", a song that is a display of what Duran Duran rubbed off on the youngsters after their collaborative tour two years ago. Yeah, sure, it sounds like Duran Duran. While that may sound like an insult to most bands these days, I am fortunately referring to the type of Duran Duran that performed before 1984. Think back to "Rio" or "Girls on Film". "Take It or Leave It" is a cleverly catchy dance-rock track that is an expressive display of where VHS or Beta's true talents lie.
While VHS or Beta has somewhat quickly gone from sounding like a stepson of Daft Punk to a cousin of Rooney, Bring on the Comet offers enough thrills for an enjoyable third album. While I prefer their earlier material along with the majority of those who enjoyed Le Funk, I suppose the new direction must be expected in today's industry. When the band realized that they had the ability to craft MTV-pleasing pop songs like "Night on Fire" in 2004, a stylistic recession most likely occurred. I would not be surprised if this was the reason for Beckley's absence, though I can only speculate at this point. While Bring on the Comet is extremely far from being a commercial cop-out, the band's focus on commercial success now remains highly evident. I will just remain optimistic that their future releases will be more in the synth-pop, dance-rock vein of the enjoyable "Take It or Leave It".
——————————————————————————————-
VHS or Beta – Take It or Leave It
[audio:https://obscuresound.com/mp3/vhsor-tak.mp3]
——————————————————————————————-
VHS or Beta – Can't Believe a Single Word

[audio:https://obscuresound.com/mp3/vhsor-can.mp3]
——————————————————————————————-
VHS or Beta – Burn It All Down

[audio:https://obscuresound.com/mp3/vhsor-bur.mp3]
——————————————————————————————-