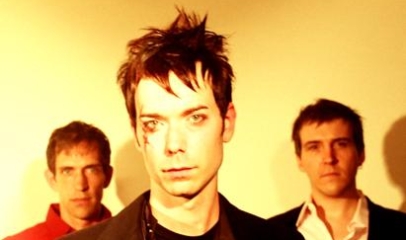 There are some bands who are reluctant to point out their influences, fearing that such remarks would take away from their suggested innovation. While many take pride in sounding comparably favorable to their idolized inspirations, it remains a sensitive issue in the widespread desire to be separated from any other artist in a creative manner, either past or present. In atypical form, The Opposite Sex displays complete pride in sounding like a wholesome form of classic 80s post-punk. While the specific genre has been one of the most often utilized forms of revitalization this past decade, popular acts like Interpol often show abhorrence in relation to such analogies. For example, Interpol bassist Carlos D. told PopMatters a few years ago that any comparisons made relating their band to post-punk greats like Joy Division were "fallacious", stating that "some critics are just not good and are very superficial in their analysis." Whatever your opinion may be on the issue, it surprises me how sensitive such topics are. But this outlook does not apply to every artist. The Opposite Sex, on the other hand, remain to be visibly proud of the aforementioned influences who helped them sculpt a style of their own. On their own MySpace, they proudly proclaim themselves as a "post-punk band with a dark pop sense", largely influenced by the likes of "The Cure, Echo & the Bunnymen, Siouxsie & the Banshees, New Order, and The Chameleons UK." While such statements certainly set the bar high for expectations, The Opposite Sex do not disappoint one bit.
With a sound deeply layered with pulsating guitars and a tight rhythm section led by an infectious bass tremolo, lead singer Shawn Helton sounds like a melodramatically electrifying combination of post-punk legends Mark Burgess and Ian McCulloch. Adding his own individualized touch of stylized vibrato to each song, Helton is a scorching presence whose voice appears both haunting and memorably durable. Like Burgess (The Chameleons UK), his tendency to alter his vocal pitch in adjustment to the instrumental key proves lucratively successful in crafting moments of post-punk eminence. The Opposite Sex's formation dates back to 2005 when they released a debut EP. Based out of Washington D.C., the success of their EP earned them reputable gigs at several festivals including Drop Drop Dead Festival 4, Winterfest '07, and Popnoise 3. Their debut album, Violent Heartstrings, was released earlier this year and offers ten tracks that proves to be an imposing continuation of The Opposite Sex's dependable form of songwriting. While their style should remain familiar to anyone who has any recollection of '80s pop culture, there are very few modern bands that can actually pull it off like The Opposite Sex. Considering that I usually meet someone still stuck in the '80s at least once a week, it is not much of a surprise that The Opposite Sex is gaining such an ample fan base rather quickly.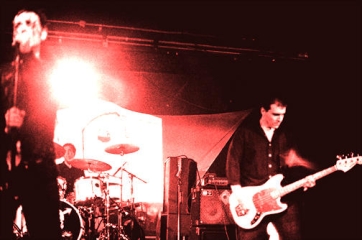 Like the works of their past influences, The Opposite Sex's Violent Heartstrings is an atmospherically brooding experience. While their occasional preference for playing in minor key is often overshadowed by Helton's emotionally wounding vocals, the majority of instruments remain soaked in distortion and backed by a altering synth pads. Hardly as laid back as the vocals of Ian McCulloch, Ian Curtis, or even the ceaselessly expressive Mark Burgess, Helton nearly reaches the point of screaming in tracks like "Knives" and "Somewhere Girl", recalling a style that sounds more reminiscent of the 80s hardcore punk scene that featured artists like Minor Threat and Black Flag. The interesting thing about The Opposite Sex's music, and "Somewhere Girl" most blatantly, is their incorporation of both hardcore punk and post-punk. While Helton's vocals are delivered with a raspy grunt in the verses on "Somewhere Girl", the chorus sees a transition to a more subdued form of post-punk. While the variation may throw some listeners off, it provides for an engaging and varying experience that sees both commendable production and capricious songwriting in glowing forms. While their previous EP was occasionally criticized for an abundance of amateurish production, Violent Heartstrings exposes the four-piece's vibrant sound in suitable form.
For those in fear of a monotonously numb approach where similar guitar riffs and rhythmic patterns are played in tedious repetition, the opening track, "Violent Heartstrings", does more than enough justice in contradicting the hesitation. While it is one of the most accessible songs on the album with a, the ambitiousness is shown gracefully with a hurried brass section. Serving as a latter bridge between the chorus and verse, it reminds me of early Felt in a very pleasing way. In "Does Anyone Truly Love Anybody Else?", Helton once again displays an emphasis for an insightful hook during the chorus. While he did the same on "Violent Heartstrings", he takes me a more vocally aggressive tone that is lyrically representative of anguish and isolated confusion. Over a swirling pattern of guitar solos and infectious riffs, Helton is in his absolute top form. "Is that in beauty of your soul, does it matter now?" he questions after an audibly stirring guitar solo, giving off an '80s vibe that cannot help but trigger instant nostalgia. While "Walk on Water" is too lengthy for its incessant use of ominous synths and the vocals on "Shattering Walls" are too insipidly raucous when compared to the rest of the album, the other bright spots on Violent Heartstrings make it an impressive debut that exhibits a consistent utilization in classic post-punk style. While those who are up-to-date may have already heard dozens of other post-punk imitations this year, The Opposite Sex are one of the few bands who actually implement their own form of innovation along with it.
——————————————————————————————-
The Opposite Sex – Violent Heartstrings

[audio:https://obscuresound.com/mp3/oppsex-vio.mp3]
——————————————————————————————-
The Opposite Sex – Does Anyone Truly Love Anybody Else?
[audio:https://obscuresound.com/mp3/oppsex-doe.mp3]
——————————————————————————————-
The Opposite Sex – Somewhere Girl
[audio:https://obscuresound.com/mp3/oppsex-som.mp3]
——————————————————————————————-